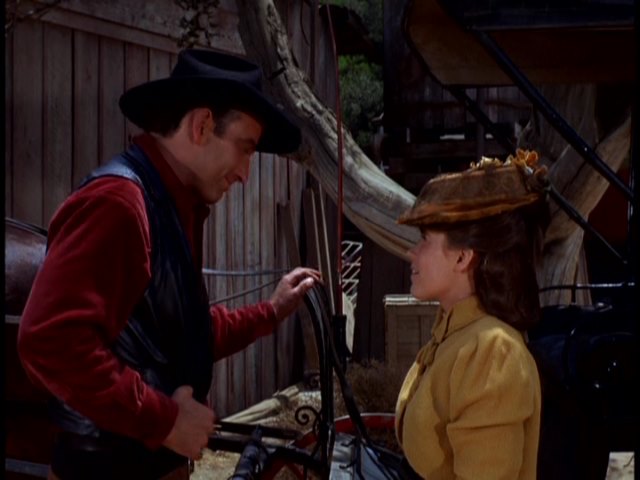 THE VIRGINIAN: DEAD-EYE DICK (1966, USA) **½
Western
net. National Broadcasting Company (NBC); pr co. Universal Television; d. Ida Lupino; w. Joseph Hoffman; exec pr. Frank Price; pr. Winston Miller; ph. Walter Strenge (Technicolor. 35mm. Spherical. 1.33:1); m. Sidney Fine; m sup. Stanley Wilson; th. Percy Faith; ed. Robert F. Shugrue; ad. George Patrick; set d. Claire P. Brown, John McCarthy Jr.; cos. Vincent Dee; m/up. Bud Westmore, Larry Germain; sd. Frank H. Wilkinson (Mono); tr. 9 November 1966; r/t. 77m.
cast: James Drury (The Virginian), Charles Bickford (John Grainger), Doug McClure (Trampas), Don Quine (Stacey Grainger), Sara Lane (Elizabeth Grainger), Alice Rawlings (Marjorie Hammond), David Macklin (Bob Foley), William Schallert (Harry Foley), Patricia Donahue (Mrs. Livvy Underhill), June Vincent (Mrs. Lucille Hammond), Ross Elliott (Sheriff Mark Abbott), Simon Scott (District Attorney), William Phipps (Hank), Dennis McCarthy (3rd Townsman), Chuck Courtney (Blake), Ollie O'Toole (Bank Teller), Walter Woolf King (Judge Winters), Mike Ragan (Burt (uncredited)), Frank Sully (Danny the Bartender (uncredited)).
(s. 5 ep. 9) A woman (Vincent) visits her sister in Medicine Bow bringing her teenage daughter (Rawlings) who is enamoured with a Dead Eye Dick western novel. She develops a crush on The Virginian (Drury) after he settles her horse aggravating a teenage boy she meets who likes her. A lightweight and totally predictable episode, the kind that made a diversion from the more serious material around it. The big positive is Rawlings, who captures the girl's naive charm well. Everything else in this tale is moderate and instantly forgettable.