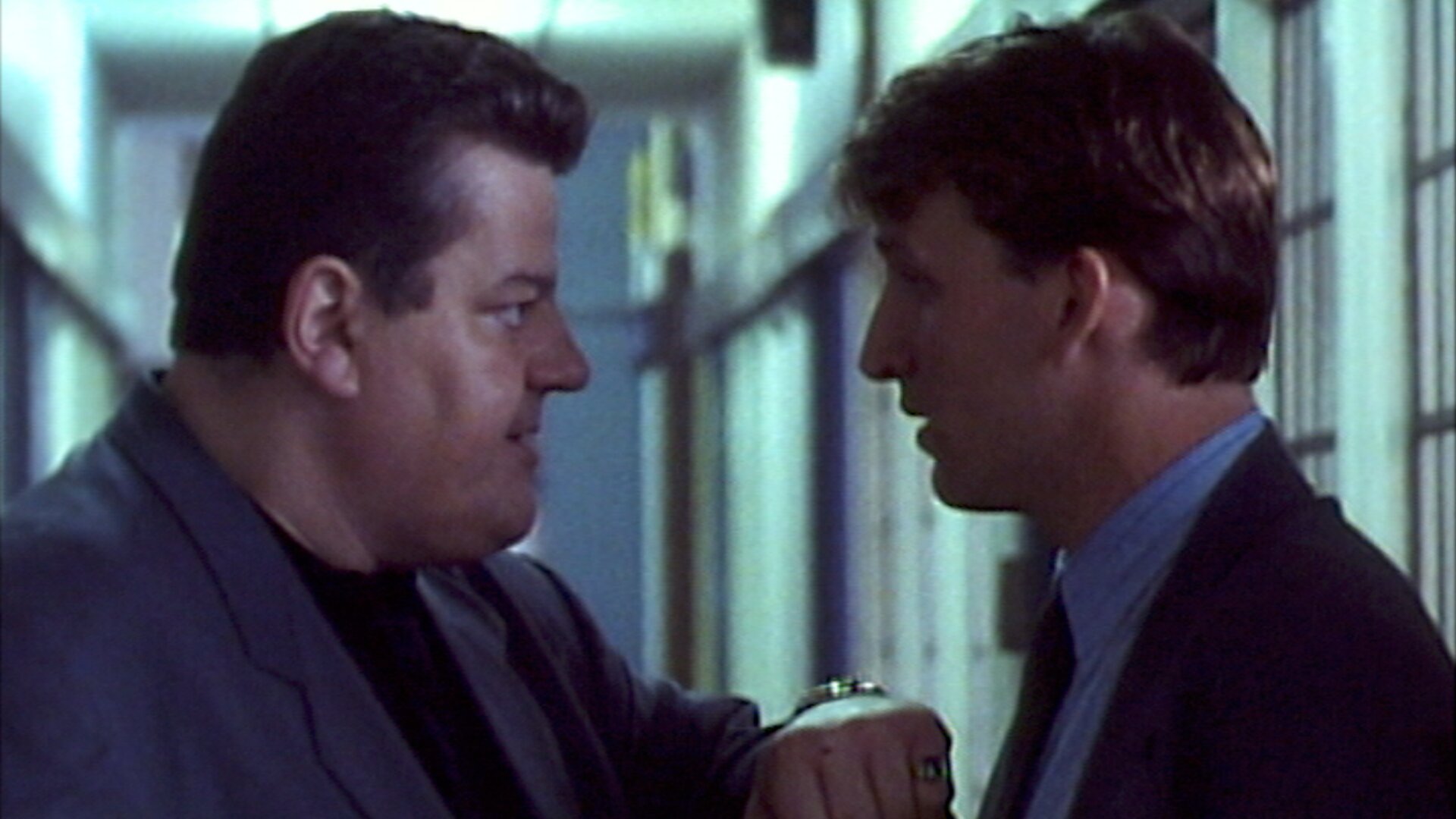 CRACKER: MAD WOMAN IN THE ATTIC (TV) (UK, 1993) ****
      Distributor: ITV – Independent Television; Production Company: A&E Television Networks / Granada Television; Release Date: 27 September & 4 October 1993; Running Time: 103m; Colour: Colour; Sound Mix: Dolby Stereo; Film Format: 16mm; Aspect Ratio: 1.66:1; BBFC Cert: 18.
      Director: Michael Winterbottom; Writer: Jimmy McGovern; Executive Producer: Sally Head; Producer: Gub Neal; Director of Photography: Ivan Strasburg; Music Composer: Julian Wastall; Film Editor: Trevor Waite; Casting Director: Gail Stevens; Production Designer: Chris Wilkinson; Art Director: Deborah Morley; Set Decorator: ; Costumes: Janty Yates; Make-up: Helen King; Sound: Phil Smith.
      Cast: Robbie Coltrane (Fitz), Barbara Flynn (Judith Fitzgerald), Christopher Eccleston (D.C.I. Bilborough), Geraldine Somerville (D.S. Penhaligon), Lorcan Cranitch (D.S. Beck), Adrian Dunbar (Kelly), Nicholas Woodeson (Hennessy), Kieran O'Brien (Mark), Don Henderson (Hennessy Senior), Seamus O'Neill (D.C. Jones), Ian Mercer (D.C. Giggs), Paul Copley (Pathologist), Alan Partington (Mr Hobbs), Romy Baskerville (Irene Hobbs), Daryl Fishwick (Mrs Forbes), Kika Markham (Ann Appleby), John Grillo (Simon Appleby), Edward Peel (Chief Super), David Crellin (Quinlan), Andrew Brittain (Presenter), Diane Adderley (Mrs Royle).
      Synopsis: A young woman is brutally murdered on a train, the victim of a serial killer. The prime suspect is an amnesiac man, who cannot confess to the crime if he cannot remember committing it unless a troubled psychologist can crack him.
      Comment: The premiere episode of the Cracker TV series (1993-6) introduces us to Coltrane's dynamite performance as the flawed psychologist, addicted to gambling and booze, and lays the template for a series that would reach new highs for crime TV in the UK. Fitz is such a compelling character he threatens to dwarf all around him. Fortunately, a very strong support cast is also on hand and Winterbottom's inventive direction gets the best out of them. The story is intriguing as a 'did he or didn't he do it' and that it succeeds in keeping you guessing for so long is down to McGovern's strong script and a good supporting performance from Dunbar as the amnesiac suspect. Often a tough watch, this is never less than engrossing and is only let down by the rushed finale. Better was to follow, but this is still a great introduction.