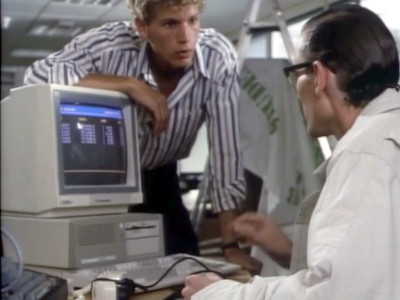 BERGERAC: THERE FOR THE PICKING (UK, 1990) **
      Distributor: British Broadcasting Corporation (BBC); Production Company: British Broadcasting Corporation (BBC) / Seven Network; Release Date: 26 December 1990; Running Time: 99m; Colour: Colour; Sound Mix: Dolby; Film Format: 16mm; Aspect Ratio: 1.33:1; BBFC Cert: 12.
      Director: Gordon Flemyng; Writer: Desmond Lowden; Producer: George Gallaccio; Director of Photography: David Whitson; Music Composer: Ray Russell, Kevin Townend; Theme Music: George Fenton; Film Editor: Bernard Ashby, Paul Garrick; Production Designer: Bob Cove; Costumes: Barrie Sedwell; Make-up: Ann Ailes-Stevenson; Sound: Simon Wilson; Stunt Arranger: Clive Curtis.
      Cast: John Nettles (Jim Bergerac), Terence Alexander (Hungerford), Sean Arnold (Crozier), John Telfer (Willy Pettit), David Kershaw (Ben Lomas), Thérèse Liotard (Danielle), Michael Mellinger (Albert Leufroid), Warren Saire (Roderick), Melanie Thaw (Sarah), Kenneth Cranham (Gascoigne), Simon Chandler (Sumner), Lawrence Davidson (Police Inspecteur), Leslie Clack (Cafe Owner), Altay Lawrence (Chris), Julian Freeman (Air Traffic Controller), David Hargreaves (Hazelton), Paula Topham (Mrs. Hazelton), Rupert Holliday-Evans (Baz), David Keyes (Hippy), Tim Meats (Bank Manager), Adam Morris (Bank Clerk), Graham Fletcher-Cook (Deggsy), Grant Oatley (Jake), Luke Hanson (Killick), Bill Moody (Laborde).
      Synopsis: Jim Bergerac is now at the vineyard and it is grape-picking time. One of the young casual workers is English boy Roderick. However, he is also a computer hacking genius who is able to transfer 90% of the previous day's takings on the Tokyo stock exchange into his own account. The son of the wealthy Hargreaves, he also targets Charlie and other Jersey residents. In addition to Roderick's activities Jim is recalled to the island when a consignment of hand grenades is discovered in a cargo of whiskey and a French connection is suspected.
      Comment: The fifth of six feature-length Bergerac specials, was broadcast at Christmas 1990 ahead of the final series of the show (series 9). With Bergerac now out of the police and relocated to the vineyards of France with his French girlfriend the series lost its core hook and charm. The result is this rather listless elongated episode, in which the only redeeming factor is Cranham's charismatic performance as an arms trader also seeking insider deals on the stock market. The story gets bogged down in its shifting locations between Jersey and France. The separation of Bergerac from his job leaves nettles with little to work with as the lead. The finale and pay-off is weak and the show seemed to be running out of steam. This would be Sean Arnold's last appearance in the series as Crozier. Melanie Thaw (daugher of John Thaw and Sheila Hancock) has an early role as one of the students working at the vineyard. Veteran TV director Flemyng also helmed the two 1960s Doctor Who feature films.