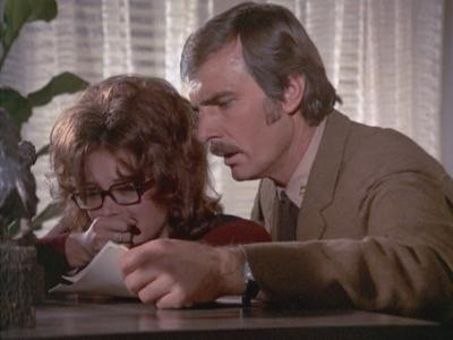 McCLOUD: ENCOUNTER WITH ARIES (TV) (1971, USA) ***½
Crime, Drama, Mystery
Network: NATIONAL BROADCASTING COMPANY (NBC) (USA); production company: UNIVERSAL TELEVISION; director: RUSS MAYBERRY; writer: PETER ALLAN FIELDS; producer: DEAN HARGROVE; associate producer: PETER ALLAN FIELDS; director of photography: WILLIAM MARGULIES (Technicolor | 35mm | Spherical | 1.37:1); music: DICK DEBENEDICTIS; film editor: BYRON 'BUZZ' BRANDT; art director: WILLIAM H. TUNTKE; set decorator: JOSEPH J. STONE; costumes: GRADY HUNT; sound: EDWIN S. HALL (Mono); broadcast date: 22 SEPTEMBER 1971 (USA); BBFC cert: PG; running time: 76 MINS.
Cast: DENNIS WEAVER (Sam McCloud), J.D. CANNON (Peter B. Clifford), SEBASTIAN CABOT (Sidney Cantrell), PETER HASKELL (Richard Stevens), SUSAN STRASBERG (Lorraine), LOUISE LATHAM (Emily Cantrell), ALAN OPPENHEIMER (Mervin Simmons), TERRY CARTER (Det. Joe Broadhurst), ROBERT HOGAN (Detective Finnegan), JILL JARESS (Gloria), BOOTH COLMAN (Hines), WOODROW PARFREY (Elmer), ELISHA COOK JR. (Mr. Rafer), FORREST LEWIS (Old Man), FRED HOLLIDAY (Intern), ELIZABETH LANE (Nurse), ATHENA LORDE (Floor Nurse), NANCY JERIS (Marie), JAMES GAVIN (Policeman).
The kidnapping of a woman (Latham) who is married to a wealthy astrologer (Cabot) — and the appearance of her kidnapper (Haskell), who claims she is being held in a room with a ticking time bomb — spur the woman's husband to bash in the kidnapper's head with a vase. This leaves McCloud (Weaver) with a limited time to determine where the woman is and who is really behind the kidnapping. This was the first episode following the transition of McCloud from its one-hour slot as part of the Four-in-One wheel to a regular rotation as part of the NBC Mystery Movie series. The story is a strong one with elements of mystery and humour. By now the role of McCloud fits the charming Weaver as well as his cowboy boots and his sparring with Cannon is always a joy to watch. A good script by Fields, tight direction from Mayberry and the casting of Cabot as the astrologer also help make this an above average mystery movie.