THE MUSKETEERS (2014-2016, UK, Colour, 30 X 60m episodes) ∗∗∗∗
Cast: Tom Burke (Athos); Santiago Cabrera (Aramis); Peter Capaldi (Cardinal Richelieu – series one only); Howard Charles (Porthos); Alexandra Dowling (Anne of Austria); Ryan Gage (King Louis XIII); Tamla Kari (Constance Bonacieux); Maimie McCoy (Milday de Winter); Luke Pasqualino (D-Artagnan); Hugo Speer (Captain Treville); Marc Warren (Rochefort – series two only); Matthew McNulty (Grimaud – series three only); Rupert Everett (Governor Feron – series three only).
Created by Adrian Hodges
Executive Producers: Jessica Pope; Adrian Hodges (series one and two); Simon Allen & Simon J. Ashford (series three)
Music: Murray Gold, Paul Englishby
Series One (2014) ∗∗∗½

Set on the streets of 17th Century Paris, the Musketeers, Athos, Aramis and Aorthos, are far more than merely royal bodyguards for King Louis XIII; they are inseparable, loyal unto death and committed to upholding justice. when D'Artagnan arrives in Paris to avenge his father's death he soon impresses the three Musketeers and quickly discovers kindred spirits in these boisterous soldiers. Together they must fight for honour, for valour and for love, whilst outwitting the shadowy Cardinal Richelieu.
Series Two (2015) ∗∗∗∗½

The Musketeers return in a stunning second series that explodes from the screen with more thrills, action and adventure than ever before. As France teeters on the brink of war with Spain, the death of Cardinal Richelieu has left a void that could yet be filled by an even darker threat. More mercurial and combustible than the Cardinal, Rochefort has a concealed agenda that may bring the whole realm to ruin. Vividly evoking the grit and grime of 17th century Paris's mean streets, this gripping take on the iconic classic is visually spectacular and bursting with invention.
Series Three (2016) ∗∗∗½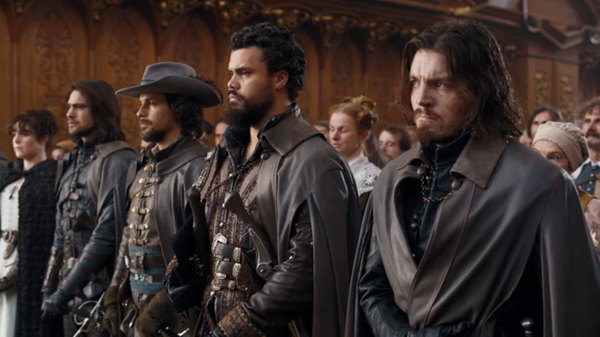 Heroes on the battlefield, the Musketeers return from the Spanish front to a Paris seething with resentment, a city on the brink of starvation. The corrupt Governor Feron has been running the capital for his own ends, aided by the brutal Red Guard. But behind Feron hides an even greater menace. Lucien Grimaud is a vicious gangster with a powerful hold over the governor. While Feron might be reasoned with, Grimaud deals only in chaos and rage. Ordered to the heart of this simmering crisis, the Musketeers must face their most treacherous test yet. It's a task that will challenge their allegiances to the crown, throw their personal lives into turmoil and compromise their loyalty to those they love – and to each other.
A series that started a little shakily in trying to establish a serious tone amidst the good humoured banter and the swashbuckling action, ultimately found its stride during a riveting second series dominated by Warren's colossal performance as the scheming spy Rochefort. The final series took an even darker turn but drained a little of the good humour and spark from between the leads. A splendid penultimate episode set us up for a fan-pleasing finale that would tug at the heartstrings and thrill in even measures. Mixing standalone episodes and both season and series long plot threads concerning intrigue in the palace, it was always interesting and often enthralling. The cast was strong with Maimie McCoy making an alluring and evil Milady, whilst Burke is perfect as the brooding Athos. Gage was delightfully eccentric as King Louis and Dowling stoic as Anne, who has a secret she must keep from the King. The location work and photography are superb and give the series its authentic and rewarding period feel.
A blu-ray of series three alongside a collection BD box-set containing all three series will be released on Monday 15 August and comes highly recommended.