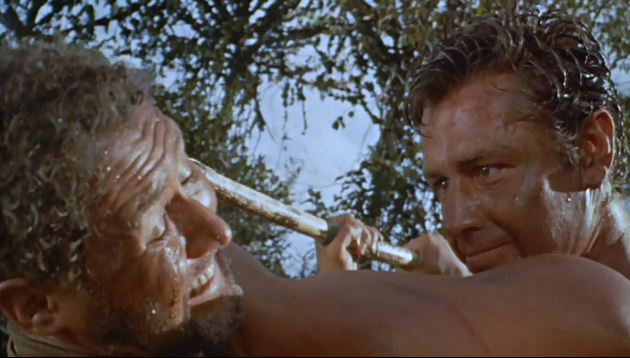 TARZAN'S GREATEST ADVENTURE (UK, 1959) ****
      Distributor: Paramount Pictures (USA), Paramount British Pictures (UK); Production Company: Solar Film Productions; Release Date: 8 July 1959 (USA); Filming Dates: mid Feb–late Mar 1959; Running Time: 88m; Colour: Eastmancolor; Sound Mix: Mono (Westrex Recording System); Film Format: 35mm; Film Process: Spherical; Aspect Ratio: 1.85:1; BBFC Cert: PG.
      Director: John Guillermin; Writer: Berne Giler, John Guillermin (based on a story by Les Crutchfield and characters created by Edgar Rice Burroughs); Executive Producer: Harvey Hayutin, Sy Weintraub; Producer: Sy Weintraub; Director of Photography: Edward Scaife; Music Composer: Douglas Gamley; Film Editor: Bert Rule; Casting Director: Nora Roberts; Art Director: Michael Stringer; Make-up: Tony Sforzini; Sound: John Cox.
      Cast: Gordon Scott (Tarzan), Anthony Quayle (Slade), Sara Shane (Angie), Niall MacGinnis (Kruger), Sean Connery (O'Bannion), Al Mulock (Dino), Scilla Gabel (Toni).
      Synopsis: Tarzan is out to capture a quintet of British diamond hunters in Africa, who killed a pair of natives while robbing supplies.
     Comment: Excellent jungle adventure is perhaps the best of the Tarzan pictures. Scott's pursuit of Quayle is superbly edited and directed with a grittiness missing from the series since the early Johnny Weissmuller entries. Quayle gives a nuanced performance whilst Connery is notable in an early role. Scott's Tarzan is an intelligent and fully verbal version closer to Burroughs' vision.
      Notes: Connery was paid five thousand six hundred dollars for his role in this movie. When asked to play in the next Tarzan movie, he said he couldn't because "two fellows took an option on me for some spy picture and are exercising it. But I'll be in your next." The "spy picture" was DR. NO (1962), the first of his numerous appearances as James Bond 007. Followed by TARZAN THE MAGNIFICENT (1960).