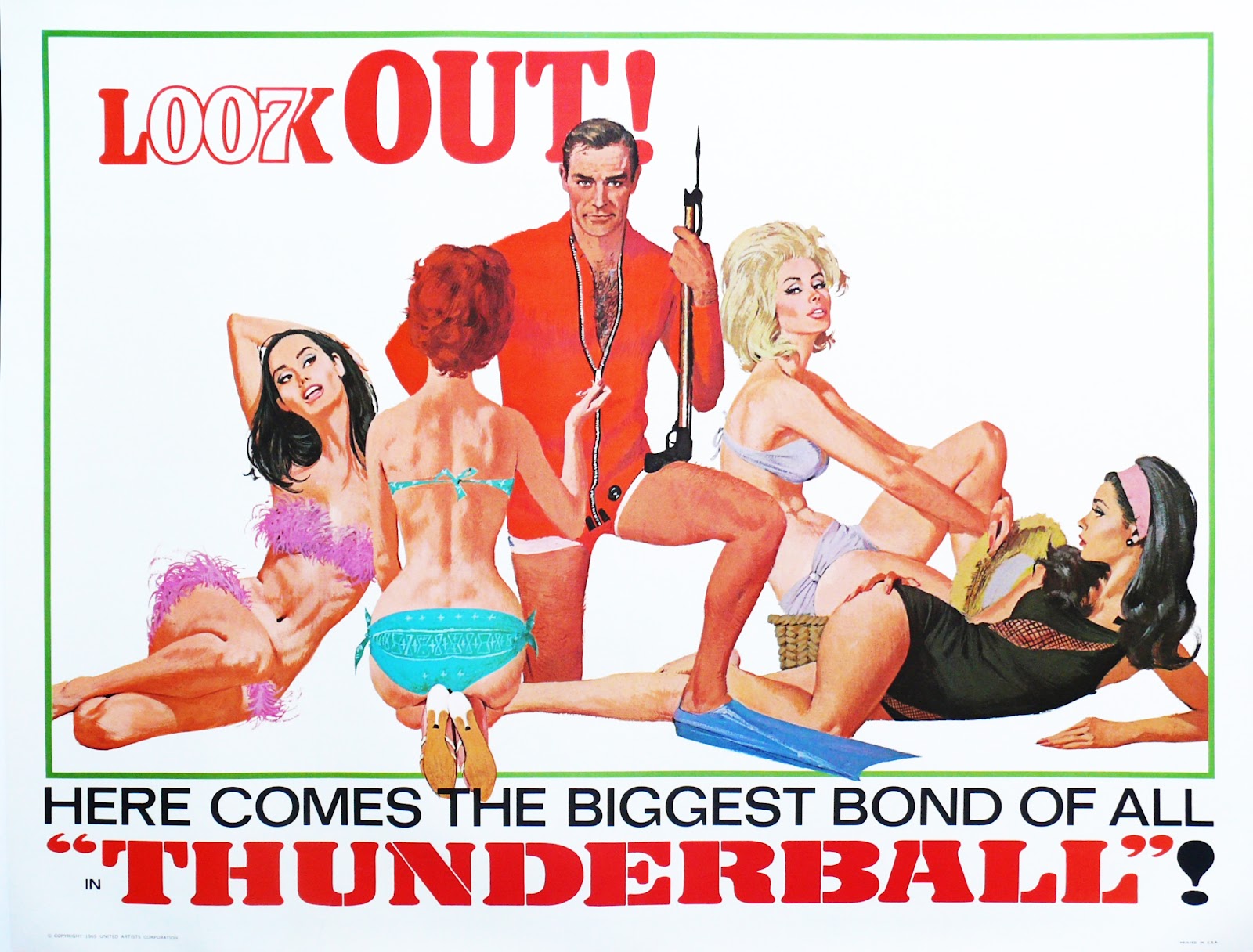 THUNDERBALL (1965, UK) ****
Action, Adventure, Thriller
dist. United Artists Corporation; pr co. Eon Productions; d. Terence Young; w. Richard Maibaum, John Hopkins (based on a story by Kevin McClory, Jack Whittingham and Ian Fleming and an original screenplay by Jack Whittingham); exec pr. Albert R. Broccoli, Harry Saltzman (each uncredited); pr. Kevin McClory; ass pr. Stanley Sopel (uncredited); ph. Ted Moore (Technicolor. 35mm. Panavision (anamorphic). 2.39:1); m. John Barry; ed. Ernest Hosler; pd. Ken Adam; ad. Peter Murton; set d. Peter Lamont (uncredited); cos. Anthony Mendleson; m/up. Basil Newall, Paul Rabiger; sd. Maurice Askew, Bert Ross, Eileen Warwick (Mono (Westrex Recording System)); sfx. John Stears; vfx. Roy Field (uncredited); st. Yvan Chiffre; rel. 21 December 1965 (USA), 29 December 1965 (UK); cert: PG; r/t. 130m.
cast: Sean Connery (James Bond), Claudine Auger (Dominique 'Domino' Derval), Adolfo Celi (Emilio Largo), Luciana Paluzzi (Fiona Volpe), Rik Van Nutter (Felix Leiter), Guy Doleman (Count Lippe), Molly Peters (Patricia Fearing), Martine Beswick (Paula Caplan), Bernard Lee ('M'), Desmond Llewelyn ('Q'), Lois Maxwell (Moneypenny), Roland Culver (Home Secretary), Earl Cameron (Pinder Romania), Paul Stassino (Angelo Palazzi / Major François Duval), Rose Alba (Madame Bouvar), Philip Locke (Vargas), George Pravda (Pofessor Ladislaw Kutze), Michael Brennan (Janni), Leonard Sachs (Group Captain Pritchard), Edward Underdown (SIr John – Air Marshal), Reginald Beckwith (Kenniston), Harold Sanderson (Hydrofoil Captain).
When a British Vulcan bomber is stolen with two atomic bombs on board. S.P.E.C.T.R.E. announce that they have the plane and will detonate the bombs unless one hundred million dollars worth of uncut diamonds are delivered. James Bond (Connery) tracks the plane down to the Bahamas but still has to deal with the deadly Emilio Largo (Celi). This was the biggest Bond film of the 1960s and is one of the best. Connery is at the height of his game here and the story has a scale that is larger than any of the previous entries. The underwater sequences may tend toward the slow side, but on the whole the story moves along at a good clip and is well edited. The humour is more evident, but it is still kept in check. Paluzzi is one of the best Bond villainesses and her verbal and literal tussles with Connery are memorable. The Bahamas are well photographed, and the underwater staging is handled with skill by second unit director Ricou Browning. Followed by YOU ONLY LIVE TWICE (1967). Remade with Connery as NEVER SAY NEVER AGAIN (1983).
AA: Best Effects, Special Visual Effects (John Stears).