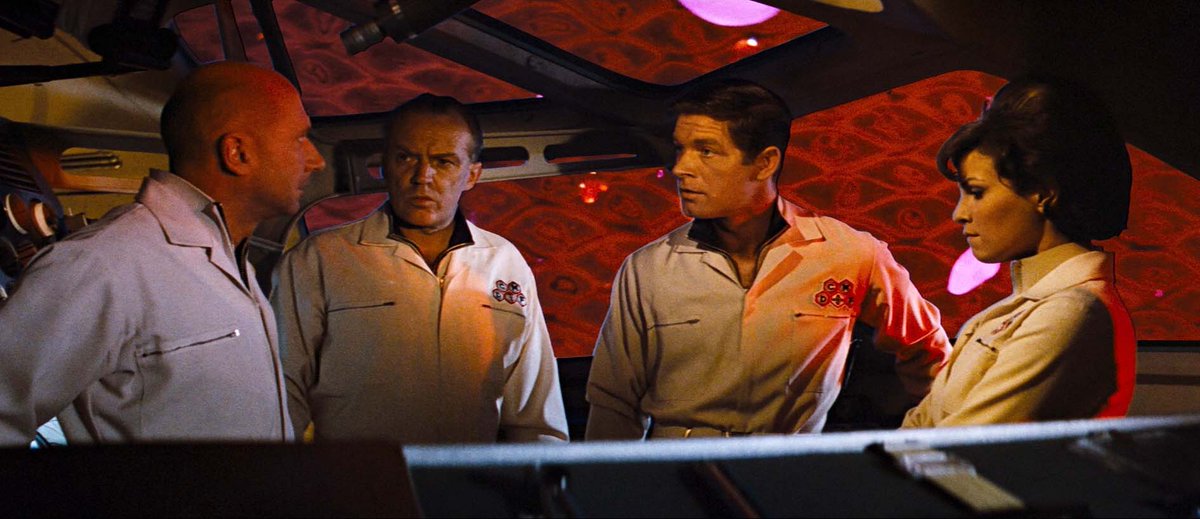 FANTASTIC VOYAGE (USA, 1966) ***½
      Distributor: Twentieth Century Fox; Production Company: Twentieth Century Fox; Release Date: 24 August 1966 (USA), 14 October 1966 (UK); Filming Dates: 25 January – mid June 1965; Running Time: 100m; Colour: DeLuxe; Sound Mix: Mono (Westrex Recording System); Film Format: 35mm; Film Process: CinemaScope; Aspect Ratio: 2.35:1; BBFC Cert: U.
      Director: Richard Fleischer; Writer: Harry Kleiner (screenplay), David Duncan (adaptation) (based on a story by Otto Klement and Jerome Bixby); Producer: Saul David; Director of Photography: Ernest Laszlo; Music Composer: Leonard Rosenman; Film Editor: William B. Murphy; Art Director: Dale Hennesy, Jack Martin Smith; Set Decorator: Stuart A. Reiss, Walter M. Scott; Costumes: Bruce Walkup, Truman Eli, Ollie Hughes (all uncredited); Make-up: Ben Nye; Sound: David Dockendorf, Bernard Freericks; Special Effects: Johnny Borgese, Greg C. Jensen (both uncredited); Visual Effects: L.B. Abbott, Art Cruickshank, Emil Kosa Jr.
      Cast: Stephen Boyd (Grant), Raquel Welch (Cora), Edmond O'Brien (General Carter), Donald Pleasence (Dr. Michaels), Arthur O'Connell (Col. Donald Reid), William Redfield (Capt. Bill Owens), Arthur Kennedy (Dr. Duval), Jean Del Val (Jan Benes), Barry Coe (Communications Aide), Ken Scott (Secret Service), Shelby Grant (Nurse), James Brolin (Technician), Brendan Fitzgerald (Wireless Operator). Uncredited: Brendon Boone (Military Policeman), Kenneth MacDonald (Henry – Heart Monitoring), Christopher Riordan (Young Scientist).
      Synopsis: A diplomat is nearly assassinated. In order to save him, a submarine is shrunken to microscopic size and injected into his bloodstream with a small crew. Problems arise almost as soon as they enter the bloodstream.
      Comment: Imaginative sci-fi memorable for its superb production design and photographic effects, which deservedly won Academy Awards. The script is solid, even if the dialogue is a little hokey at times, and provides the requisite set-pieces, helping build tension in the story. The concept of miniaturisation is fanciful, but once you get past that element there is much to enjoy in the fantasy it creates. Boyd makes for a likeable square-jawed hero and Welch adds glamour to the mix.  Capably directed by Fleischer and with an eerily discordant score from Rosenman.
      Notes: The picture marked the first major screen role for actress Raquel Welch. Won Oscars for Art Direction-Set Decoration (Jack Martin Smith, Dale Hennesy, Walter M. Scott and Stuart A. Reiss) and Special Effects (Art Cruickshank). Novelised by Isaac Asimov. Followed by an animated TV series in 1968.