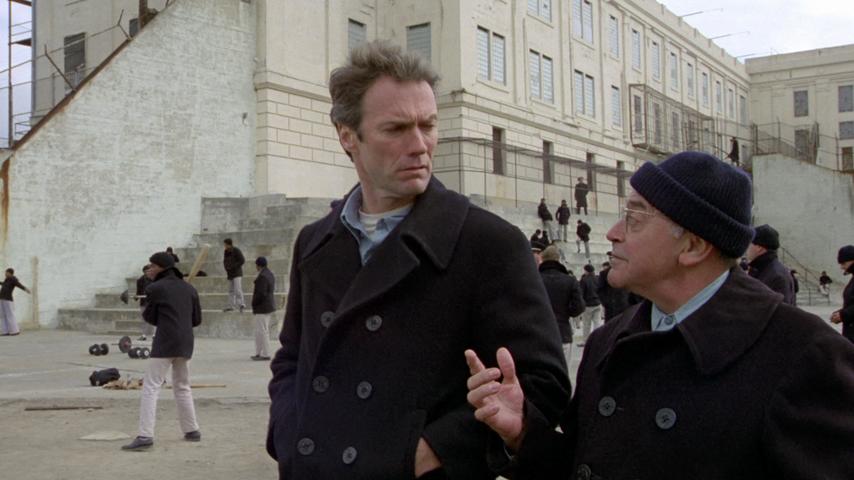 ESCAPE FROM ALCATRAZ (USA, 1979) ****
      Distributor: Paramount Pictures (USA), Cinema International Corporation (CIC) (UK); Production Company: Paramount Pictures / The Malpaso Company; Release Date: 22 June 1979 (USA), 24 January 1980 (UK); Filming Dates: 16 October 1978 – January 1979; Running Time: 112m; Colour: DeLuxe; Sound Mix: Mono; Film Format: 35mm; Film Process: Spherical; Aspect Ratio: 1.85:1; BBFC Cert: 15.
      Director: Don Siegel; Writer: Richard Tuggle (based on the book by J. Campbell Bruce); Executive Producer: Robert Daley; Producer: Don Siegel; Associate Producer: Fritz Manes; Director of Photography: Bruce Surtees; Music Composer: Jerry Fielding; Film Editor: Ferris Webster; Casting Director: Marion Dougherty, Wallis Nicita; Production Designer: Allen E. Smith; Art Director: ; Set Decorator: Edward J. McDonald; Costumes: Glenn Wright; Make-up: Joe McKinney; Sound: Bub Asman, Bert Hallberg, Alan Robert Murray; Special Effects: Chuck Gaspar.
       Cast: Clint Eastwood (Frank Morris), Patrick McGoohan (Warden), Roberts Blossom (Chester 'Doc' Dalton), Jack Thibeau (Clarence Anglin), Fred Ward (John Anglin), Paul Benjamin (English), Larry Hankin (Charley Butts), Bruce M. Fischer (Wolf), Frank Ronzio (Litmus), Fred Stuthman (Johnson), David Cryer (Wagner), Madison Arnold (Zimmerman), Blair Burrows (Fight Guard), Bob Balhatchet (Medical Technical Assistant), Matthew Locricchio (Exam Guard), Don Michaelian (Beck), Ray K. Goman (Cellblock Captain), Jason Ronard (Bobs), Ed Vasgersian (Cranston), Ron Vernan (Stone), Regina Baff (Lucy), Hank Brandt (Associate Warden), Candace Bowen (English's Daughter), Joe Miksak (Police Sgt.), Stephen Bradley (Exam Guard), Garry Goodrow (Weston), Ross Reynolds (Helicopter Pilot), Al Dunlap (Visitors' Guard), Denis Berkfeldt (Guard), Jim Haynie (Guard), Tony Dario (Guard), Fritz Manes (Guard), Dana Derfus (Guard), Don Cummins (Guard), Gordon Handforth (Guard), John Scanlon (Guard), Don Watters (Guard), Dan Leegant (Guard), Joe Knowland (Guard), James Collier (Guard), R.J. Ganzert (Guard), Robert Hirschfeld (Guard), Lloyd Nelson (Guard), George Orrison (Guard), Gary Warren (Guard), Joseph Whipp (Guard), Terry Wills (Guard), John Garabedian (Guard), Dale Alvarez (Inmate), Sheldon Feldner (Inmate), Danny Glover (Inmate), Carl Lumbly (Inmate), Patrick Valentino (Inmate), Gilbert Thomas Jr. (Inmate), Eugene Jackson (Inmate).
      Synopsis: Frank Morris (Eastwood), a hardened con with a history of prison breaks, is sent to serve the rest of his life sentence at Alcatraz — America's most infamously brutal and inescapable maximum security prison. Morris quickly realizes the prison's dehumanizing effects and clashes with its cruel warden (McGoohan). Fed up with life at Alcatraz, Morris and two convict brothers (Ward, Thibeau) meticulously plan the unthinkable: an escape from the island.
      Comment: Well-made account of a true story of the last attempt of prisoners to escape from the remote, rock-based San Francisco prison. Eastwood teams once again with director Siegel and the latter is at his efficient and effective best. Eastwood uses his screen persona to good effect in a role that allows him to stick within his confines. The tension in the relationship between the prisoners and their captors, notably McGoohan's determined warden, is well played by a strong cast. The final escape sequence itself is impressively staged.
      Notes: Glover's film debut. Song: "D Block Blues," by Gilbert Thomas, Jr. Less than one year after the real-life events that are depicted in the film, the prison was shut down. The escape occurred on June 11, 1962, and the prison closed on March 21, 1963. Because the penitentiary cost much more to operate than other prisons (nearly ten dollars per prisoner per day, as opposed to three dollars per prisoner per day at Atlanta), and half a century of salt water saturation had severely eroded the buildings, Attorney General Robert F. Kennedy ordered the penitentiary closed on March 21, 1963.