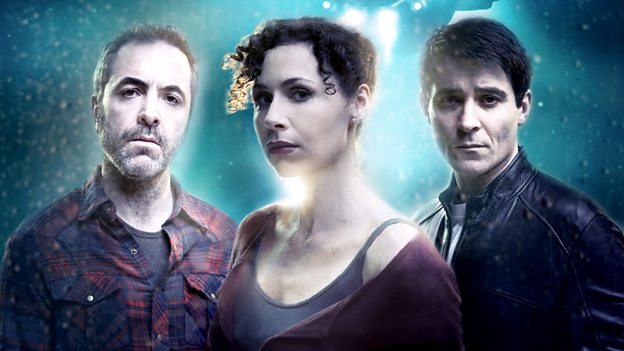 THE DEEP (UK, 2010) ***
      Distributor: British Broadcasting Corporation (BBC); Production Company: Tiger Aspect Productions; Release Date: 3-31 August 2010; Running Time: 289m (5 episodes); Filming Dates: December 2009-March 2010; Colour: Colour; Sound Mix: Dolby Digital; Aspect Ratio: 1.78:1; BBFC Cert: 15.
      Director: Jim O'Hanlon, Colm McCarthy; Writer: Simon Donald, Paul Rutman; Executive Producer: Greg Brenman, Eleanor Moran; Producer: Will Gould; Director of Photography: Adam Suschitzky, Damian Bromley; Music Composer: Samuel Sim; Film Editor: Chris Wyatt, Helen Chapman; Casting Director: Jill Trevellick; Production Designer: Simon Bowles; Art Director: Andy Thomson; Costumes: Trisha Biggar; Make-up: Gilly Popham, Linda A. Morton; Sound: Simon Gershon; Special Effects: Chris Reynolds; Visual Effects: Thomas M. Horton, Shanaullah Umerji,  Simon Carr, Becky Roberts.
      Cast: James Nesbitt (Clem Donnelly), Minnie Driver (Frances Kelly), Goran Visnjic (Samson), Orla Brady (Catherine Donnelly), Sinéad Cusack (Meg Sinclair), Sacha Dhawan (Vincent), Vera Graziadei (Svetlana), Tobias Menzies (Raymond), Tom Wlaschiha (Arkady), Antonia Thomas (Maddy), Dan Li (Hatsuto), Nigel Whitmey (Lowe), Molly Jones (Scarlet), Amit Patil (Cg generalist), Nick Nevern (Stas), Richard Brake (McIndoe), Goran Kostic (Zubov), Ron Donachie (Sturridge), Nicholas Pinnock (Charlie Goodison), Shonagh Price (Sandra), Simon Donald (Dr. Christianson).
      Synopsis: A research submarine beneath the Arctic stumbles upon a terrifying secret with Earth-shattering consequences.
      Comment: Whilst the story gets more and more preposterous and the dialogue is often risible, this underwater thriller still manages to hook you in for the most part through its makers' sheer enthusiasm for the material. Nesbitt is part of a submarine crew captained by Driver to return to the site beneath the Arctic ice where a previous research team (including Nesbitt's wife, Brady) and their vessel disappeared. On arrival, they find they are not alone and have stumbled across a covert Russian drilling operation in UN waters. The story moves along at a nice clip, slowing occasionally for cliched moments of character development. Moments of tension and suspense are built at regular intervals as the crew begin to find themselves out of their depth. The acting is generally good with the cast often overcoming the limitations in the material. The technical attributes and visuals are excellent for the most part, with great production design of the hi-tech submarine – notwithstanding the occasionally obvious CGI moment. After managing to hold our attention through the first four hour-long segments, the story goes off the rails in the last episode with lazy writing that fails to tie up the character arcs and the plot satisfactorily as it lays on the emotional trauma. The result is a generally entertaining but flawed story that may satisfy undemanding genre fans.