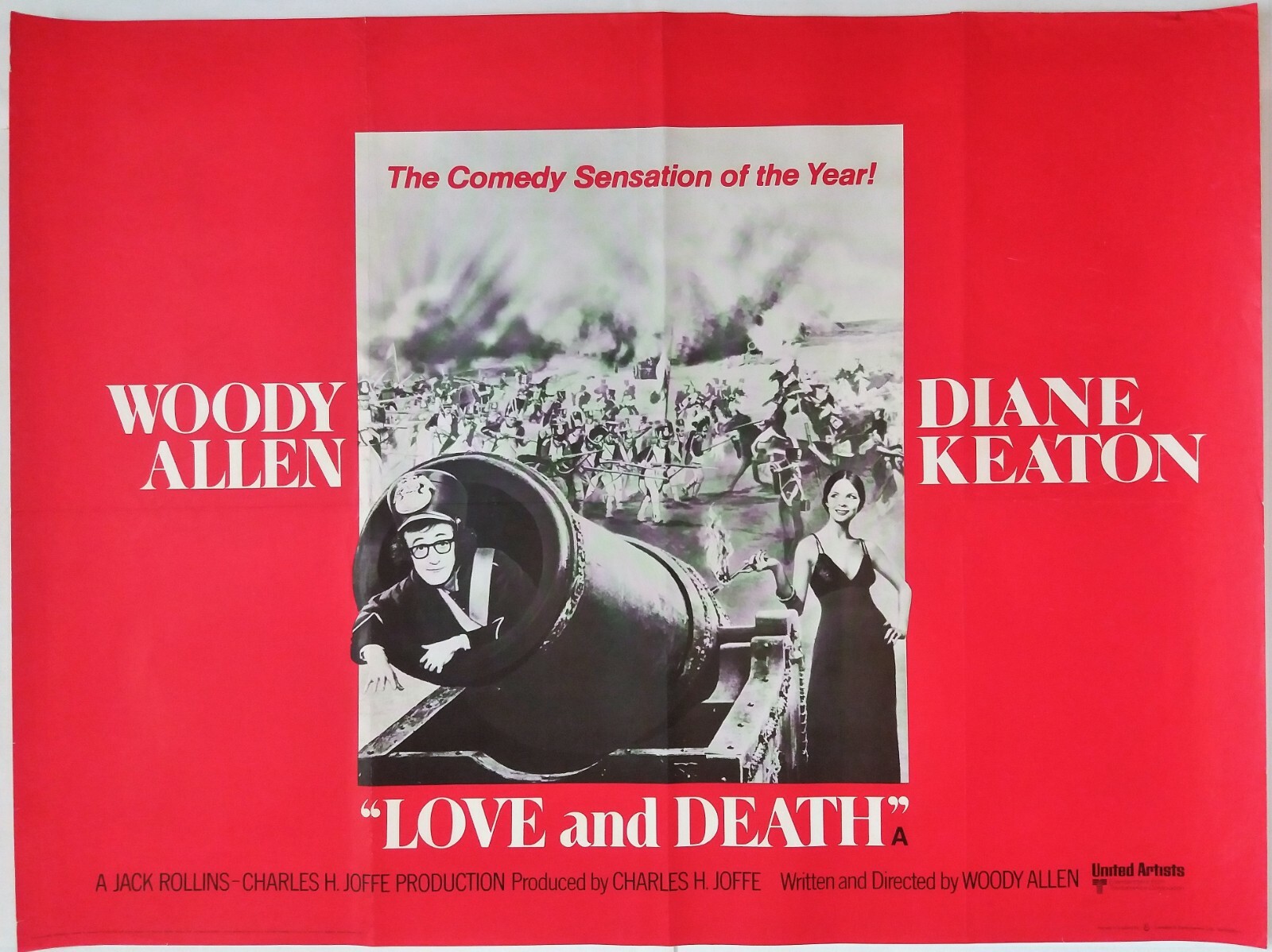 LOVE AND DEATH (USA, 1975) ****
      Distributor: United Artists; Production Company: Jack Rollins & Charles H. Joffe Productions; Release Date: 10 June 1975 (USA), October 1975 (UK); Filming Dates: 21 September 1974-late February 1975; Running Time: 85m; Colour: DeLuxe; Sound Mix: Mono; Film Format: 35mm; Film Process: Spherical; Aspect Ratio: 1.85:1; BBFC Cert: PG/PG.
      Director: Woody Allen; Writer: Woody Allen; Executive Producer: Martin Poll; Producer: Charles H. Joffe; Associate Producer: Fred T. Gallo; Director of Photography: Ghislain Cloquet; Music Composer: Sergei Prokofiev; Music Supervisor: Felix Giglio; Film Editor: Ralph Rosenblum, Ron Kalish; Casting Director: Miriam Brickman, Juliet Taylor, Blanche Wiesenfeld; Art Director: Willy Holt; Costumes: Gladys de Segonzac; Make-up: Anatole Paris, Marie-Madeleine Paris, Renée Guidet; Sound: Dan Sable; Special Effects: Kit West.
      Cast: Woody Allen (Boris), Diane Keaton (Sonja), Georges Adet (Old Nehamkin), James Tolkan (Napoleon), Harold Gould (Anton), Olga Georges-Picot (Countess Alexandrovna), Beth Porter (Anna), Zvee Scooler (Father), Jessica Harper (Natasha), Féodor Atkine (Mikhail (as Feodor Atkine)), Despo Diamantidou (Mother), Yves Barsacq (Rimsky (as Yves Barsaco)), Yves Brainville (Andre), Brian Coburn (Dimitri), Tony Jay (Vladimir Maximovitch), Howard Vernon (General Leveque), Alfred Lutter III (Young Boris), Georges Adet (Old Nehamkin), Sol Frieder (Voskovec (as Sol L. Frieder)), Lloyd Battista (Don Francisco).
      Synopsis: In czarist Russia, a neurotic soldier and his distant cousin formulate a plot to assassinate Napoleon.
      Comment: Woody Allen channels Bob Hope (with nods to Chaplin and Groucho) and European cinema (notably Ingmar Bergman) in this very funny parody of Russian literature. Allen is the youngest of three brothers and is in love with the intellectual Keaton, but she is in love with Allen's macho older brother. Allen and his brothers go off to fight in the war against Napoleon and after inadvertently becoming a hero, Allen gets to marry Keaton, who expects him to be killed in a duel with Gould. The whole thing then turns into an assassination plot against Napoleon (Tolkan). Yes, the plot is as convoluted as all that, but it is also a great vehicle for Allen to deliver his one-liners with zing and some visual slapstick. His targets include his favourite neuroses about sex and death. Keaton is again a great foil for Allen who directs with more assuredness than in any of his efforts up to this point. He was one film away from his breakthrough hit ANNIE HALL. Shot on location in Hungary and France.