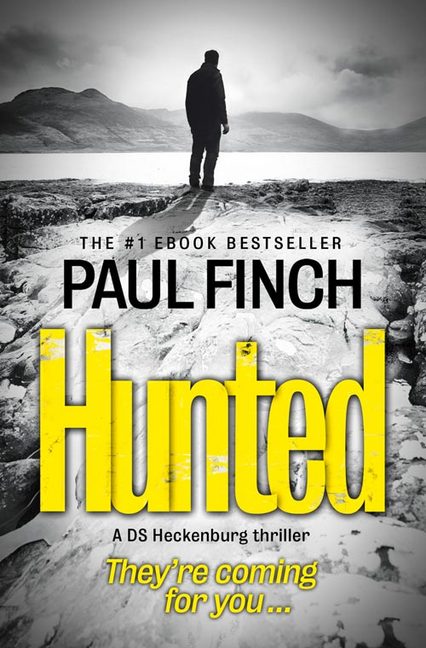 HUNTED by PAUL FINCH (2007, Avon, 426pp) ∗∗∗
Blurb: Across the south of England, a series of bizarre but fatal accidents are taking place. So when a local businessman survives a near-drowning but is found burnt alive in his car just weeks later, DS Mark 'Heck' Heckenburg is brought in to investigate. Soon it appears that other recent deaths might be linked: two thieves that were bitten to death by poisonous spiders, and a driver impaled through the chest with scaffolding. Accidents do happen but as the body count rises it's clear that something far more sinister is at play, and it's coming for Heck too…
Paul Finch's Hunted is seemingly influenced by recent trends in TV detective shows, such as Luther and Whitechapel, to push into areas of the macabre. The reader's enjoyment of this book will therefore depend on how much they can buy into Finch's far-fetched plot. If so, they will be rewarded by a mystery of who is committing a series of sadistic stage-managed accidents. The plot is interesting but you can't get over the impression that it is highly contrived and the perpetrators, when finally unmasked. are not wholly convincing.
This is the fifth book in Finch's DS Mark "Heck" Heckenberg series and I have not read any of the previous entries. But this is a standalone story that requires no previous investment in the character. Heck is an intelligent action man, but feels a little bit bland – lacking the cynicism and hard-edge of hundreds of similar characters. It is the nature of his work with the Serial Crimes Unit that makes him different. The introduction of a female partner, DC Gail Honeyford results in familiar initial antagonism leading to a bonding both physically and emotionally. A sub-plot involving a stalking ex-partner/colleague of Honeyford feels heavy-handed and its resolution is disappointing.
Despite some misgivings, this is still a readable mystery thriller that is enjoyable on its own terms.