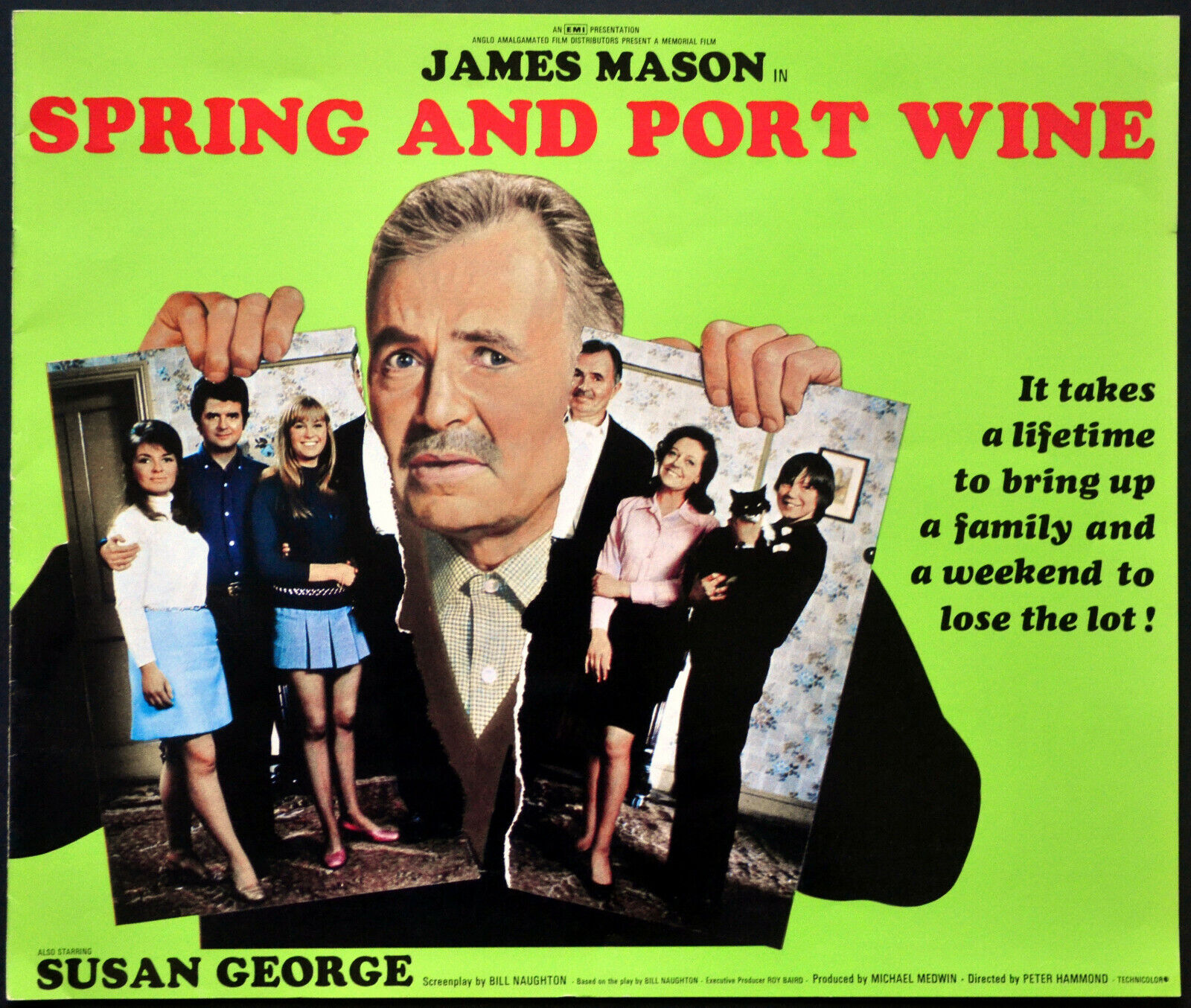 SPRING AND PORT WINE (UK, 1970) ***
      Distributor: Anglo-Amalgamated Film Distributors; Production Company: Memorial Enterprises; Release Date: 19 February 1970; Filming Dates: began 28 April 1969; Running Time: 101m; Colour: Technicolor; Sound Mix: Mono; Film Format: 35mm; Film Process: Spherical; Aspect Ratio: 1.66:1; BBFC Cert: PG.
      Director: Peter Hammond; Writer: Bill Naughton (based on the stage play by Bill Naughton); Executive Producer: Roy Baird; Producer: Michael Medwin; Director of Photography: Norman Warwick; Music Composer: Douglas Gamley; Film Editor: Fergus McDonell; Casting Director: Miriam Brickman (uncredited); Production Designer: Reece Pemberton; Costumes: Elsa Fennell; Make-up: Bunty Phillips; Sound: Robin Gregory, Barry McCormick.
      Cast: James Mason (Rafe Crompton), Diana Coupland (Daisy Crompton), Hannah Gordon (Florence Crompton), Susan George (Hilda Crompton), Rodney Bewes (Harold Crompton), Len Jones (Wilfred Crompton), Keith Buckley (Arthur Gasket), Avril Elgar (Betsy-Jane Duckworth), Adrienne Posta (Betty Duckworth), Frank Windsor (Ned Duckworth), Arthur Lowe (Mr. Aspinall), Marjorie Rhodes (Mrs. Gasket), Bernard Bresslaw (Lorry Driver), Joseph Greig (Allan (T.V. Man)), Christopher Timothy (Joe (T.V. Man)), Ken Parry (Pawnbroker), Reginald Green (Bowler 1), Jack Howarth (Bowler 2), Bryan Pringle (Bowler 3), John Sharp (Bowler 4).
      Synopsis: A stern father and lenient mother try to deal with the ups and downs of their four children's lives in working-class Bolton.
      Comment: Bill Naughton adapted his own stage play for the big screen with this battle of wills between the generations within a northern family. The location shooting in Bolton adds a level of authenticity to a script which comes across as a little over-preachy and with a finale that doesn't feel real. However, a game cast delivers some witty dialogue and whilst Mason was miscast, he makes a good stab at his part of the stubborn family patriarch. Bewes also scores as the insolent son who doesn't quite have the courage of his convictions and Coupland as the wife torn between loyalty to her husband and her kids. A time capsule caught slightly out of sync.