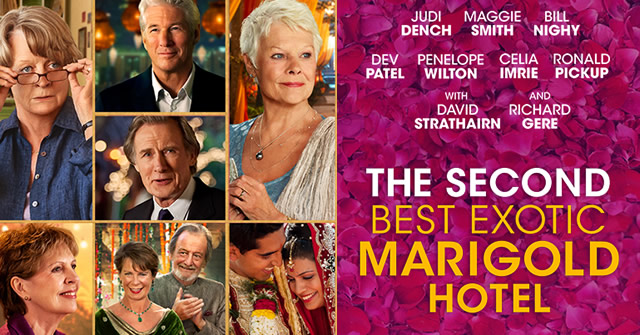 THE SECOND BEST EXOTIC MARIGOLD HOTEL (UK/USA, 2015) ***
      Distributor: 20th Century Fox (UK) / Fox Searchlight Pictures (USA); Production Company: Blueprint Pictures; Release Date: 26 February 2015 (UK), 6 March 2015 (USA); Filming Dates: began 10 January 2014; Running Time: 122m; Colour: Colour; Sound Mix: Dolby Digital; Film Format: 35 mm (anamorphic) (Kodak Vision 2383), D-Cinema; Film Process: Digital Intermediate (2K) (master format), F65 RAW (4K) (source format); Aspect Ratio: 2.35:1; BBFC Cert: PG.
      Director: John Madden; Writer: Ol Parker (based on a story by Ol Parker and John Madden); Executive Producer: Michael Dreyer, Jonathan King, John Madden, Jeff Skoll; Producer: Graham Broadbent, Peter Czernin; Associate Producer: Tabrez Noorani; Director of Photography: Ben Smithard; Music Composer: Thomas Newman; Film Editor: Victoria Boydell; Casting Director: Michelle Guish, Seher Latif; Production Designer: Martin Childs; Art Director: Dilip More; Set Decorator: Ed Turner; Costumes: Alison Lewis, Riyaz Ali Merchant; Make-up: Daniel Phillips; Sound: Ian Wilson; Visual Effects: Fay McConkey, Thomas Proctor, Emma Moffat.
      Cast: Judi Dench (Evelyn Greenslade), Maggie Smith (Muriel Donnelly), Bill Nighy (Douglas Ainslie), Dev Patel (Sonny Kapoor), Richard Gere (Guy Chambers), Celia Imrie (Madge Hardcastle), Ronald Pickup (Norman Cousins), Penelope Wilton (Jean Ainslie), Diana Hardcastle (Carol Parr), Tina Desai (Sunaina), Claire Price (Laura Ainslie), Lillete Dubey (Mrs. Kapoor), David Strathairn (Ty Burley), Tamsin Greig (Lavinia Beech), Shazad Latif (Kushal), Rajesh Tailang (Babul), Denzil Smith (Mr. Dharuna), Sid Makkar (Jay), Avijit Dutt (Nimish), Seema Azmi (Anokhi).
      Synopsis: As the Best Exotic Marigold Hotel has only a single remaining vacancy – posing a rooming predicament for two fresh arrivals – Sonny pursues his expansionist dream of opening a second hotel.
      Comment: A more-of-the-same sequel, which coasts on the charm and skills of its excellent cast and vibrant locations. The plot lacks originality and veers too far toward a sit-com approach at the expense of depth in characterisation, but the vibe is good. Patel and Smith are looking to expand their hotel business and look for sponsorship from the US. When Gere arrives, Patel believes he is an inspector charged with assessing the business and he goes out of his way to charm him – echoes of Fawlty Towers. The cast is in good form again but has less to get their teeth into here and the film comes across as both unnecessary yet still entertaining.