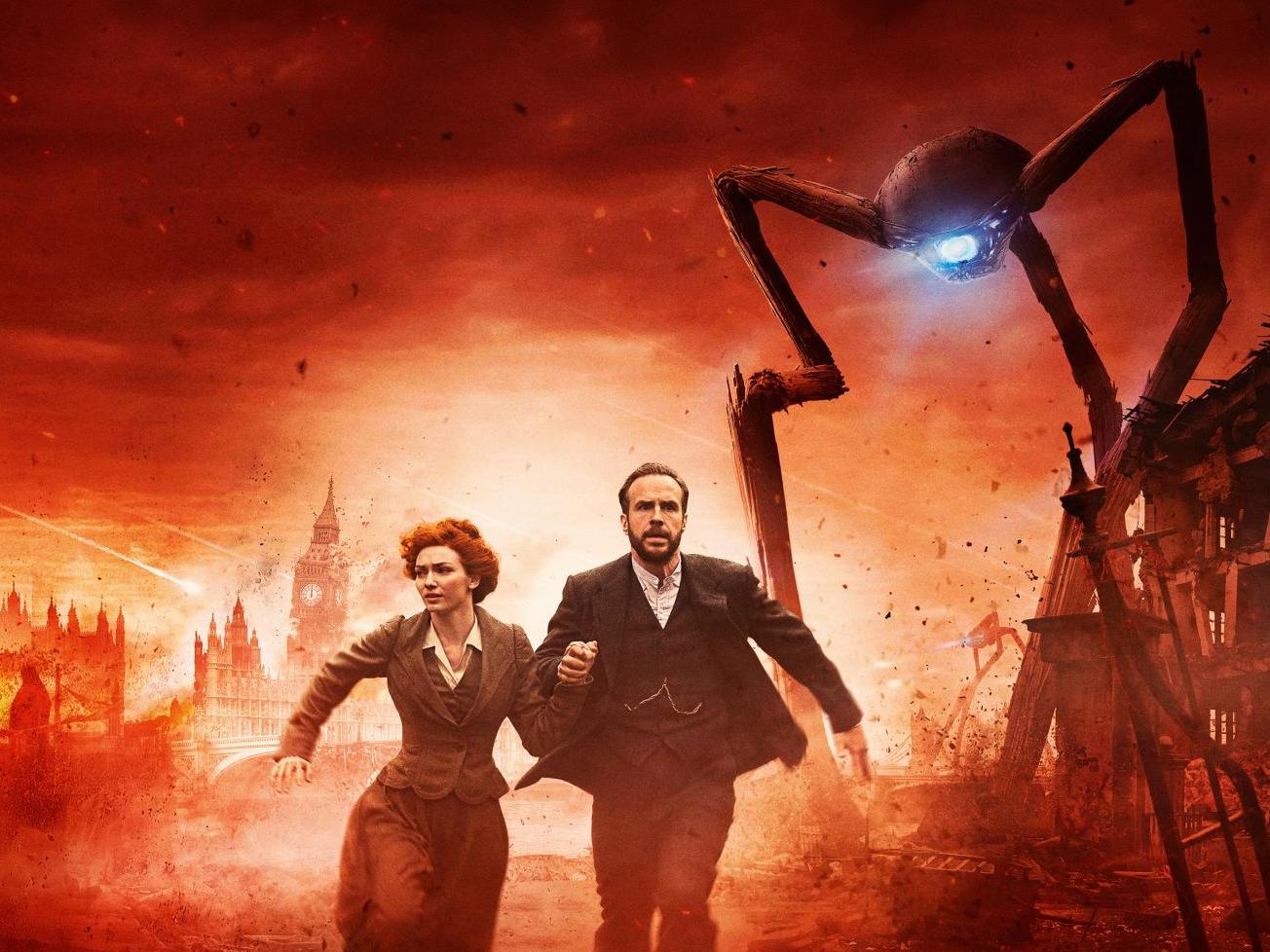 THE WAR OF THE WORLDS (UK, 2019) **½
      Distributor: ITV Studios Global Entertainment; Production Company: Mammoth Screen / British Broadcasting Corporation (BBC) / Creasun Media American; Release Date: 17, 24 November & 1 December 2019; Running Time: 3 x 60m; Colour: Colour; Sound Mix: Stereo; Film Format: HD; Aspect Ratio: 2.00:1; BBFC Cert: 15.
      Director: Craig Viveiros; Writer: Peter Harness (based on the novel by H.G. Wells; Producer: Betsan Morris Evans; Executive Producer:Jamie Brown, Peter Harness, Minglu Ma, Preethi Mavahalli, Damien Timmer, Craig Viveiros; Director of Photography: James Friend; Music Composer: Russ Davies; Film Editor: Adam Bosman, Josh Mallalieu; Production Designer: Pat Campbell; Casting: Karen Lindsay-Stewart; Costumes: Howard Burden; Make-up: Amy Stewart; Sound: Jonathan Seale; Special Effects Supervisor: Chris Reynolds; Visual Effects Supervisor: Stephen Coren, Sally Goldberg, Ivor Middleton.
      Cast: Eleanor Tomlinson (Amy), Robert Carlyle (Ogilvy), Rafe Spall (George), Jonathan Aris (Priest), Rupert Graves (Frederick), Woody Norman (George Junior), Nicholas Le Prevost (Chamberlain), Susan Wooldridge (Mrs. Elphinstone), Taliyah Blair (Lillian), Reid Anderson (Stall Holder), Philip Gascoyne (Navy Officer), Charles De'Ath (Greaves), Joey Batey (Henderson), Sam Benjamin (Salesman), Freya Allan (Mary), Christopher Hatherall (Naval Lieutenant), Daniel Cerqueira (Stent), Aisling Jarrett-Gavin (Lucy), Bradley Cottrell (Newspaper Boy), Harry Melling (Artilleryman), Kieron Bimpson (Captain), Cokey Falkow (Army Officer), Milo Twomey (Sergeant Major), Michele Donockley (Red Planet Survivor).
      Synopsis: Set in Edwardian England, this new adaptation of H.G. Wells' seminal tale – the first alien invasion story in literature – follows George (Spall) and his partner Amy (Tomlinson) as they attempt to defy society and start a life together. The War of the Worlds tells their story as they face the escalating terror of an alien invasion, fighting for their lives against an enemy beyond their comprehension.
      Comment: This adaptation of H.G.Wells' classic novel plays loose with its source material and clumsily attempts to invent its own allegorical agenda with references to British colonialism. Rather than follow the novel's linear narrative we jump between scenes set during the invasion and three years after into a post-apocalyptic landscape. The latter scenes only serve to slow the narrative and remove any fluidity and excitement that the invasion generates. Split across three hour-long episodes, the story feels overly stretched despite the occasional excitements and moments of tension. Tomlinson is good as the heroine who is conflicted between her bravery and responsibility to her unborn child. Spall is also okay as an everyman out of his depth. Carlyle, however, is wasted in a role that largely consigns him to the periphery of the action. What lets the production down is the writing, which is often stilted and provides a totally unsatisfying conclusion which clumsily attempts to be symbolic. Viveiros struggles to lift the material and settles for long moments of slow-motion action and introspection, which further dilute some of the set pieces. Technical attributes, however, are pretty good for the limited TV budget.