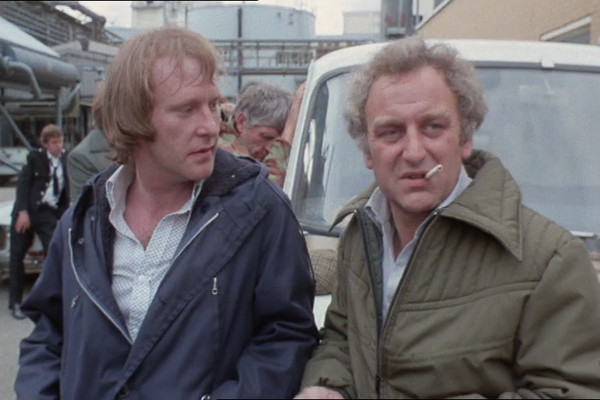 SWEENEY! (UK, 1977) ***
      Distributor: EMI Distribution; Production Company: Euston Films; Release Date: 20 January 1977; Filming Dates: April 1976 – May 1976; Running Time: 97m; Colour: Technicolor; Sound Mix: Mono; Film Format: 35mm; Film Process: ; Aspect Ratio: 1.85:1; BBFC Cert: 18.
      Director: David Wickes; Writer: Ranald Graham (based on The Sweeney created by Ian Kennedy Martin); Executive Producer: Lloyd Shirley, George Taylor; Producer: Ted Childs; Director of Photography: Dusty Miller; Music Composer: Denis King; Film Editor: Chris Burt; Casting Director: Marilyn Johnson; Art Director: William Alexander; Set Decorator: ; Costumes: David Murphy; Make-up: Michael Morris; Sound: Tony Dawe, Clive Smith; Special Effects: Arthur Beavis.
      Cast: John Thaw (D.I. Jack Regan), Dennis Waterman (D.S. George Carter), Barry Foster (Elliott McQueen), Ian Bannen (Charles Baker), Colin Welland (Frank Chadwick), Diane Keen (Bianca Hamilton), Michael Coles (Johnson), Joe Melia (Ronnie Brent), Brian Glover (Mac), Lynda Bellingham (Janice Wyatt), Morris Perry (Flying Squad Cdr. Maynon), Paul Angelis (Secret Serviceman), Nick Brimble (D.S. Burtonshaw), John Alkin (D.S. Tom Daniels), Bernard Kay (Matthews), Antony Scott (Johnson's Henchman), Antony Brown (Murder Inquiry Supt.), John Oxley (Chadwick's Deputy Editor), Peggy Aitchison (Carter's Neighbour), Hal Jeayes (Manservant), Sally Osborne (Sally), John Kane (Special Branch Sgt.), Chris Dillinger (Johnson's Henchman), Peter Childs (Murder Inquiry Insp.), Alan Mitchell (Detective Insp.), Leonard Kavanagh (Pathologist), Anthony Woodruff (Coroner), Michael Latimer (P.P.S.), Matthew Long (Traffic Police Sgt.), Joyce Grant (McQueen's Secretary), Johnny Shannon (Scotland Yard Duty Sgt.), David Corti (Young Boy), Susan Valentine (Chadwick's Secretary (as Susan Skipper)), Nadim Sawalha (Chairman of the Oil Producers' Conference).
      Synopsis: Hard-bitten Flying Squad officer Jack Regan gets embroiled in a deadly political plot when an old friend asks him to investigate the death of his girlfriend.
      Comment: Typical of its time in its political incorrectness, violent action and seeking out corruption in the higher echelons of government. Thaw and Waterman more than adequately carry forward their small-screen portrayals. Foster and Keen are impressive in the supporting cast. Whilst the plot is an interesting play on the Profumo affair of the early 1960s it somehow fails to deliver satisfactorily. The action scenes are well-directed and the crew of the TV series all play their part. The shocking finale is well-executed and played out.
      Notes: Based on the TV series The Sweeney (1974-8) and followed by SWEENEY 2 (1978) and an updated adaptation in 2012.