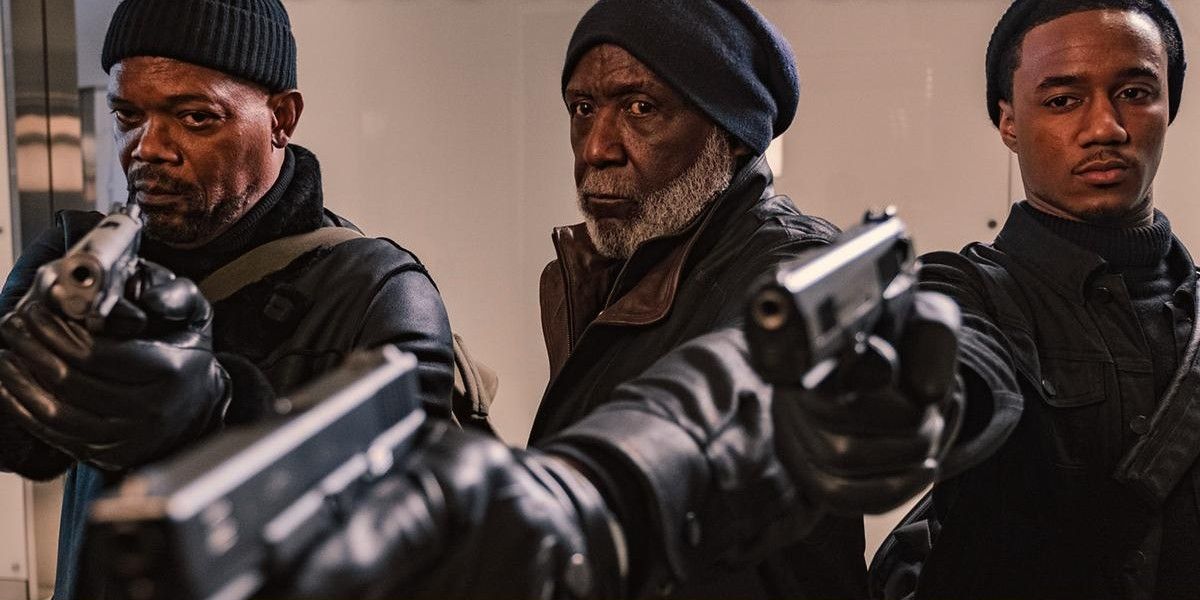 SHAFT (USA, 2019) *½
      Distributor: New Line Cinema / Warner Bros. (USA), Netflix (UK); Production Company: Davis Entertainment / Khalabo Ink Society / Netflix / New Line Cinema / Warner Bros.; Release Date: 14 June 2019 (USA), 28 June 2019 (UK); Filming Dates: December 2017 – February 2018; Running Time: 111m; Colour: Colour; Sound Mix: Dolby Digital; Film Format: D-Cinema; Film Process: Digital Intermediate (2K) (master format), Hawk Scope (anamorphic) (source format); Aspect Ratio: 2.39:1; BBFC Cert: 15.
      Director: Tim Story; Writer: Kenya Barris, Alex Barnow (based on the character created by Ernest Tidyman); Executive Producer: Kenya Barris, Richard Brener, Marc S. Fischer, Josh Mack, Ira Napoliello, Tim Story; Producer: John Davis; Director of Photography: Larry Blanford; Music Composer: Christopher Lennertz; Music Supervisor: Trygge Toven; Film Editor: Peter S. Elliot; Casting Director: Tara Feldstein; Art Director: Jeremy Woolsey, Brittany Hites; Set Decorator: Missy Parker; Costumes: Olivia Miles; Make-up: Kimberly Jones; Sound: Sean McCormack; Special Effects: Russell Tyrrell; Visual Effects: Nicole Rowley.
      Cast: Samuel L. Jackson (John Shaft), Jessie T. Usher (JJ Shaft), Richard Roundtree (John Shaft, Sr), Regina Hall (Maya Babanikos), Alexandra Shipp (Sasha Arias), Matt Lauria (Major Gary Cutworth), Titus Welliver (Special Agent Vietti), Method Man (Freddy P), Isaach De Bankolé (Pierro 'Gordito' Carrera), Avan Jogia (Karim Hassan), Luna Lauren Velez (Bennie Rodriguez), Robbie Jones (Sergeant Keith Williams), Aaron Dominguez (Staff Sergeant Eddie Dominguez), Ian Casselberry (Manuel Orozco), Almeera Jiwa (Anam), Amato D'Apolito (Farik Bahar), Leland L. Jones (Ron), Jalyn Hall (Harlem Kid), Sylvia Jefferies (Once Beautiful Woman), Whit Coleman (Butch Lesbian Girl), Chivonne Michelle (Baby), Tashiana Washington (Sugar), Philip Fornah (Jacked Dude), Laticia Rolle (Cocktail Waitress), Ryan King Scales (Male Secretary), Tywayne Wheatt (Portly Doorman), Kenny Barr (Cop), Mike Dunston (News Anchor), Jordan Preston Carter (5-8 Year Old JJ), Nyah Marie Johnson (5-8 Year Old Sasha), Joey Mekyten (5-8 Year Old Karim), Sawyer Schultz (Mike Mitchell), Esmeree Sterling (Cute Bartender), Jose Miguel Vasquez (FBI Employee), Gabriel 'G-Rod' Rodriguez (Goon), Keith Brooks (Drunk Disorderly Man), DominiQue MrsGiJane Williams (Beautiful Woman), Michael Shikany (Older Man in Mosque), Lucia Scarano (Lady in Line), Greta Quispe (Employee), Heather Seiffert (Hostess), Charles Green (Hallway Man), Dorothi Fox (Old Lady Neighbor), Shakur Sozahdah (Worshiper).
      Synopsis: John Shaft Jr., a cybersecurity expert with a degree from MIT, enlists his family's help to uncover the truth behind his best friend's untimely death.
      Comment: Misguided continuation of the Shaft legacy is one misstep after another. Firstly Story re-tools the franchise as an action comedy that attempts to wring laughs from the generation gap separating Jackson's John Shaft II from his son JJ, played far too broadly by Usher. Jackson's Shaft also suffers by being made into a caricature of the character he portrayed in the 2000 series continuation. Jackson does what he tends to do best but even he gives a one-note performance that lacks nuance. The plot thread that brings the two Shafts together is given scant focus by an incredibly lazy script by Barris and Barnow.  The plot is frequently abandoned to demonstrate time after time the un-PC Jackson vs the PC Usher through a series of increasingly tiresome jokes and one-liners. Roundtree, as the original John Shaft, appears late in the proceedings and delivers the best performance with a dry understated delivery that has more class than is seen in his character namesakes. Lennertz's score is insipid, lacking the grooves of Isaac Hayes' 1971 music, and fails to add anything to the franchise whilst it is constantly interspersed with rap numbers that only serve to give you a headache. Even the use of Hayes' theme is mishandled removing all elements of cool. To say I was disappointed in this destruction of Ernest Tidyman's legacy is an understatement. My advice to Shaft fans is to stick to the originals, or better still the books. If there is any future for the franchise on screen it would be better served making reference to David F Walker's recent comic books series prequel and rebooting the series set in period as a serious crime thriller.
      Notes: Most of the movie was shot in Atlanta, doubling for New York.