Author: David F. Walker
Artist: Bilquis Evely
Colourist: Daniela Miwa
SHAFT is ™ and © 2014 Ernest Tidyman
US: Dynamite Entertainment, 28 October 2015 (1-60690-757-3) [paperback]; 144pp
UK: Dynamite Entertainment, 28 October 2015 (1-60690-757-3) [paperback]; 144pp
Cover Painting: Denys Cowan, Bill Sienkiewicz
Artwork © 2014 Dynamite
Dedication: To Ernest Tidyman 1928-1984
BLURB
Who's the black private dick that's a sex machine with all the chicks? Shaft! (You're damn right!) Created by author Ernest Tidyman and made famous in a series of novels and films, iconic hero Shaft makes his graphic novel debut in an all-new adventure. He's gone toe-to-toe with organized crime bosses, stood up to the cops, squared off against kidnappers, and foiled assassination attempts. But who was John Shaft before he became the hardboiled investigator with a reputation as big as New York City itself? Recently arriving home from his tour of duty in Vietnam, his first case – tracking down a missing person for his girlfriend – quickly turns into a matter of life and death, making him a target of gangsters and the police!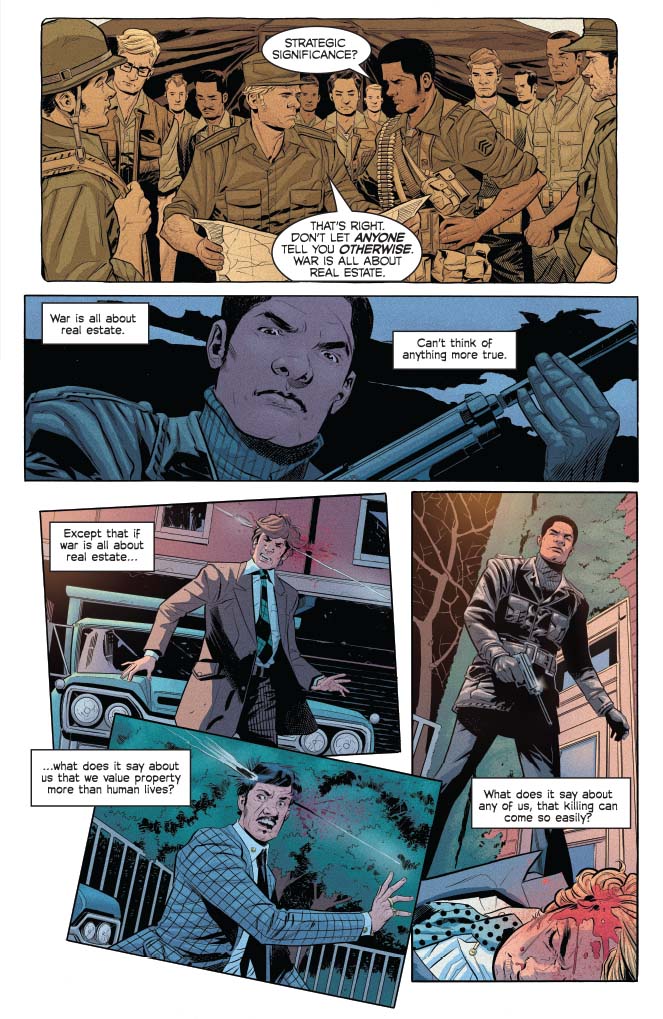 CHARACTERS
JOHN SHAFT, private investigator
ARLETHA HAVENS, Shaft's girlfriend
SAL VENNERI, Mafia gangster
JUNIUS TATE, Harlem gangster
BAMMA BROOKS, Tate's heavy
LT. VIC ANDEROZZI, NYPD detective
"BUTCH" BUCHINSKY, National Investigations & Security Services
VERNON GATES, Harlem businessman
EDWARD RUGGERIO, Port Authority
JIMMY STYLE, street criminal and pimp
MARISOL DUPREE, Style's girl
DETECTIVE 1234, crooked cop
SPECKS, Harlem gangster
TYRONE, Harlem gangster
RUDY GOMEZ, landlord
ELI JACKSON, Shaft's boxing manager
EDDIE WINSLOW, Shaft's boxing trainer
DOC POWELL, boxing doctor
NOTES
Originally published as a comic book in 6 monthly parts between 3 December 2014 and 13 May 2015.
Prequel to Ernest Tidyman's novel SHAFT (1970).
Winner of the 2015 Glyph Comics Award for "Story of the Year" and nominated for the 2015 Dwayne McDuffie Award for Diversity.
Additional material in Trade Paperback release includes: An introduction by Shawn Taylor, character sketches, a look at the making of the series, a complete cover gallery featuring art by Denys Cowan, Bill Sienkiewicz, Francesco Francavilla, Sanford Greene, and more.
SHAFT QUOTES
Gun supplier: "I wouldn't want to be whoever the fuck it is that's on your wrong side, no sir"
Shaft: "No, man, you wouldn't"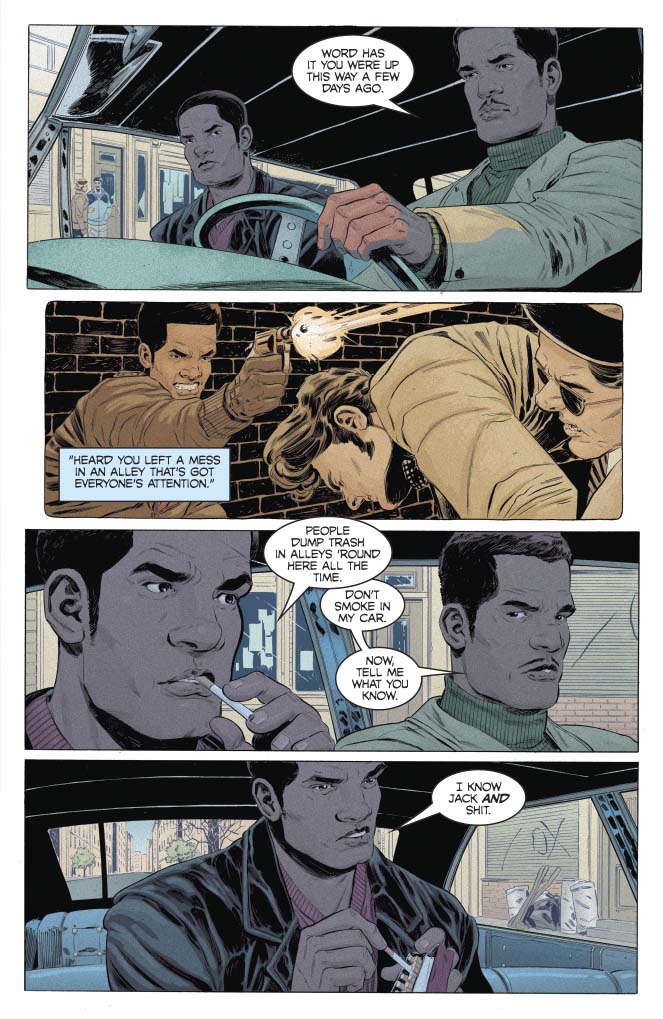 BOTTOM LINE
David Walker stays true to Tidyman's original concept of John Shaft in this excellent prequel, which serves to establish a character that became cultural icon. The plot uses a hidden book of incriminating photographs against a Port Authority official as the McGuffin and the murder of Shaft's girlfriend as the spark that ignites his inner rage. This is a great introduction to the world of John Shaft, with a crackling script and great artwork, that recreates the late 1960s setting. Topical references to the World Trade Center and the social issues prevalent at the time add to the authenticity. Walker is a worthy heir to Tidyman's literary legacy.
REVIEWS
"Overall this is an excellent contribution to Shaft's legacy. More than just a tie-in to what's already been established, it actually enhances the character by giving him a well-developed origin story. What might be the most surprising thing about A Complicated Man is how good it actually is." – Kieran Fisher, BigComicPage.com, 27 October 2015
"This is a straight-forward R-rated type of drama with excellent artwork from Bilquis Evely, and a book very much deserving of attention. It's realistic but still very artistic, with some great city scenery making for the perfect backdrop and really nice depictions of the various characters that inhabit it. There's a depth to the illustrations that suit the dark 'R-rated' storytelling style Walker employs and the coloring from Daniela Miwa gives things the right sort of seventies flavor that a good Shaft story needs." – Todd Jordan and Ian Jane, RockShockPop.com, 28 October 2015
"Most Shaft stories have him already pretty well established, but I definitely thought this fit as a strong origin story for the character. You can tell David Walker has a lot of respect for the character, and a strong desire to make him into a complex, heroic figure. He managed to pull it off brilliantly." – Mike Maillaro, CriticalBlast.com, 29 October 2015
"…full of all the violence, sex, racial politics you would expect from John Shaft, but told in a more introspective way than any of the three films ever allowed." – Curtis Caesar John, Bold As Love Magazine, 15 August 2016
"Comprising a devious wasps nest of civic corruption, crooked cops, warring mobsters and treacherous friends, played against a tragic backdrop of true love forever lost, Shaft's first case is a superb crime thriller no fan of the genre should miss." – Win Wiacek, ComicsReview.co.uk, 21 February 2018
MAIN COVERS (COMIC BOOK)
CHARACTER DESIGN