Four years ago it was announced that New Line had secured the rights from Warner Brothers to make a new Shaft movie. For fans of Ernest Tidyman's hero and the original 1970s movies this was a welcome surprise. The key question was how would New Line treat the property? Gradually news filtered out that the movie would be a sequel to the Samuel L Jackson 2000 version, itself a sequel to Richard Roundtree's three 1970s originals. The movie would feature a third generation John Shaft and would concentrate on the relationship between him and his father.  It would also have a comedic tone. That's when my heart, and no doubt those of many other fans of the original, sank. What we got when the film was finally released in June 2019, nearly a full year after completion, was exactly what had been promised. I sat watching the film with an increasingly sinking feeling that the producers had totally messed things up. Jackson's character has been turned into a caricature of his 2000 version, whilst Roundtree is trotted out for the finale and is given too little screen time, given he gives easily the most considered performance. My wife lasted half-an-hour, my son an hour, I had to see it through of course.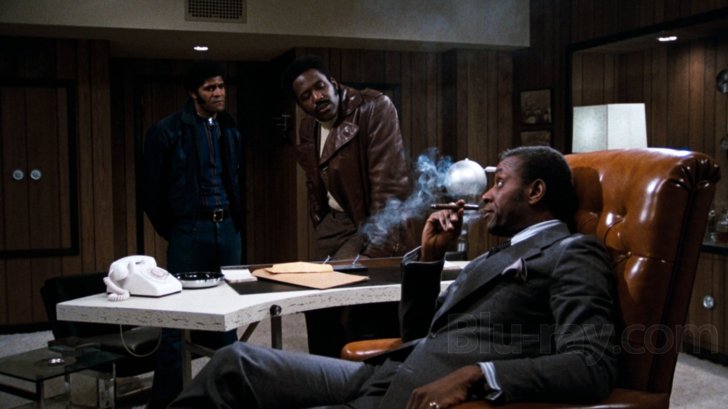 It seems odd that we are to accept in the post-millennial, ultra PC world we currently live in that it is impossible to make a serious crime thriller with a black hero. Why? 1971s Shaft was a hard-hitting crime thriller with a solid plot and a charismatic lead, which also had aspects of social commentary. It resonated with a generation of black Americans and a wider worldwide audience. It was groundbreaking in opening up Hollywood to black filmmakers and actors and as such has massive cultural significance. Yes, the glut of Blaxploitation movies that followed in its wake quickly veered into the territory of the absurd, but there were the occasional gems and, more importantly, it helped give black artists a stronger voice in popular culture.
Ernest Tidyman, Shaft's creator, was ironically a white man. His goal, on commission from Macmillan's mystery editor Alan Rinzler, was to create a black hero to give readers of crime fiction something different to the glut of white detectives and Agatha Christie-styled comfy mysteries. Tidyman duly obliged with a private eye in the mould of Mickey Spillane's Mike Hammer and Raymond Chandler's Philip Marlowe brought up to date and thrown into a decaying New York City with all its financial and social problems and its escalating crime rate. The result was the novel Shaft (1970), a hard-hitting fast read of a thriller that integrates the social issues of life in Harlem into a straight-forward detective story of threatened gang warfare between the Mafia and the Harlem crime lord. Tidyman was a former journalist with the New York Times who had an in-depth knowledge of both the city and its issues.
As written by Tidyman, the character of John  Shaft was a product of poverty in the black community. Orphaned at two-years-old, passed around from foster home to foster home, he ran with the street gangs before being enlisted to fight in Vietnam rather than go to jail. A wounded war hero, hardened by his experience he made his own way in the white man's world. Setting up his own detective agency and operating from Times Square – not the glitzy location of today, but the sleazy run-down place it had become in the 1970s. He lived in a Greenwich Village Apartment, amongst arty types. He had no time for the black militants, led by his former friend Ben Buford, and admonished Knocks Persons, the Godfather of Harlem for soaking the streets with drugs, prostitutes and for preying on the poverty of the population via the numbers racket. Shaft was a loner, out for himself. A man of few close friends. He had been shaped by his upbringing and his experiences into looking after number 1.
Tidyman cleverly weaved all these strands through that first novel and the result was a sensation that was quickly picked up by the big studios. MGM finally acquired the rights and hired Gordon Parks, a photographer and filmmaker with an affinity and feel for Harlem. Parks put his own stamp on the character in the film adaptation taking Tidyman's template and fashioning a charismatic performance from newcomer Richard Roundtree. Isaac Hayes' funky score captured both the character of Shaft and the feel of the streets and provided the icing on the cake. The opening sequence is one of the best in motion picture history at establishing a character in three or four minutes.
Like Tidyman's novels, the film series became gradually more formulaic as bigger budgets put more emphasis on action and less on character, but they remained thoroughly enjoyable. The failure of Shaft in Africa at the box office signalled a move of the franchise to TV for a short-lived series of 7 TV movies. In 1975, Tidyman killed off the character in his seventh novel The Last Shaft ("He was tired and so was I")  and the world moved on.
Twenty-five years later, Paramount and John Singleton attempted to relaunch the franchise. They cast Samuel L Jackson as Shaft's nephew (later to be determined as his son) – also named John Shaft – and put him in a serviceable crime thriller, which lost the hipness and resonance of those 1970s movies, whilst providing an opportunity for Jackson to showcase his considerable charisma. The movie did well at the box office, but no-one was really happy with it.
Nearly a generation later the world is a different place – even from that seen at the turn of the century, but there are worrying elements of an increasing backlash against attitudes of social tolerance: the election of Trump; Brexit in the UK; the increasing narrow-mindedness toward the migrant situation whether it be between the Middle East and Europe or on the US/Mexican border. Issues that could be addressed rather than ignored.
The laudable focus on diversity and sexual equality has rendered some of the wider attitudes seen in 1970s society as objectionable. Questions are being asked about the popular cultural icons of the time. The sexism perceived in characters such as James Bond and John Shaft is now no longer acceptable. Today's heroes are driven to be whiter than white or they cannot be held up as role models for society.
This thinking is embodied in the character of JJ (John Shaft III) in Tim Story's new version of Shaft. The scriptwriters (Kenya Barris and Alex Barnow) decided they would pitch post-Millennial attitudes against those of the pre-Millennial through JJs relationship with his father. But instead of taking a serious approach and making a forceful statement, they go for a comedy of manners. In so doing they both undermine their message and end up creating caricatures for comic effect rather than characters of depth.
And none of this has anything to do with Ernest Tidyman's original creation.
Tidyman was not going all out to make social and political points in his writing. The issues of the day were presented as a backdrop to the story. Tidyman was creating escapist entertainment and thrills from a plausible detective hero – a character single-mindedly establishing a life for himself despite the things that have conspired against him.  That is the essence of the character of John Shaft. Yes, he has his flaws – his disposable attitude to women, a sense of homophobia – but his heroic qualities of loyalty and resilience and his determination to do things his own way sent a message which resonated with the black population. Ernest Tidyman was recognised for his work on Shaft by the National Association for the Advancement of Colored People (NAACP). In 2000, the original 1971 movie was preserved in the United States National Film Registry by the Library of Congress for being "culturally, historically, or aesthetically significant".
The question posed by the failure of the new movie is: Does John Shaft carry any relevance in today's world? The box office numbers for Tim Story's movie would suggest not. But, is that because the movie is a total misfire that adds nothing to the Shaft legacy and indeed mocks its perceived outdated attitudes? Could a viable Shaft production still be made today? I believe the answer to this question is a definitive YES. As long as the subject is taken seriously and abandons the dilution through generational baton-handing.
In my mind there are two potential ways to go with the franchise: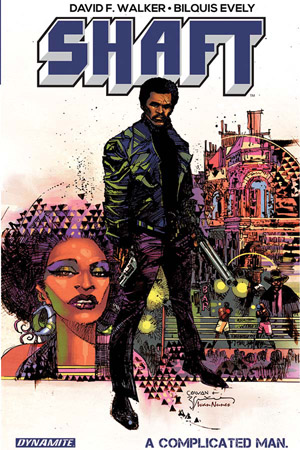 1.  Go back to the beginning and set it in the period. In 2014 David F Walker persuaded Dynamite Entertainment to obtain the literary rights to the character for a series of comic books and new prose novels. The result was Shaft: A Complicated Man. Set in 1969 this comic book is an "origins" story that explores how Shaft became a private detective having returned from Vietnam. It is effectively a prequel to Tidyman's novel. It is a character study that deftly uses the 1969 New York setting and explores Shaft's inner turmoil against the backdrop of him seeking revenge for the death of his girlfriend at the hands of organised crime. As a character study, a crime thriller and a representation of a period in history it works on multiple levels and has an emotional impact.
2. A reboot for the modern day. Bring the character up to date and set him against a backdrop of the social issues of today, whilst retaining his key core characteristics set down in Tidyman's template. Craft a story that is exciting and challenging and allows these characteristics to be drawn out. Shaft should remain uncompromising, tough, resilient, single-minded. Some of the excesses of his character could be softened, but not removed altogether. Shaft is a flawed character – as are we all as individuals. These flaws are what make him feel human. The essence of that character should be retained.
I fear after the poor returns for Tim Story's movie that the franchise is now dead on the big screen. However, there may still be opportunities to explore either of the two options I have outlined above on the small screen. If so, TV will likely be the best medium as it allows space for exposition of plot and exploration of social issues whilst giving the characters room to breathe and grow. A Shaft TV series today would be very different to the watered-down version of 1973/4. Warner Brothers need to stay true to a property in which I believe there is still mileage and not farm it out to hacks who have no feel for it. I am hoping there are sympathetic filmmakers out there who can put John Shaft back on the map and make him as relevant today as he was back in 1971.