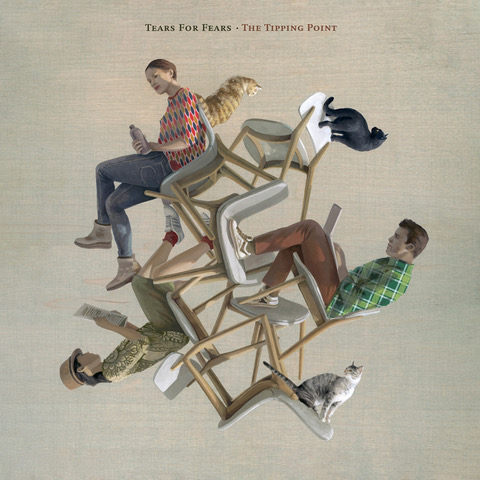 TEARS FOR FEARS
THE TIPPING POINT (CD, Concord Records, 25 February 2022, 42:25) – score 69%
Musicians: Roland Orzabal – Vocals, Guitar, Keyboards; Curt Smith – Vocals, Guitar, Bass, Keyboards; with Doug Petty – accordion, Hammond organ (1); piano (6), string arrangement (7); Carina Round – background vocals (1, 3, 5, 6); Aaron Sterling – drums (1, 4, 6); Jamie Wollam – drums (1); Max von Ameln – guitar (5); Jason Joseph – vocal arrangement, choir (6); Charles Jones – choir (6); Jessi Collins – choir (6); Lauren Evans – choir (6); Sacha Skarbek – piano (7).
Producer: Tears for Fears with Sacha Skarbeck; Additional Production: Florian Reutter, Charlton Pettus; Assistant Engineer: Max Von Amelin; Mastered by Ted Jensen, Justin Shturtz (11); Recorded 2013-2021.
Tears for Fears return with their first studio album since 2004's wonderful Everybody Loves a Happy Ending. Where their previous album established a distinctly Beatle-esque identity, here the band can be seen looking back at various stages of their own career. "No Small Thing" kicks off the album in a low-key fashion with its winning acoustic guitar-led refrain, before building in size – it is a strong statement and would have perhaps made a more effective close to the album. It is followed by the exuberant pop of "The Tipping Point". "Rivers of Mercy" recalls elements of "Woman in Chains" from Seeds of Love, whilst "Master Plan" would have been quite at home on Happy Ending. Elsewhere there is a retro electronic approach to "My Demons" and "Break the Man" and the wistful "Stay" makes for a sedate closer (the track is a remix of the version that appeared on their Greatest Hits package Rule the World.  The political and personal themes explored on the album, which was recorded during a period of personal turmoil for Orzabal following the death of his wife, give the album a lyrical focus. The result is a polished album that was well-received by music critics, but one that does not quite hit the peaks of their best work.
---
TRACK SCORES:
1. No Small Thing (Orzabal/Smith) (4:42) ****
2. The Tipping Point (Orzabal/Pettus) (4:13) ****
3. Long, Long, Long Time (Smith/Orzabal/Pettus) (4:31) ***
4. Break the Man (Smith/Pettus) (3:55) ***
5. My Demons (Orzabal/Skarbek/Reutter) (3:08) ***
6. Rivers of Mercy (Orzabal/Pettus/Petty) (6:08) ****
7. Please Be Happy (Orzabal/Skarbek) (3:05) ***
8. Master Plan (Orzabal) (4:37) ****
9. End of Night (Orzabal) (3:23) ***
10. Stay (Smith/Pettus) (4:36) ***
Bonus Tracks:
11. Secret Location (Smith/Skarbek/Orzabal/Lee) (4:04) *** (UK deluxe Edition)
12. Let It All Evolve (Smith/Orzabal/Pettus) (4:26) *** (Japanese deluxe and US Target edition bonus track)
13. Shame (Cry Heaven) (Smith/Skarbek/Pettus/Reutter/Orzabal) (5:31) *** (Japanese deluxe and US Target edition bonus track)
---
THE MUSIC PRESS:
Record Collector (Charles Waring): "It's an album blazing with a refulgent light that illuminates the darkness. Ultimately, it's a cathartic celebration of life co-created by someone who's survived a traumatic experience. More importantly, it shows how heartbreak, suffering and tragedy can be refashioned into transcendent art." (*****)
Classic Rock Magazine: "The Tipping Point album is tip-top art-pop." (****½)
All Music Guide (Thom Jurek): "This set is a classic-sounding Tears for Fears record, one that makes the listener take emotional, spiritual, and mental inventory of their inner world even as the one outside roils with trouble, violence, and madness. Welcome back gents, we've missed you." (****)
Mojo: "The more chances Tears For Fears take, the more they thrive, and they take chances here: seems like a new album was a good idea after all." (****)
Uncut: "Fans of Curt Smith and Roland Orzabal will find more than enough reminders of their glory days." (****)
American Songwriter (Hal Horowitz): "While there are few moments that challenge the band's finest work, let alone justify the extended wait for new music, The Tipping Point reaffirms TFF's collaborative talents. They remain idiosyncratic and distinctive in a pop music landscape now enhanced by having this veteran duo back in action again." (***½)