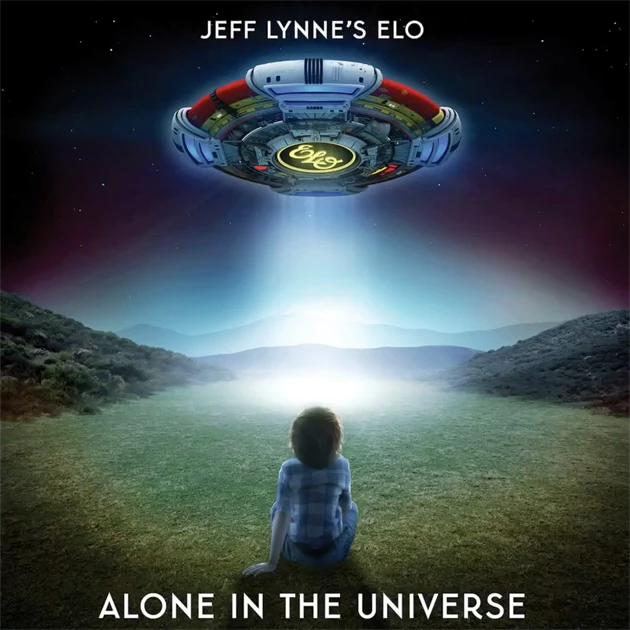 JEFF LYNNE'S ELO – ALONE IN THE UNIVERSE (2015) ∗∗∗½
Tracks: "When I Was a Boy" / "Love and Rain" / "Dirty to the Bone" / "When the Night Comes" / "The Sun Will Shine on You" / "Ain't It a Drag" / "All My Life" / "I'm Leaving You" / "One Step at a Time" / "Alone in the Universe"  Bonus Tracks: "Fault Line" / "Blue"
All songs written by Jeff Lynne
Produced by Jeff Lynne
Musicians: Jeff Lynne – All instruments except the shaker and the tambourine; Steve Jay – shaker, tambourine, engineer; Laura Lynne – background vocals on "Love and Rain" and "One Step at a Time".
Last year's triumphant performance at Radio 2's Hyde Park gig spurred Jeff Lynne back into writing songs for a new ELO album and tour. It's been 14 years since the last ELO album, the overlooked and underrated Zoom, and here Lynne effectively produces a solo album under the band's name. He brings in a range of influences from his heroes – The Beatles ("When I was a Boy" and "The Sun Will Shine on You") and Roy Orbison ("Blue") – to hints of disco ("One Step at a Time") and reggae ("When the Night Comes") in a varied collection of melodic songs. Whilst the album doesn't reach the heights of the band's classic mid-1970s period – A New World Record, Out of the Blue – and lacks the sustained excellence of 2001's Zoom, this is still a classy selection.