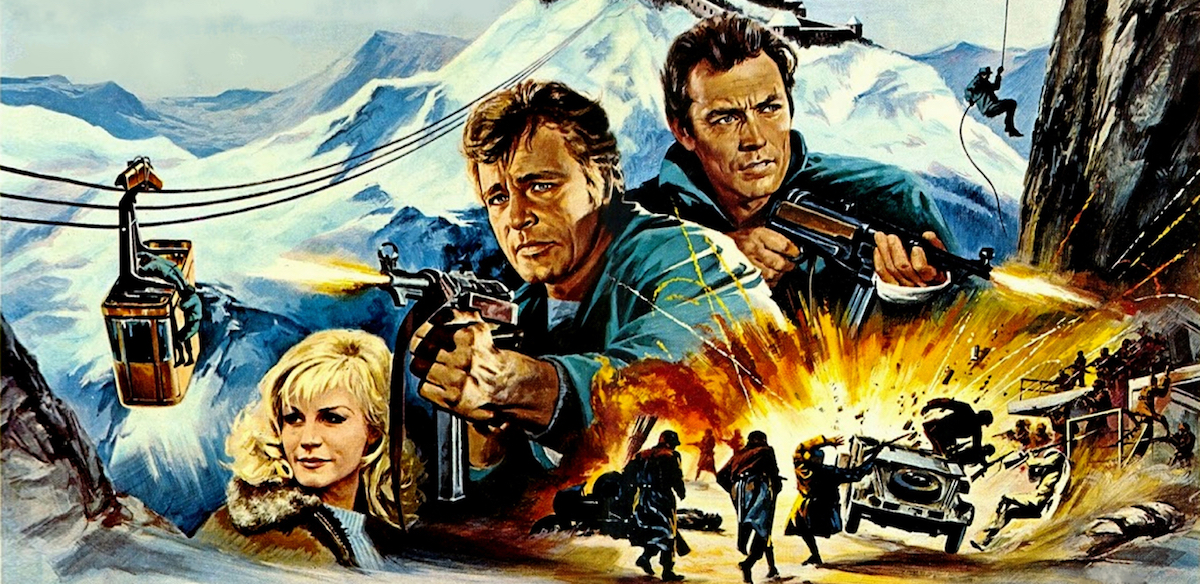 WHERE EAGLES DARE (UK/USA, 1968) ****
      Distributor: Metro-Goldwyn-Mayer (MGM); Production Company: Metro-Goldwyn-Mayer (MGM) / Jerry Gershwin Productions / Elliott Kastner Productions / Winkast Film Productions; Release Date: 4 December 1968 (UK), 12 March 1969 (USA); Filming Dates: 2 January 1968 – May 1968; Running Time: 158m; Colour: Metrocolor; Sound Mix: 70 mm 6-Track (70 mm prints) | Mono (35 mm prints); Film Format: 35mm (70mm blow up); Film Process: Panavision (anamorphic); Aspect Ratio: 2.35:1; BBFC Cert: PG – moderate violence.
      Director: Brian G. Hutton; Writer: Alistair MacLean (based on his novel); Executive Producer: Jerry Gershwin; Producer: Elliott Kastner; Associate Producer: Denis Holt, Richard McWhorter; Director of Photography: Arthur Ibbetson; Music Composer: Ron Goodwin; Film Editor: John Jympson; Art Director: Peter Mullins; Set Decorator: Arthur Taksen; Costumes: Yvonne Blake, Arthur Newman (both uncredited); Make-up: Tony Sforzini (uncredited); Sound: Jonathan Bates, John Bramall, J.B. Smith; Special Effects: Fred Hellenburgh, Richard Parker; Visual Effects: Tom Howard.
      Cast: Richard Burton (Maj. Smith), Clint Eastwood (Schaffer), Mary Ure (Mary Ellison), Patrick Wymark (Col. Turner), Michael Hordern (Adm. Rolland), Donald Houston (Christiansen), Peter Barkworth (Berkeley), William Squire (Thomas), Robert Beatty (Carnaby), Brook Williams (Sgt. Harrod), Neil McCarthy (Sgt. Jock MacPherson), Vincent Ball (Carpenter), Anton Diffring (Col. Kramer), Ferdy Mayne (Rosemeyer), Derren Nesbitt (Von Hapen), Victor Beaumont (Col. Weissner), Ingrid Pitt (Heidi). Uncredited: Chris Adcock (German Soldier), Richard Beale (Telephone Orderly), Roy Beck (German Cablecar Engineer), Terence Conoley (Nazi), Ivor Dean (German Officer #2), Guy Deghy (Maj. Wilhelm Wilner), Jim Dowdall (German Officer on Stairs), Max Faulkner (Sgt. Hartmann), Harry Fielder (German Soldier), John G. Heller (German Major – at 'Zum Wilden Hirsch'), Lyn Kennington (German Woman), Nigel Lambert (Young German Soldier), Olga Lowe (Lt. Anne-Marie Kernitser), Ian McCulloch (German Officer), Terence Mountain (German Radio Op), Derek Newark (German Major), Jim O'Brady (Waiter at Zum Wilden Hirsch), Edward Michael Perry (German Soldier), Anton Rodgers (German Officer at Airfield), Peter Roy (German Soldier), Bill Sawyer (Helicopter Pilot), Jack Silk (German Officer at Ammunitions Shed), Philip Stone (Sky Tram Operator), Jim Tyson (Innkeeper), Ernst Walder (Airport Control Officer).
      Synopsis: Allied agents stage a daring raid on a castle where the Nazis are holding an American General prisoner, but that's not all that's really going on.
      Comment: This is a highly entertaining wartime adventure written by Alistair MacLean. It gives THE GUNS OF NAVARONE  a run for its money as the best movie based on a MacLeran story. Burton, who took the lead role in an attempt to revive his box-office status, is an unlikely hero but acquits himself well. Eastwood does little more than add monosyllabic dialogue and shoot the enemy, but his star quality is obvious. There are some moments of humour between the leads, who strike up a likeable chemistry. The script is a fairly straight-forward rescue mission disguised as a complex espionage thriller. It adds the expected plot twists in order to keep the viewer guessing. Ultimately it is the action sequences that make the film exciting and Hutton manages to ratchet a fair amount of suspense from these. Ron Goodwin's memorable score also helps to give the film its scale. Mary Ure and Ingrid Pitt make the most of their under-developed roles. For all its implausibilities it remains one of the best examples of high adventure from 1960s cinema.
      Notes: MacLean wrote the script and novel simultaneously over a period of six weeks. Location scenes filmed in the Austrian Alps. This is one of the first films to use front projection effect. Specifically, this technology enabled filming of the scenes where the actors are on top of the cable car.