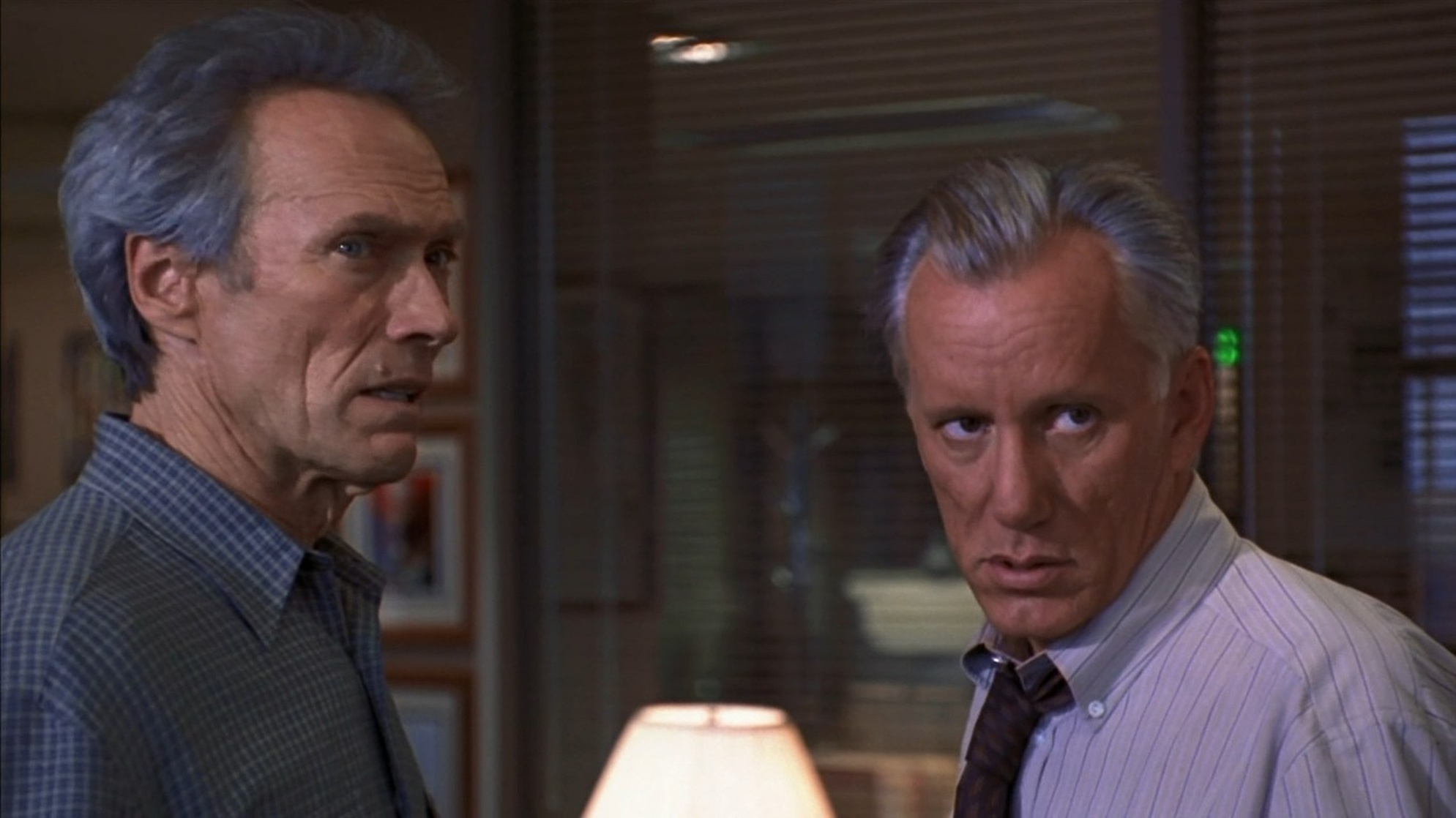 TRUE CRIME (USA, 1999) ***½
      Distributor: Warner Bros.; Production Company: Warner Bros. / The Zanuck Company / Malpaso Productions; Release Date: 19 March 1999 (USA), 14 May 1999 (UK); Filming Dates: 4 May 1998 – 26 June 1998; Running Time: 127m; Colour: Technicolor; Sound Mix: DTS | Dolby Digital | SDDS; Film Format: 35mm; Film Process: Spherical; Aspect Ratio: 1.85:1; BBFC Cert: 15.
      Director: Clint Eastwood; Writer: Larry Gross, Paul Brickman, Stephen Schiff (based on the novel by Andrew Klavan); Executive Producer: Tom Rooker; Producer: Clint Eastwood, Lili Fini Zanuck, Richard D. Zanuck; Director of Photography: Jack N. Green; Music Composer: Lennie Niehaus; Film Editor: Joel Cox; Casting Director: Phyllis Huffman; Production Designer: Henry Bumstead; Art Director: Jack G. Taylor Jr.; Set Decorator: Richard C. Goddard; Costumes: ; Make-up: Tania McComas; Sound: Bub Asman, Alan Robert Murray; Special Effects: John Frazier.
      Cast: Clint Eastwood (Steve Everett), Isaiah Washington (Frank Louis Beechum), LisaGay Hamilton (Bonnie Beechum), James Woods (Alan Mann), Denis Leary (Bob Findley), Bernard Hill (Warden Luther Plunkitt), Diane Venora (Barbara Everett), Michael McKean (Reverend Shillerman), Michael Jeter (Dale Porterhouse), Mary McCormack (Michelle Ziegler), Hattie Winston (Angela Russel), Penny Bae Bridges (Gail Beechum), Francesca Eastwood (Kate Everett), John Finn (Reedy), Laila Robins (Patricia Findley), Sydney Tamiia Poitier (Jane March), Erik King (Pussy Man), Graham Beckel (Arnold McCardle), Frances Fisher (D.A. Cecilia Nussbaum), Marissa Ribisi (Amy Wilson), Christine Ebersole (Bridget Rossiter), Anthony Zerbe (Henry Lowenstein), Nancy Giles (Leesha Mitchell), Tom McGowan (Tom Donaldson), William Windom (Neil), Don West (Dr. Roger Waters), Lucy Liu (Toy Shop Girl), Dina Eastwood (Wilma Francis), Leslie Griffith (Herself – TV Anchor), Dennis Richmond (TV Anchor), Frank Somerville (Afternoon News Anchor), Dan Green (Field Producer), Nicholas Bearde (Reuben Skycock), Frances Lee McCain (Mrs. Lowenstein), Cecil Williams (Reverend Williams), Casey Lee (Warren Russell), Jack Kehler (Mr. Ziegler), Colman Domingo (Wally Cartwright), Linda Hoy (Counter Woman at Pocum's Grocery), Danny Kovacs (Atkins), Kelvin Han Yee (Zachary Platt), Kathryn Howell (Nurse), Beulah Stanley (Female Guard), George Maguire (Frederick Robertson), Bill Wattenburg (Radio Reporter), Cathy Fithian (Nancy Larson), Roland T. Abasolo (Guard), Michael Halton (Guard), Jade Marx-Berti (Waitress), Velica Marie Davis (Purse Whacker), John B. Scott (Colonel Drummond), Edward Silva (Colonel Hernandez), Jordan Sax (Colonel Badger), Rob Reece (Executioner), Walter Brown (Beechum Family Member).
      Synopsis: Can an over-the-hill journalist uncover the evidence that can prove a death row inmate's innocence just hours before his execution?
      Comment: Taut, gripping race-against-time thriller may stretch credibility but is nonetheless well-crafted. Washington delivers a superb performance as the innocent man on death row, whilst Eastwood's star quality cuts through as the alcoholic and womanising reporter out to clear his name. Hill gives a nicely balanced portrayal as the prison governor at odds with his conscience. A tighter script would have made this an absolute winner, but it too often relies on a significant suspension of disbelief from its audience. Fortunately, due to its strong cast, it just about delivers.