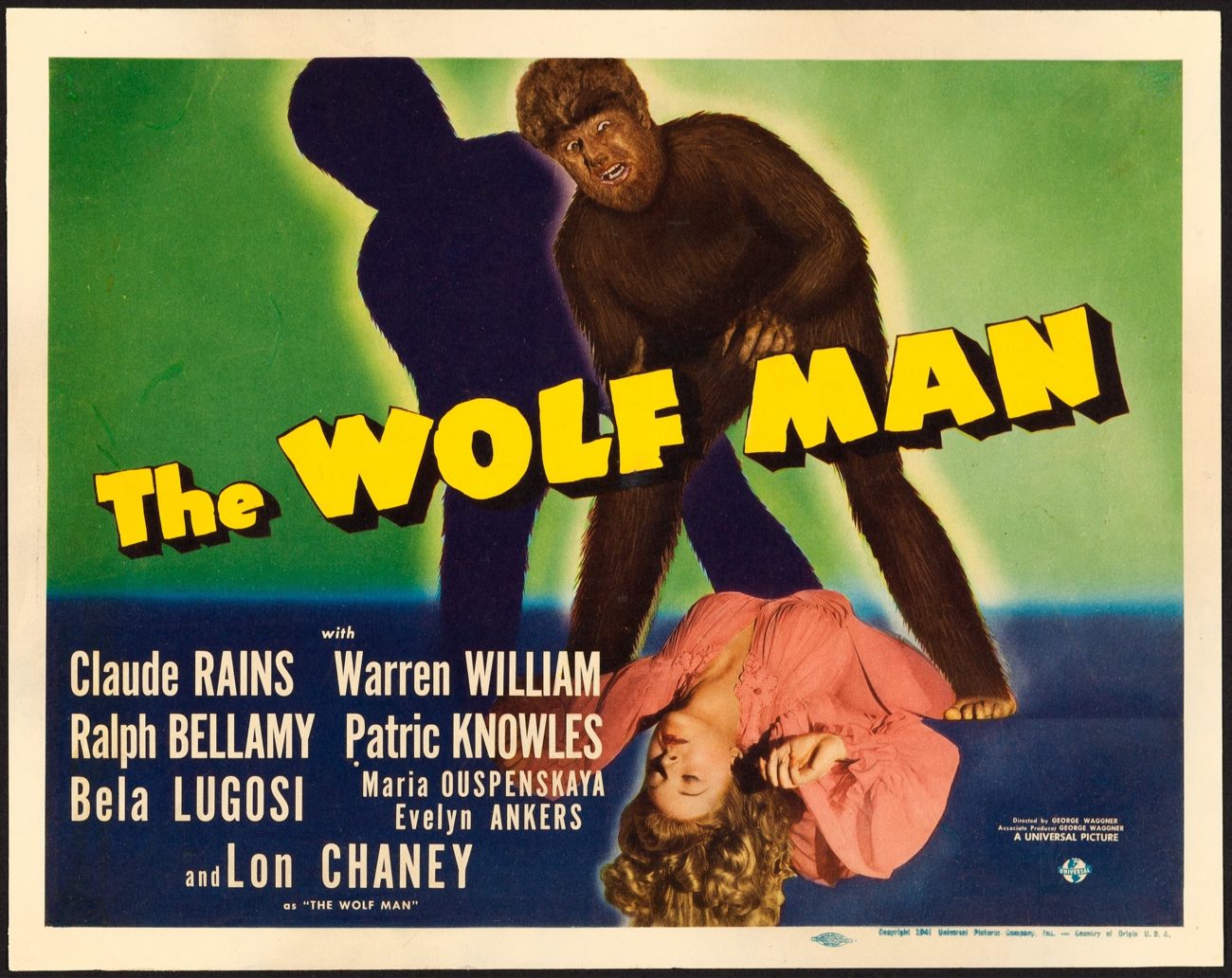 THE WOLF MAN (USA, 1941) ***½
      Distributor: Universal Pictures; Production Company: Universal Pictures; Release Date: 9 December 1941 (USA), 13 March 1942 (UK); Filming Dates: 8 September 1941 – 25 November 1941; Running Time: 70m; Colour: B&W; Sound Mix: Mono (Western Electric Mirrophonic Recording); Film Format: 35mm; Film Process: Spherical; Aspect Ratio: 1.37:1; BBFC Cert: PG.
      Director: George Waggner; Writer: Curt Siodmak; Executive Producer: Jack J. Gross; Producer: George Waggner; Director of Photography: Joseph A. Valentine; Music Composer: Charles Previn, Hans J. Salter, Frank Skinner (all uncredited); Music Director: Charles Previn; Film Editor: Ted J. Kent; Art Director: Jack Otterson; Set Decorator: Russell A. Gausman; Costumes: Vera West; Make-up: Jack P. Pierce; Sound: Bernard B. Brown; Special Effects: John P. Fulton (uncredited).
      Cast: Lon Chaney Jr. (Larry Talbot – The Wolf Man), Claude Rains (Sir John Talbot), Warren William (Dr. Lloyd), Ralph Bellamy (Colonel Paul Montford), Patric Knowles (Frank Andrews), Bela Lugosi (Bela), Maria Ouspenskaya (Maleva), Evelyn Ankers (Gwen Conliffe), J.M. Kerrigan (Charles Conliffe), Fay Helm (Jenny Williams), Forrester Harvey (Twiddle), Jessie Arnold (Gypsy Woman (uncredited)), Leyland Hodgson (Kendall – Butler (uncredited)), Connie Leon (Mrs. Wykes (uncredited)), Doris Lloyd (Mrs. Williams (uncredited)), Ottola Nesmith (Mrs. Bally (uncredited)).
Synopsis: A practical man returns to his homeland, is attacked by a creature of folklore, and infected with a horrific disease his disciplined mind tells him cannot possibly exist.
      Comment: Universal's second Werewolf film after WEREWOLF OF LONDON (1935). It is a fun outing with a strong sense of atmosphere, created by Valentine's moody photography and Pierce's impressive make-up. Chaney is Lawrence Talbot, who returns to father Rains' estate and falls for antique shop-girl Ankers. After visiting a gypsy camp, where he meets the mysterious Lugosi he is bitten by a werewolf and his nightmares begin. Chaney is too stiff to carry off the leading man role but is better when in full make-up and snarling at his intended victims. Rains delivers the best performance, capturing subtly his character's dilemma of not wanting to believe his son is the murderous monster, but deep down knowing he must do what is right. Waggner directs with pace and the movie proved to be a success. Chaney would appear as the Wolf Man four more times, but only as part of multi-monster offerings. Followed by FRANKENSTEIN MEETS THE WOLF MAN (1943) and remade as THE WOLFMAN (2010).