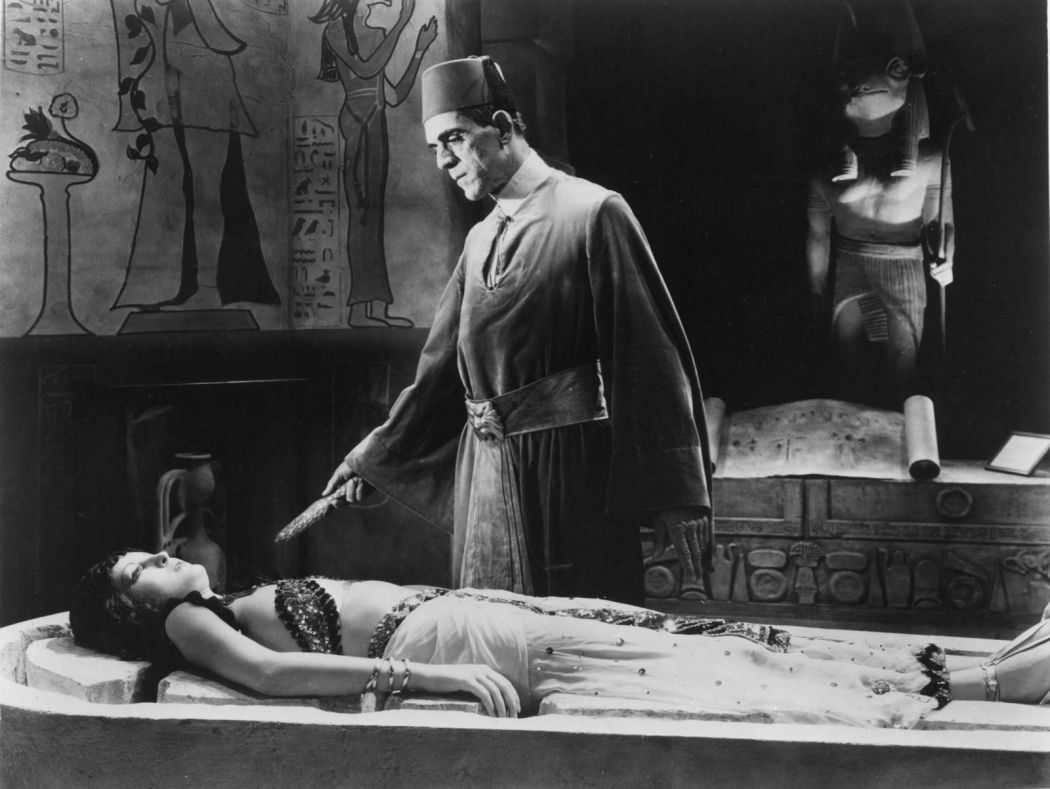 THE MUMMY (USA, 1932) ****
     Distributor: Universal Pictures; Production Company: Universal Pictures; Release Date: 22 December 1932 (USA); Filming Dates: mid September – mid October 1932; Running Time: 73m; Colour: B&W; Sound Mix: Mono (Western Electric Noiseless Recording Sound System); Film Format: 35mm; Film Process: Spherical; Aspect Ratio: 1.37:1; BBFC Cert: PG – mild horror and violence.
     Director: Karl Freund; Writer: John L. Balderston (from a story by Nina Wilcox Putnam & Richard Schayer); Executive Producer: Carl Laemmle; Producer: Carl Laemmle Jr.; Associate Producer: Stanley Bergerman (uncredited); Director of Photography: Charles J. Stumar; Music Composer: James Dietrich (uncredited); Film Editor: Milton Carruth; Art Director: Willy Pogany (uncredited); Costumes: Vera West (uncredited); Make-up: Jack P. Pierce (uncredited); Sound: Joe Lapis (uncredited); Special Effects: John P. Fulton.
     Cast: Boris Karloff (Imhotep), Zita Johann (Helen Grosvenor), David Manners (Frank Whemple), Arthur Byron (Sir Joseph Whemple), Edward Van Sloan (Doctor Muller), Bramwell Fletcher (Ralph Norton), Noble Johnson (The Nubian), Kathryn Byron (Frau Muller), Leonard Mudie (Professor Pearson), James Crane (The Pharaoh), Henry Victor (The Saxon Warrior (scenes Deleted)), Arnold Gray (Knight (scenes deleted)). Uncredited: Florence Britton (Nurse), Jacob Dance (Party Guest), Jack Deery (Party Guest), Bill Elliott (Party Guest), Leyland Hodgson (Gentleman #2 at Cairo Party), Eddie Kane (Inspector's Assistant), Tony Marlow (Police Inspector), C. Montague Shaw (Gentleman #1 at Cairo Party), Pat Somerset (Helen's Dancing Partner), Arthur Tovey (Nubian).
      Synopsis: A resurrected Egyptian mummy stalks a beautiful woman he believes to be the reincarnation of his lover and bride.
     Comment: Another of Universal's horror classics. This one relies on atmosphere and mood rather than thrills and shocks. Karloff gives a mesmerising performance as the re-incarnated Imhotep. Jack Pierce's make-up is first-class and is well lit by cameraman  Stumar – notably in scenes were Karloff takes over the minds of those who would get in his way. Johann makes for an effective descendant who comes under Karloff's spell, using her eyes and body to alluring effect. Van Sloan follows up his appearances in DRACULA (1931) and FRANKENSTEIN (1931) by again playing the expert doctor, here figuring out the mystery behind Karloff's plans. There is only a limited musical score resulting in lapses in tension and the story feels a little one-paced as a result. A host of sequels, remakes and copies followed, but at the time this was a unique and unsettling experience that sat just behind its illustrious predecessors.
Notes: The main theme music to the opening credits is the exact same movement from "Swan Lake" used to open DRACULA one year earlier. Unlike other Universal Monsters films, THE MUMMY had no official sequels, but rather was reimagined in THE MUMMY'S HAND (1940) and its sequels, THE MUMMY'S TOMB (1942), THE MUMMY'S GHOST (1944), THE MUMMY'S CURSE (1944), and the studios' comedy-horror crossover movie ABBOTT AND COSTELLO MEET THE MUMMY (1955). These films focus on the titular character named Kharis (Klaris in the Abbott and Costello film). Remade in 1959 and 1999.