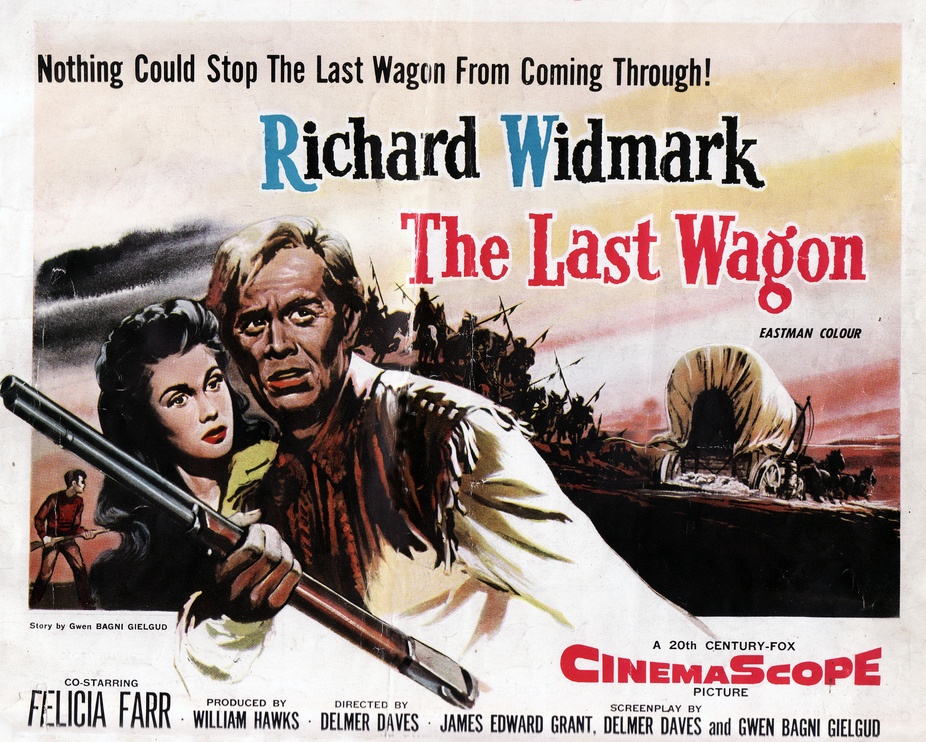 THE LAST WAGON (USA, 1956) ***½
      Distributor: Twentieth Century Fox; Production Company: Twentieth Century Fox Film Corporation; Release Date: 21 September 1956 (USA), 26 November 1956 (UK); Filming Dates: 17 April 1956 – early June 1956; Running Time: 99m; Colour: DeLuxe; Sound Mix: 3 Channel Stereo (Westrex Recording System) (5.0) (L-R); Film Format: 35mm; Film Process: CinemaScope; Aspect Ratio: 2.35:1; BBFC Cert: PG.
      Director: Delmer Daves; Writer: Delmer Daves, James Edward Grant, Gwen Bagni (based on a story by Gwen Bagni); Producer: William B. Hawks; Director of Photography: Wilfred M. Cline; Music Composer: Lionel Newman; Film Editor: Hugh S. Fowler; Art Director: Lewis H. Creber, Lyle R. Wheeler; Set Decorator: Chester Bayhi, Walter M. Scott; Costumes: Mary Wills; Make-up: Ben Nye, Helen Turpin; Sound: Bernard Freericks, Harry M. Leonard.
      Cast: Richard Widmark (Comanche Todd), Felicia Farr (Jenny), Susan Kohner (Jolie Normand), Tommy Rettig (Billy), Stephanie Griffin (Valinda Normand), Ray Stricklyn (Clint), Nick Adams (Ridge), Carl Benton Reid (Gen. Howard), Douglas Kennedy (Col. Normand), George Mathews (Sheriff Bull Harper), James Drury (Lt. Kelly), Ken Clark (Sergeant).
      Synopsis: When a handful of settlers survive an Apache attack on their wagon train they must put their lives into the hands of a white man who has lived with the Comanches most of his life and is wanted for the murder of three men.
      Comment: Widmark gives an imposing performance as a fugitive white man who has lived the life of a Comanche following the murder of his family. He falls in with a wagon train of settlers and looks to guide them through Apache country to safety. Stunning Arizona locations are gloriously captured through Cline's lens. Whilst the story at times lapses into heavy-handedness – most notably in its final scenes, it is well directed by Daves, who manages to get good performances from his young cast. Its messaging may get preachy, but this is nevertheless a strong Western unafraid to tackle issues of racism and religion.