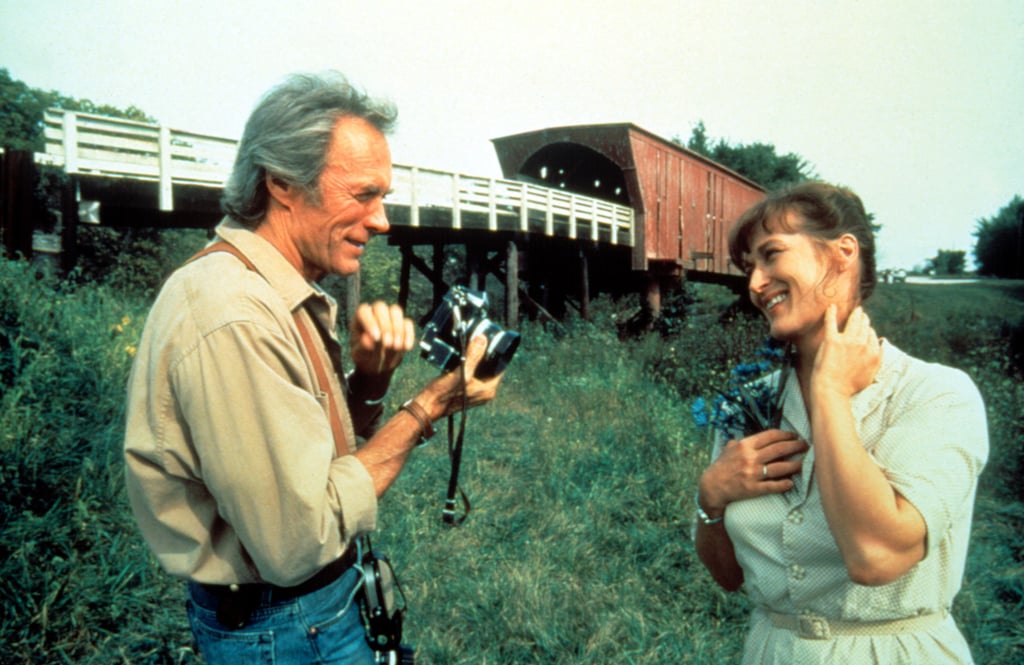 THE BRIDGES OF MADISON COUNTY (USA, 1995) ****
      Distributor: Warner Bros. Pictures; Production Company: Warner Bros. Pictures / Amblin Entertainment / Malpaso Productions; Release Date: 2 June 1995 (USA), 15 September 1995 (UK); Filming Dates: 15 September 1994 – 31 October 1994; Running Time: 135m; Colour: Technicolor; Sound Mix: DTS | Dolby Digital; Film Format: 35mm; Film Process: Spherical; Aspect Ratio: 1.85:1; BBFC Cert: 12.
      Director: Clint Eastwood; Writer: Richard LaGravenese (based on the novel by Robert James Waller); Producer: Clint Eastwood, Kathleen Kennedy; Associate Producer: Michael Maurer, Tom Rooker; Director of Photography: Jack N. Green; Music Composer: Lennie Niehaus; Music Supervisor: Peter Afterman (uncredited); Film Editor: Joel Cox; Casting Director: Ellen Chenoweth; Production Designer: Jeannine Oppewall; Art Director: William Arnold; Set Decorator: Jay Hart; Costumes: Colleen Kelsall; Make-up: Michael Hancock; Sound: Bub Asman, Alan Robert Murray; Special Effects: Steve Riley.
      Cast: Clint Eastwood (Robert Kincaid), Meryl Streep (Francesca Johnson), Annie Corley (Carolyn Johnson), Victor Slezak (Michael Johnson), Jim Haynie (Richard Johnson), Sarah Zahn (Young Carolyn), Christopher Kroon (Young Michael), Phyllis Lyons (Betty), Debra Monk (Madge), Richard Lage (Lawyer Peterson), Michelle Benes (Lucy Redfield), Alison Wiegert (Child #1), Brandon Bobst (Child #2), Pearl Faessler (Wife), R.E. 'Stick' Faessler (Husband), Tania Mishler (Waitress #1), Billie McNabb (Waitress #2), Art Breese (Cashier), Lana Schwab (Saleswoman), Larry Loury (UPS Driver), James Rivers (James Rivers Band), Mark A. Brooks (James Rivers Band), Peter Cho (James Rivers Band), Eddie Dejean Sr. (James Rivers Band), Jason C. Brewer (James Rivers Band), Kyle Eastwood (James Rivers Band), George Orrison (Café Patron), Ken Billeter (Café Patron), Judy Trask (Café Patron), David Trask (Café Patron), Edna Dolson (Café Patron), Dennis McCool (Café Patron), Michael C. Pommier (Café Patron), Jana Corkrean (Café Patron), M. Jane Seymour (Café Patron), Karla Jo Soper (Café Patron).
      Synopsis: Photographer Robert Kincaid wanders into the life of housewife Francesca Johnson, for four days in the 1960s.
      Comment: A sublime example of how a top-class director and two wonderful central performances can elevate a standard sentimental romantic drama into something much more. Streep is utterly convincing as the Italian housewife falling for Eastwood's travelling photographer. Eastwood the director knows Streep's qualities as an actress to inhabit the roles she plays and maximises her contribution, whilst himself producing an atypical sensitive portrayal. Whilst the story offers nothing new to the genre, the interplay between the stars is so powerful as to carry the familiar material through to its logical conclusion.
      Notes: Streep received an Academy Award for Best Actress nomination in 1996 for her performance in the film.