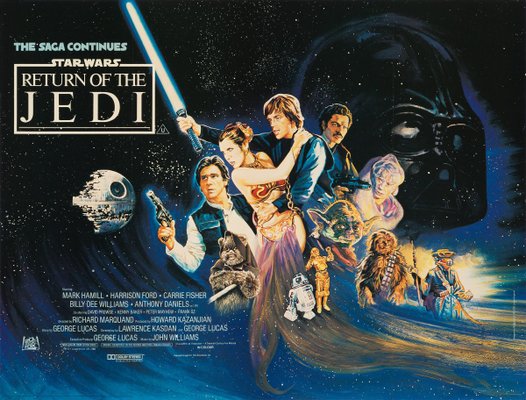 STAR WARS: EPISODE VI – RETURN OF THE JEDI (1983, USA) ***½
Action, Adventure, Fantasy, Sci-Fi
dist. Twentieth Century Fox ; pr co. Lucasfilm; d. Richard Marquand; w. Lawrence Kasdan, George Lucas (based on a story by George Lucas); exec pr. George Lucas; pr. Howard G. Kazanjian, Rick McCallum; ph. Alan Hume (DeLuxe. 35mm (Eastman 5384). Digital Intermediate (4K) (2019 remaster), Dolby Vision, J-D-C Scope (anamorphic). 2.39:1); m. John Williams; ed. Sean Barton, Duwayne Dunham, Marcia Lucas; pd. Norman Reynolds; ad. Fred Hole, James L. Schoppe; set d. Michael Ford, Harry Lange; cos. Aggie Guerard Rodgers, Nilo Rodis-Jamero; m/up. Stuart Freeborn, Graham Freeborn, Tom Smith, Pat McDermott; sd. Ben Burtt (70 mm 6-Track (70 mm prints) | Dolby (35 mm prints)); sfx. Roy Arbogast; vfx. Richard Edlund, Dennis Muren, Ken Ralston; st. Glenn Randall; rel. 25 May 1983 (USA), 2 June 1983 (UK); cert: U; r/t. 131m.
cast: Mark Hamill (Luke Skywalker), Harrison Ford (Han Solo), Carrie Fisher (Princess Leia), Billy Dee Williams (Lando Calrissian), Anthony Daniels (C-3PO), Peter Mayhew (Chewbacca), Sebastian Shaw (Anakin Skywalker), Ian McDiarmid (The Emperor), Frank Oz (Yoda (voice)), James Earl Jones (Darth Vader (voice)), David Prowse (Darth Vader), Alec Guinness (Ben 'Obi-Wan' Kenobi), Kenny Baker (R2-D2 / Paploo), Michael Pennington (Moff Jerjerrod), Kenneth Colley (Admiral Piett), Michael Carter (Bib Fortuna), Denis Lawson (Wedge), Tim Rose (Admiral Ackbar), Dermot Crowley (General Madine), Caroline Blakiston (Mon Mothma), Warwick Davis (Wicket), Jeremy Bulloch (Boba Fett), Femi Taylor (Oola), Annie Arbogast (Sy Snootles), Claire Davenport (Fat Dancer), Jack Purvis (Teebo), Mike Edmonds (Logray), Jane Busby (Chief Chirpa), Malcolm Dixon (Ewok Warrior (as Malcom Dixon)), Mike Cottrell (Ewok Warrior), Nicolas Read (Nicki (as Nicki Reade)), Adam Bareham (Stardestroyer Controller #1), Jonathan Oliver (Stardestroyer Controller #2), Pip Miller (Stardestroyer Captain #1), Tom Mannion (Stardestroyer Captain #2), Margo Apostolos (Ewok (as Margo Apostocos)), Ray Armstrong (Ewok), Eileen Baker (Ewok), Michael Henbury Ballan (Ewok (as Michael H. Balham)), Bobby Bell (Ewok), Patty Bell (Ewok), Alan Bennett (Ewok), Sarah Bennett (Ewok), Pamela Betts (Ewok), Danny Blackner (Ewok (as Dan Blackner)), Linda Bowley (Ewok), Peter Burroughs (Ewok), Debbie Lee Carrington (Romba Ewok (as Debbie Carrington)), Maureen Charlton (Ewok), Willie Coppen (Ewok (as William Coppen)), Sadie Corre (Ewok (as Sadie Corrie)), Tony Cox (Ewok), John Cumming (Ewok), Jean D'Agostino (Ewok), Luis De Jesus (Ewok), Debbie Dixon (Ewok), Margarita Farrell (Ewok (as Margarita Fernandez)), Phil Fondacaro (Ewok), Sal Fondacaro (Ewok), Tony Friel (Ewok), Daniel Frishman (Ewok (as Dan Frishman)), John Ghavan (Ewok (as John Gavam)), Michael Gilden (Ewok), Paul Grant (Ewok), Lydia Green (Ewok), Lars Green (Ewok), Pam Grizz (Ewok), Andrew Herd (Ewok / Jawa), J.J. Jackson (Ewok),
As the evil Emperor Palpatine (McDiarmid) oversees the construction of the new Death Star by Darth Vader (Prowse/Jones) and the Galactic Empire, smuggler Han Solo (Ford) is rescued from the clutches of the vile gangster Jabba the Hutt by his friends, Luke Skywalker (Hamill), Princess Leia (Fisher), Lando Calrissian (Williams), and Chewbacca (Mayhew). Leaving Luke Skywalker Jedi training with Master Yoda (Oz), Solo returns to the Rebel fleet to prepare to complete his battle with the Empire. During the ensuing fighting, the newly returned Luke Skywalker is captured by Darth Vader. This third of the original STAR WARS trilogy is the least effective, being served by a script that offers little new and unimaginative direction. The Death Star plot merely re-cycles that of the first film and the character interaction lacks the slick camaraderie so apparent in the first two films. Fortunately, there is sufficient action and bravura in the lead performances to push through these faults and produce an entertaining, if flawed, conclusion. 1997 Special edition with added new effects runs to 134m. Original title: RETURN OF THE JEDI. Followed by STAR WARS: EPISODE I – THE PHANTOM MENACE (1999).
AA: Special Achievement Award: Visual Effects (Richard Edlund, Dennis Muren, Ken Ralston, Phil Tippett)
AAN: Best Art Direction-Set Decoration (Norman Reynolds, Fred Hole, James L. Schoppe, Michael Ford); Best Sound (Ben Burtt, Gary Summers, Randy Thom, Tony Dawe); Best Effects, Sound Effects Editing (Ben Burtt); Best Music, Original Score (John Williams)