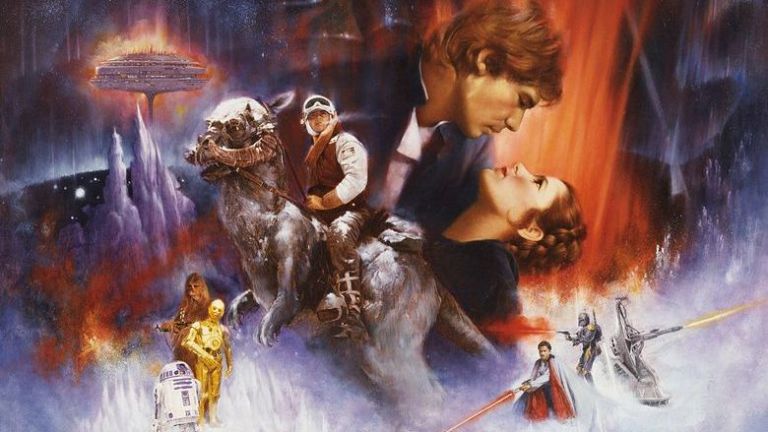 STAR WARS: EPISODE V – THE EMPIRE STRIKES BACK (1980, USA) *****
Action, Adventure, Fantasy, Sci-Fi
dist. Twentieth Century Fox ; pr co. Lucasfilm; d. Irvin Kershner; w. Leigh Brackett, Lawrence Kasdan (based on a story by George Lucas); exec pr. George Lucas; pr. Gary Kurtz, Rick McCallum; ass pr. Jim Bloom, Robert Watts; ph. Peter Suschitzky (DeLuxe. 35mm. Digital Intermediate (4K) (2019 remaster), Dolby Vision, Panavision (anamorphic), VistaVision (special effects). 2.35:1); m. John Williams; m sup. ; ed. Paul Hirsch; pd. Norman Reynolds; ad. Leslie Dilley, Harry Lange, Alan Tomkins; set d. Michael Ford; cos. John Mollo; m/up. Graham Freeborn, Stuart Freeborn, Barbara Ritchie; sd. Richard Burrow, Bonnie Koehler, Teresa Eckton (70 mm 6-Track (70 mm prints) | Dolby Stereo (35 mm prints) | Dolby Digital EX (DVD) | DTS-ES (6.1 channels) (Blu-ray) | Dolby Atmos); sfx. Nick Allder, Neil Swan, David H. Watkins; vfx. Brian Johnson, Richard Edlund, Dennis Muren, Bruce Nicholson; st. Peter Diamond; rel. 17 May 1980 (USA), 20 May 1980 (UK); cert: PG; r/t. 124m.
cast: Mark Hamill (Luke Skywalker), Harrison Ford (Han Solo), Carrie Fisher (Princess Leia), Billy Dee Williams (Lando Calrissian), Anthony Daniels (C-3PO), David Prowse (Darth Vader), Peter Mayhew (Chewbacca), Kenny Baker (R2-D2), Frank Oz (Yoda (voice)), Alec Guinness (Ben (Obi-Wan) Kenobi), Jeremy Bulloch (Boba Fett), John Hollis (Lobot, Lando's Aide), Jack Purvis (Chief Ugnaught), Des Webb (Snow Creature), Clive Revill (Emperor (voice)), Kenneth Colley (Admiral Piett), Julian Glover (General Veers), Michael Sheard (Admiral Ozzel), Michael Culver (Captain Needa), John Dicks (Imperial Officer), Milton Johns (Imperial Officer), Mark Jones (Imperial Officer), Oliver Maguire (Imperial Officer), Robin Scobey (Imperial Officer), Bruce Boa (Rebel Force General Rieekan), Christopher Malcolm (Rebel Force Zev (Rogue 2) (as Christopher Malcom)), Denis Lawson (Rebel Force Wedge (Rogue 3) (as Dennis Lawson)), Richard Oldfield (Rebel Force Hobbie (Rogue 4)), John Morton (Rebel Force Dak (Luke's Gunner)), Ian Liston (Rebel Force Janson (Wedge's Gunner)), John Ratzenberger (Rebel Force Major Derlin), Jack McKenzie (Rebel Force Deck Lieutenant), Jerry Harte (Rebel Force Head Controller), Norman Chancer (Other Rebel Officer), Norwich Duff (Other Rebel Officer), Ray Hassett (Other Rebel Officer), Brigitte Kahn (Other Rebel Officer), Burnell Tucker (Other Rebel Officer).
Luke Skywalker (Hamill), Han Solo (Ford), Princess Leia (Fisher) and Chewbacca (Mayhew) face attack by the Imperial forces and its AT-AT walkers on the ice planet Hoth. While Han and Leia escape in the Millennium Falcon, Luke travels to Dagobah in search of Yoda. Only with the Jedi Master's help will Luke survive when the Dark Side of the Force beckons him into the ultimate duel with Darth Vader (Prowse/Jones). The sequel to STAR WARS was confirmation we were now into a full blown series – this one listed as Episode V. Being the middle film in the first trilogy the film gains by the reduced need for character and background set-up and loses in the lack of closure. However, as a cinema experience it was, and still is, exhilarating. The action sequences are superbly edited and imaginatively handled. The story has a darker tone with its portent around the dark side of the force and the relationship between Darth Vader and Luke Skywalker and the finale is truly memorable. Williams' majestic score drives the action along and Hamill, Ford and Fisher pick up where they left off. The developing relationship between Ford's Han Solo and Fisher's princess Leia gives the story an emotional edge and the introduction of Billy Dee Williams' Lando Calrissian adds another memorable character to the roster. The muppetry with Jedi Master Yoda and a cameo from Guinness keep the mysticism at a high level only hinted at in the first film. A true fantasy classic. Special edition with new effects runs 127m. Original title: THE EMPIRE STRIKES BACK. Followed by STAR WARS: EPISODE VI: RETURN OF THE JEDI (1983).
AA: Best Sound (Bill Varney, Steve Maslow, Gregg Landaker, Peter Sutton); Visual Effects (Brian Johnson, Richard Edlund, Dennis Muren, Bruce Nicholson)
AAN: Best Art Direction-Set Decoration (Norman Reynolds, Leslie Dilley, Harry Lange, Alan Tomkins, Michael Ford); Best Music, Original Score (John Williams)