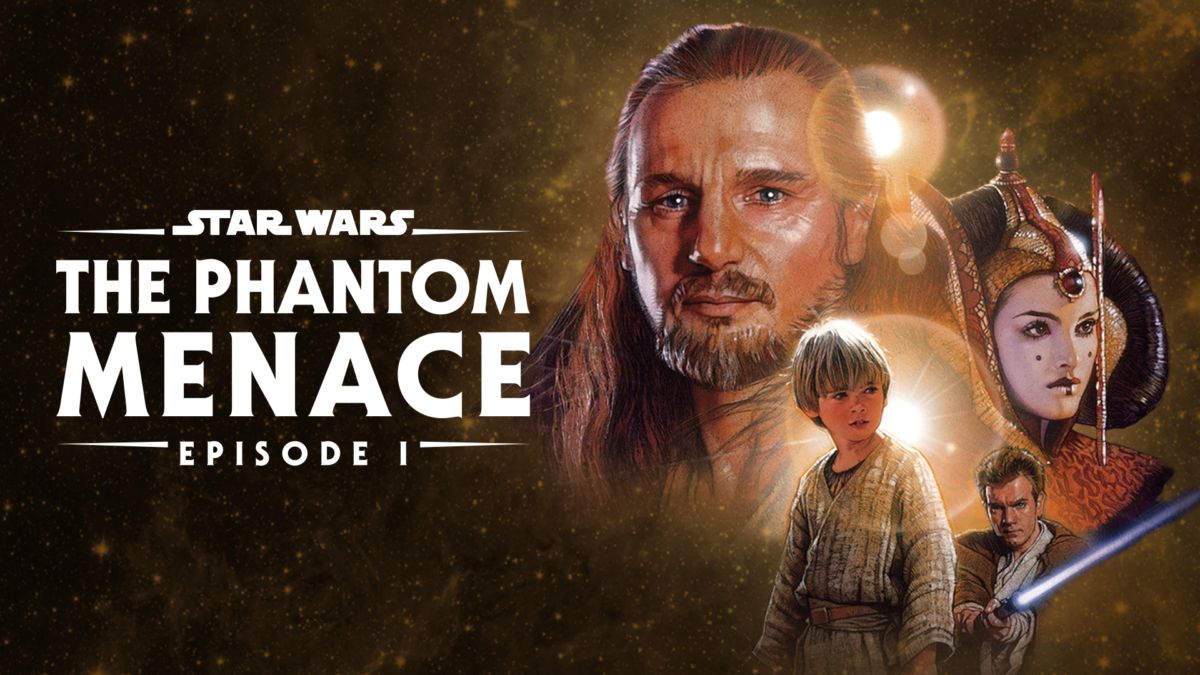 STAR WARS: EPISODE I – THE PHANTOM MENACE (1999, USA) ***
Action, Adventure, Fantasy, Sci-Fi
dist. Twentieth Century Fox; pr co. Lucasfilm; d. George Lucas; w. George Lucas; exec pr. George Lucas; pr. Rick McCallum; ph. David Tattersall (DeLuxe. 35 mm (Kodak Vision 2383, Vision Premier 2393), D-Cinema (Texas Instruments DLP 1280 x 1024, 1.9: 1 anamorphic). Dolby Vision, HDCAM (some scenes), Hawk Scope (anamorphic), Powerscope (anamorphic) (underwater scenes), VistaVision (some scenes). 2.35:1); m. John Williams; ed. Ben Burtt, Paul Martin Smith; pd. Gavin Bocquet; ad. Peter Russell; set d. Peter Walpole; cos. Trisha Biggar; m/up. Paul Engelen, Sue Love; sd. Tom Bellfort, Ben Burtt, Matthew Wood (Dolby Digital EX | SDDS (8 channels) | DTS-ES | Dolby Atmos); sfx. Geoff Heron, Peter Hutchinson; vfx. John Knoll, Dennis Muren, Scott Squires; st. Nick Gillard; anim. Miguel A. Fuertes; rel. 16 May 1999 (USA), 14 July 1999 (UK); cert: U; r/t. 136m.
cast: Liam Neeson (Qui-Gon Jinn), Ewan McGregor (Obi-Wan Kenobi), Natalie Portman (Queen Amidala / Padmé), Jake Lloyd (Anakin Skywalker), Ian McDiarmid (Senator Palpatine), Pernilla August (Shmi Skywalker), Oliver Ford Davies (Sio Bibble), Hugh Quarshie (Captain Panaka), Ahmed Best (Jar Jar Binks), Anthony Daniels (C-3PO (voice)), Kenny Baker (R2-D2), Frank Oz (Yoda (voice)), Terence Stamp (Chancellor Valorum), Brian Blessed (Boss Nass (voice)), Andy Secombe (Watto (voice)), Ray Park (Darth Maul), Lewis Macleod (Sebulba (voice)), Warwick Davis (Wald / Pod race spectator / Mos Espa Citizen), Steve Speirs (Captain Tarpals).
The first of the second trilogy of STAR WARS movies goes back to the start of the story. Here, two Jedi Knights, Qui-Gon Jinn (Neeson) and Obi-Wan Kenobi (McGregor) escape a hostile blockade to find allies and come across a young boy (Lloyd) who may bring balance to the Force, but the long dormant Sith resurface to reclaim their old glory. The film is a technical and visual marvel but is lumbered with a leaden narrative, a wordy script and wooden dialogue. Except for Neeson and the villainous McDiarmid, the actors fail to breathe life into the characters leaving an experience that lacks emotive investment. What's left is to marvel at the staging of the action sequences, which at times feel too heavily choreographed, and to be antagonised by Jar Jar Binks – the singularly most annoying character of the series. The finale battle is well staged and sets up the thread to be taken forward in the next two films. Re-released in 3D in 2012. Followed by STAR WARS EPISODE II: ATTACK OF THE CLONES (2002).
AAN: Best Sound (Gary Rydstrom, Tom Johnson, Shawn Murphy, John Midgley); Best Effects, Sound Effects Editing (Ben Burtt, Tom Bellfort); Best Effects, Visual Effects (John Knoll, Dennis Muren, Scott Squires, Rob Coleman)