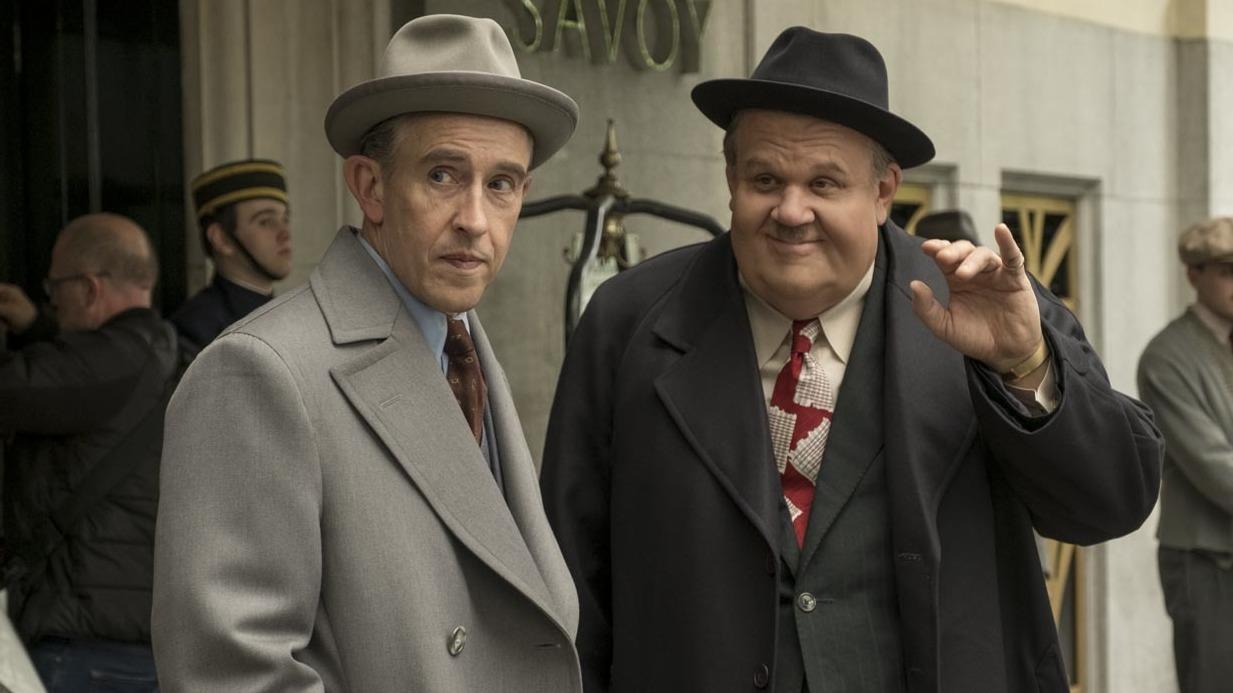 STAN & OLLIE (UK/USA/Canada, 2018) ****
      Distributor: Entertainment One (UK), Sony Pictures Classics (US); Production Company: BBC / Fable Pictures / Sonesta Films / eOne Entertainment; Release Date: 21 October 2018 (UK), 14 November 2018 (US); Running Time: 98m; Colour: Colour; Sound Mix: Dolby Digital; Aspect Ratio: 2.35:1; BBFC Cert: PG – mild bad language.
      Director: Jon S. Baird; Writer: Jeff Pope; Executive Producer: Kate Fasulo, Christine Langan, Xavier Marchand, Joe Oppenheimer, Eugenio Pérez, Gabrielle Tana; Producer: Faye Ward; Co- Producer: Jim Spencer; Director of Photography: Laurie Rose; Music Composer: Clint Mansell; Music Supervisor: Karen Elliott; Film Editor: Úna Ní Dhonghaíle, Billy Sneddon; Casting Director: Andy Pryor; Production Designer: John Paul Kelly; Art Director: David Hindle, Astrid Sieben; Set Decorator: Claudia Parker; Costumes: Guy Speranza; Make-up: Jeremy Woodhead, Mark Coulier; Sound: Paul Cotterell, James Harrison; Special Effects: Chris Reynolds; Visual Effects: Noga Alon Stein, Mark Michaels, Jolien Buijs.
      Cast: John C. Reilly (Oliver Hardy), Steve Coogan (Stan Laurel), Shirley Henderson (Lucille Hardy), Nina Arianda (Ida Kitaeva Laurel), Danny Huston (Hal Roach), Rufus Jones (Bernard Delfont), Susy Kane (Cynthia Clark), Richard Cant (Harry Langdon), Ella Kenion (Holiday Camp Organizer), John Henshaw (Nobby Cook), Sanjeev Kohli (Manager of Glasgow Empire), Lucy Appleton (Audience Member), Bentley Kalu (Elephant Wrangler), Keith MacPherson (James Finlayson), Joseph Balderrama (James Horne), Kate Okello (Newcastle Receptionist), Greg Canestrari (Stan's Lawyer), Charlie Robinson (Savoy Guest), Harry Hepple (Wally Brady), Roger Ringrose (Doctor), Julie Eagleton (Irish Woman, Cork Harbour), Daniel Fearn (Cab Driver), Nick Owenford (Studio Executive), Sophie Wardlow (Laurel and Hardy's Makeup artist), Conrad Asquith (Lord Warley), Paul Riddell (Holidaymaker), Toby Sedgwick (Theatre Manager), Rebecca Yeo (Concierge Savoy), Matt Dunkley (Conductor), Andy Mihalache (Arthur I. Royce), Stewart Alexander (Joe Schenck), Danny Scheinmann (Jeweler), Paul Bailey (Art Greene), David Gambier (Audience Member), Eve Harding (Train Passenger 1), Ashley Robinson (Gordon Douglas), Karl Jenkins (Chill Wills), Michael Haydon (Audience member), Swaylee Loughnane (Theatre Goer), Geoffrey Osborne (Photographer), Elise Lamb (Plymouth Girl), Gary Kiely (Irishman), Martin Bratanov (Audience Member), Josh Alexander (Stall Holder), Laraine Dix (Savoy guest), Callum Forman (Stage Hand), Tom Bates (Roach Scene Hand), Sinéad Daly (Dublin Mother), Steve Healey (Theatre Goer), Alex Jaep (Audience Member), Phillip Seddon (Doorman), Simon Ager (Poster Man Newcastle), Lewis Reynolds (Plymouth Stage Hand).
      Synopsis: Laurel and Hardy, the world's most famous comedy duo, attempt to reignite their film careers as they embark on what becomes their swan song – a gruelling theatre tour of post-war Britain.
      Comment: Wonderful account of the twilight years of the greatest comedy double-act of all-time. Coogan and Reilly give extraordinary performances as L&H, perfectly capturing their mannerisms and voices. Henderson and Arianda also score heavily as the pair's wives. The production design neatly captures 1953 England, albeit with a slightly romantic glow. Pope's script efficiently condenses events into a tight running-time, which ensures it doesn't outstay its welcome. The recreation of some of the duo's stage and movie routines is highly authentic and very funny. There are moments of gentle humour and melancholy, but it is all delivered with an honesty and obvious affection for the subject matter. Let's hope it leads a new generation to appreciate these true legends of cinema.