SHADOW DANCER (2012, BBC Films/Irish Film Board/ Element Pictures, UK/Ireland, 101 mins, Colour, 2.35:1, Dolby Digital, Cert: 15, Drama) ∗∗∗½
      Starring: Clive Owen (Mac), Andrea Riseborough (Colette McVeigh), Gillian Anderson (Kate Fletcher), Aidan Gillen (Gerry), Domhnall Gleeson (Connor), Brid Brennan (Ma), David Wilmot (Kevin Mulville), Stuart Graham (Ian Gilmour), Martin McCann (Brendan).
      Producer: Chris Coen, Ed Guiney, Andrew Lowe; Director: James Marsh; Writer: Tom Bradby (based on his own novel); Director of Photography: Rob Hardy (DeLuxe); Music: Dickon Hinchliffe; Film Editor: Jinx Godfrey; Production Designer: Jon Henson, Art Director: Aeveen Fleming; Costume Designer: Lorna Marie Mugan.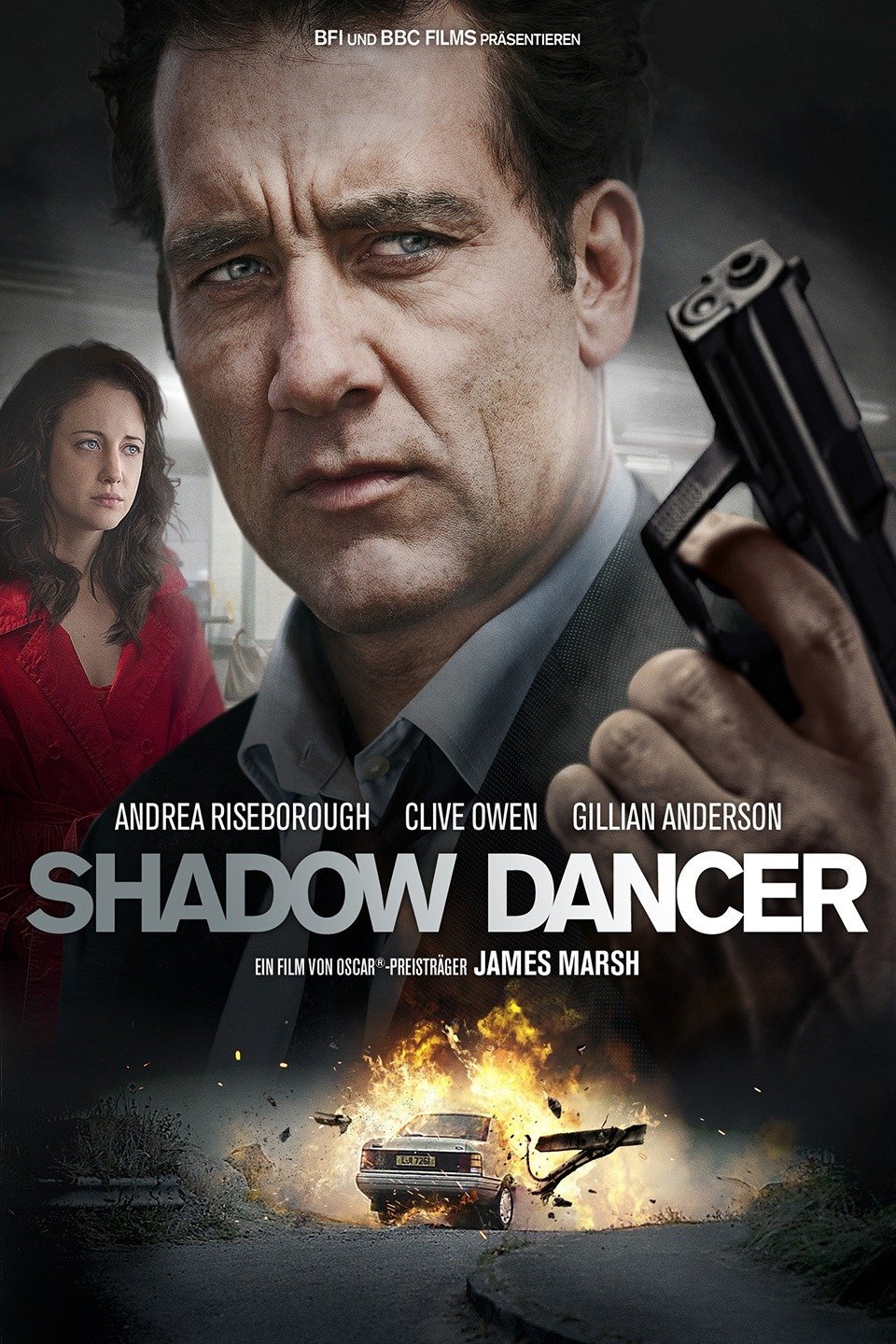 The opening set-up of this adaptation of Tom Bradby's novel in 1973 Belfast produces the most haunting scenes of the film and establishes Riseborough's burden of guilt over the death of her little brother, who was shot after she sent him to the shops on an errand. When twenty years later she is finally convinced it was the IRA who were responsible, she uses that guilt to spy on her own brothers – Gillen and Gleeson – with Owen as her MI5 guardian.
There are a few twists and turns in the plot as the tale unfolds to its logical conclusion. Performances are good – notably Brennan as the family matriarch and Wilmot as the IRA's fixer. Riseborough's relationship with her own son is meant to symbolise her redemption for the loss of her brother, yet Marsh directs this with a cold realism. The film's focus on Riseborough and her family also leads to a sense of detachment from the community and the ongoing tensions – except for one scene with a flag-waving funeral. As such, there is a lost opportunity to further explore the family's continued fight being at odds with the changing political climate.
Marsh keeps the tension and drama bubbling under the surface whilst building deliberately to the climax. His use of Owen and Anderson as MI5 agents is interesting after early set-ups they stay on the periphery of the story, although their characters' differing methods do provoke the final twist that ignites Riseborough's anger and action.
Although this is a credible adaptation I am still left with the feeling it could have been even better had it been adapted for TV as a mini-series and the characters and scenarios had even more room to breathe.