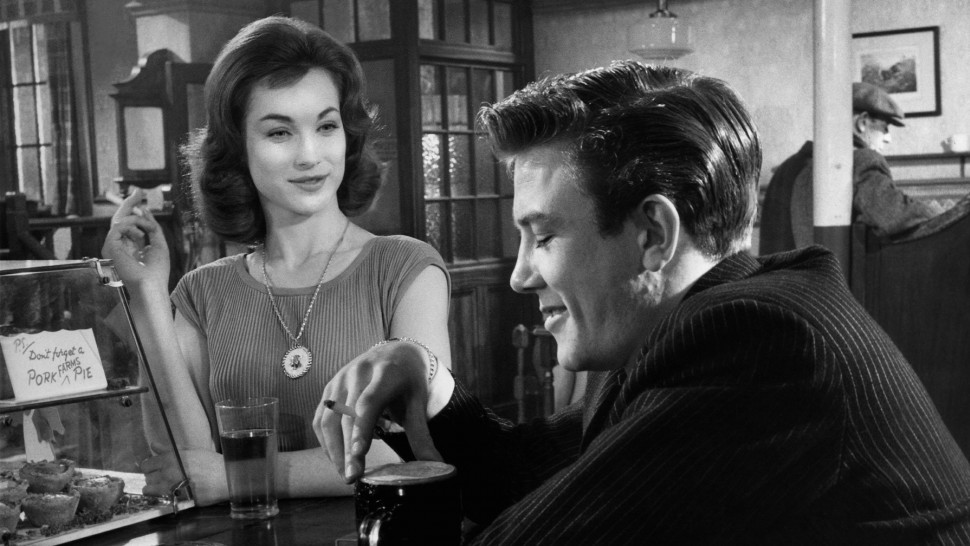 SATURDAY NIGHT AND SUNDAY MORNING (UK, 1960) ****
      Distributor: British Lion Films (UK), Continental Distributing (USA); Production Company: Woodfall Film Productions; Release Date: 27 October 1960 (UK), 3 April 1961 (USA); Filming Dates: began 26 February 1960; Running Time: 89m; Colour: B&W; Sound Mix: Mono (Westrex Recording System); Film Format: 35mm; Film Process: Spherical; Aspect Ratio: 1.66:1; BBFC Cert: PG.
      Director: Karel Reisz; Writer: Alan Sillitoe (based on the novel by Alan Sillitoe); Executive Producer: Harry Saltzman; Producer: Tony Richardson; Director of Photography: Freddie Francis; Music Composer: John Dankworth; Film Editor: Seth Holt; Art Director: Edward Marshall; Costumes: Sophie Devine, Barbara Gillett; Make-up: Harold Fletcher, Pearl Tipaldi; Sound: Chris Greenham, Peter Handford, Bob Jones.
      Cast: Albert Finney (Arthur Seaton), Shirley Anne Field (Doreen), Rachel Roberts (Brenda), Hylda Baker (Aunt Ada), Norman Rossington (Bert), Bryan Pringle (Jack), Robert Cawdron (Robboe), Edna Morris (Mrs. Bull), Elsie Wagstaff (Mrs. Seaton), Frank Pettitt (Mr. Seaton), Avis Bunnage (Blousy Woman), Colin Blakely (Loudmouth), Irene Richmond (Doreen's Mother), Louise Dunn (Betty), Anne Blake (Civil Defence Officer), Peter Madden (Drunken Man), Cameron Hall (Mr. Bull), Alister Williamson (Policeman).
      Synopsis: A rebellious, hard-living factory worker juggles relationships with two women, one of whom is married to another man but pregnant with his child.
      Comment: Finney is an angry young factory worker rebelling against the conventions of life in post-war Britain. In doing so he indulges in an affair with Roberts, the wife of one of his work colleagues whilst being attracted to the young and naïve Field. Whilst a product of its time, spearheading the British New Wave in the early 1960s, it retains much of its power through Finney's superb performance and those of a strong support cast including Roberts as the misled married woman. Sillitoe's script is sharp, witty and socially aware and Reisz translates it well to the screen. Francis' black and white cinematography wonderfully captures the industrial heart of Nottingham with its smoke billowing factories and terraced rows. The themes of generational gaps and the rebellious youth in post-war Britain are keenly observed in this ground-breaking drama right through to its ironic closing scene.