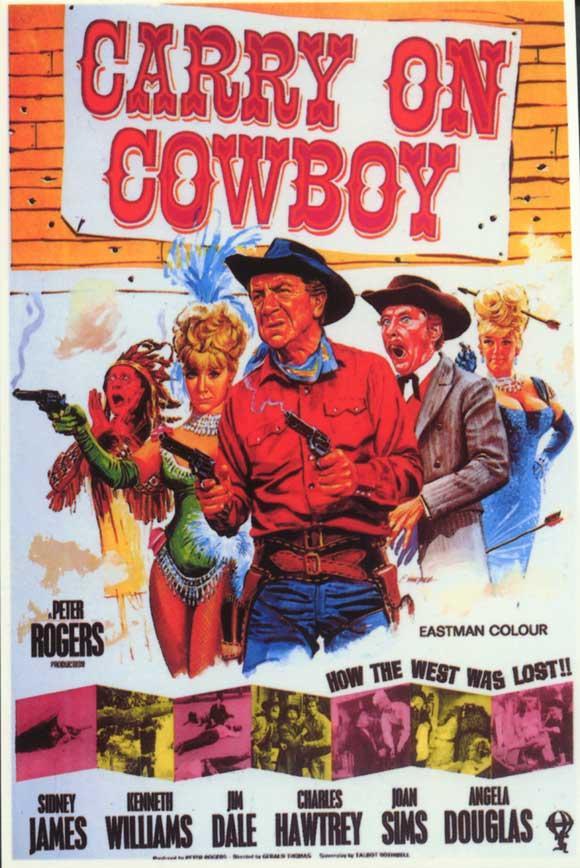 Carry on Cowboy (1966; UK; Eastmancolor; 93m) ∗∗∗  d. Gerald Thomas; w. Talbot Rothwell; ph. Alan Hume; m. Eric Rogers.  Cast: Sid James, Kenneth Williams, Jim Dale, Charles Hawtrey, Joan Sims, Angela Douglas, Bernard Bresslaw, Peter Butterworth, Percy Herbert, Jon Pertwee, Sydney Bromley, Edina Ronay. Stodge City is in the grip of the Rumpo Kid and his gang. Mistaken identity again takes a hand as a "sanitary engineer" (plumber) by the name of Marshal P. Knutt is mistaken for a law marshal. Pretty good spoof from the team with most of the team thriving on change. Slapstick and wordplay are to the fore with Pertwee and Hawtrey particularly funny. [PG]
Patriot Games (1992; USA; Technicolor; 117m) ∗∗∗½  d. Phillip Noyce; w. W. Peter Iliff, Donald Stewart; ph. Donald McAlpine; m. James Horner.  Cast: Harrison Ford, Anne Archer, Patrick Bergin, Sean Bean, Thora Birch, James Fox, Samuel L. Jackson, Polly Walker, James Earl Jones, Richard Harris, J.E. Freeman, Alex Norton, David Threlfall, Alun Armstrong, Hugh Fraser. When CIA Analyst Jack Ryan interferes with an IRA assassination, a renegade faction targets him and his family for revenge. Slick and efficient action thriller with Ford in excellent form. Lacks the sophistication of the first Jack Ryan adventure, THE HUNT FOR RED OCTOBER, but is undeniably entertaining. Followed by CLEAR AND PRESENT DANGER (1994). [15]
Magdalene Sisters, The (2002; Ireland/UK; Colour; 119m) ∗∗∗∗  d. Peter Mullan; w. Peter Mullan; ph. Nigel Willoughby; m. Craig Armstrong.  Cast: Geraldine McEwan, Anne-Marie Duff, Nora-Jane Noone, Dorothy Duffy, Eileen Walsh, Mary Murray, Britta Smith, Frances Healey, Eithne McGuinness, Phyllis McMahon, Rebecca Walsh, Eamonn Owens, Chris Simpson, Sean Colgan, Alison Goldie. Three young Irish women struggle to maintain their spirits while they endure dehumanizing abuse as inmates of a Magdalene Sisters Asylum. This is a powerful and harrowing drama, brilliantly directed and acted. Its downbeat tone is often lifted by moments of humour making this both a touching and disturbing film. [18]