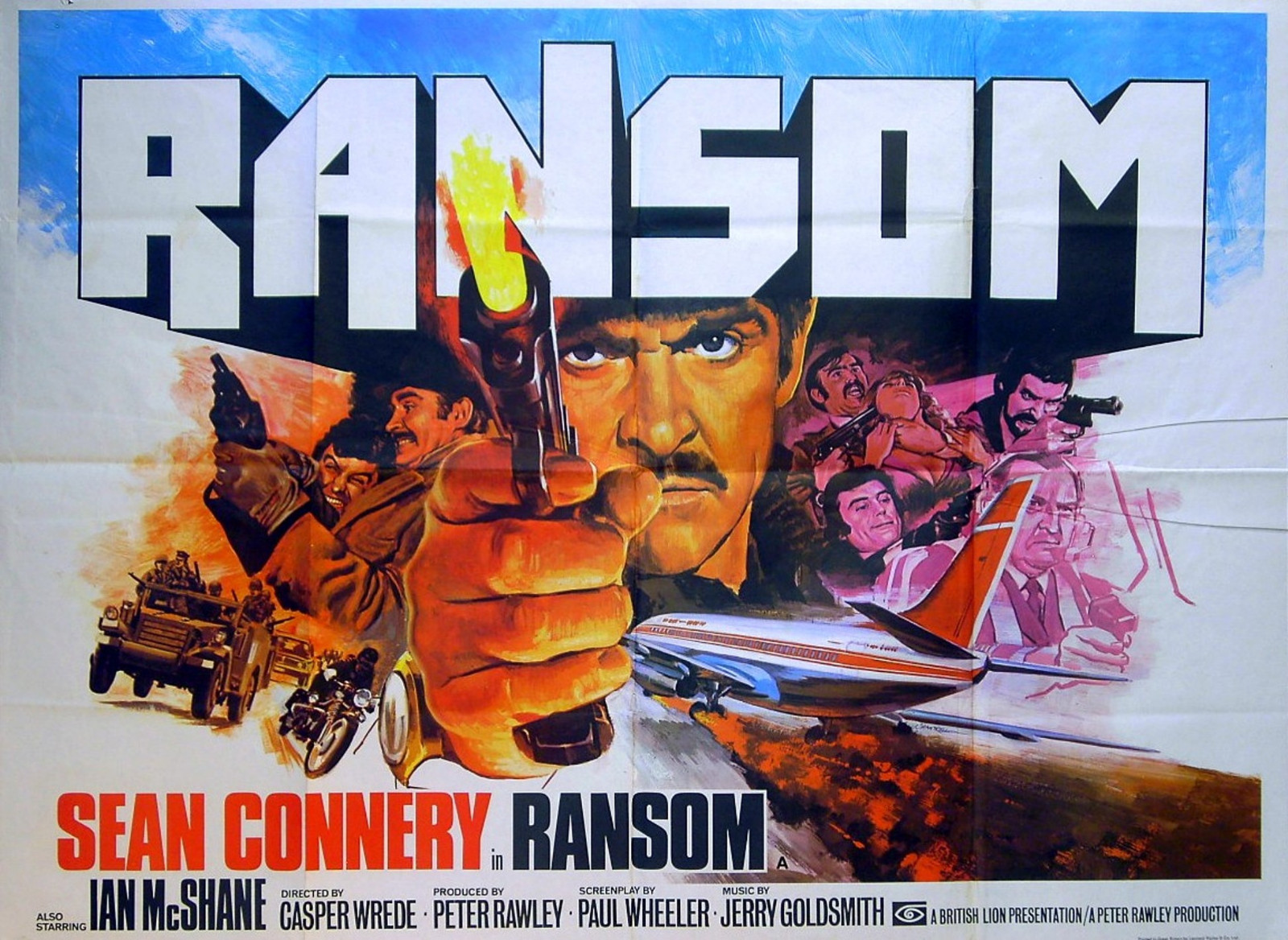 RANSOM (UK, 1974) ***
      Distributor: British Lion Film Corporation (UK), Twentieth Century Fox (USA); Production Company: Lion International / Twentieth Century Fox Film Corporation / Rwaley Film & Theatre; Release Date: 27 February 1975 (UK), 16 April 1975 (USA); Filming Dates: began 14 January 1974; Running Time: 94m; Colour: Eastmancolor; Sound Mix: Mono; Film Format: 35mm; Film Process: Spherical; Aspect Ratio: 1.66:1; BBFC Cert: PG.
      Director: Caspar Wrede; Writer: Paul Wheeler; Producer: Peter Rawley; Director of Photography: Sven Nykvist; Music Composer: Jerry Goldsmith; Film Editor: Eric Boyd-Perkins; Casting Director: Lesley De Pettit; Art Director: Sven Wickman; Costumes: Ada Skolmen; Make-up: Stuart Freeborn; Sound: John Bramall, Ken Scrivener; Special Effects: Roy Whybrow.
      Cast: Sean Connery (Tahlvik), Ian McShane (Petrie), Jeffry Wickham (Barnes), Isabel Dean (Mrs. Palmer), John Quentin (Shepherd), Robert Harris (Palmer), James Maxwell (Bernhard), William Fox (Ferris), Harry Landis (Lookout Pilot), Norman Bristow (Denver), John Cording (Bert), Christopher Ellison (Pete), Richard Hampton (Joe), Preston Lockwood (Hislop), Karen Maxwell (Eva), Colin Prockter (Mike), Malcolm Rennie (Terry), Knut Wigert (Polson), Knut M. Hansson (Matson), Frimann Falck Clausen (Schmidt), Kaare Kroppan (Donner), Alf Malland (Police Inspector), Brita Rogde (Air Hostess), Sven Aune (Co-Pilot), Per Tofte (British Embassy Driver).
      Synopsis: A gang of hijackers led by McShane seize a British plane as it is landing in Scandinavia.
      Comment: Hostage thriller is a little drawn out by diving straight into the scenario, thereby allowing little room for character development or motivation. Whilst the complex nature of the story unfolds as it progresses, it somehow lacks the suspense of its ticking-clock premise. Connery is as effective as ever in the lead role of the Scandinavian police chief at odds with his government's approach to the situation, whilst trying to figure ways to delay McShane and his terrorists. Its matter-of-fact approach at least prevents the story from descending into cliche melodrama and characterisations. Effective location photography adds to the sense of realism in this efficient, if not wholly satisfying, suspenser.
       Notes: Initial US release version ran 88m. Aka: THE TERRORISTS.