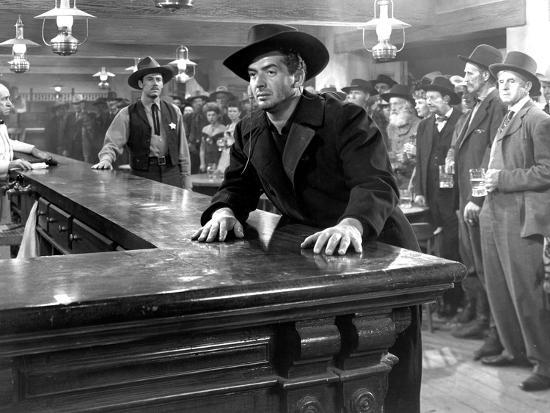 MY DARLING CLEMENTINE (USA, 1946) *****
      Distributor: 20th Century Fox; Production Company: Twentieth Century Fox Film Corporation; Release Date: 16 October 1946 (USA), November 1946 (UK); Filming Dates: 1 April–mid June 1946; Running Time: 97m; Colour: B&W; Sound Mix: Mono; Film Format: 35mm; Film Process: Spherical; Aspect Ratio: 1.37:1; BBFC Cert: U.
      Director: John Ford; Writer: Samuel G. Engel, Winston Miller (based on a story by Sam Hellman and a book by Stuart N. Lake); Producer: Samuel G. Engel; Director of Photography: Joseph MacDonald; Music Composer: Cyril J. Mockridge; Film Editor: Dorothy Spencer; Art Director: James Basevi, Lyle R. Wheeler; Set Decorator: Thomas Little; Costumes: René Hubert; Make-up: Ben Nye; Sound: Eugene Grossman, Roger Heman Sr.
      Cast: Henry Fonda (Wyatt Earp), Linda Darnell (Chihuahua), Victor Mature (Doc Holliday), Cathy Downs (Clementine Carter), Walter Brennan (Old Man Clanton), Tim Holt (Virgil Earp), Ward Bond (Morgan Earp), Alan Mowbray (Granville Thorndyke), John Ireland (Billy Clanton), Roy Roberts (Mayor), Jane Darwell (Kate Nelson), Grant Withers (Ike Clanton), J. Farrell MacDonald (Mac the Barman), Russell Simpson (John Simpson).
      Synopsis: Wyatt Earp and his brothers Morgan and Virgil ride into Tombstone and leave brother James in charge of their cattle herd. On their return, they find their cattle stolen and James dead. Wyatt takes on the job of town marshal, making his brothers deputies, and vows to stay in Tombstone until James' killers are found. He soon runs into the brooding, coughing, hard-drinking Doc Holliday as well as the sullen and vicious Clanton clan.
      Comment: The oft-told tale of the gunfight at the OK Corral was never better told than in John Ford's moody classic. Fonda is superb as Wyatt Earp, whether getting across the lawman's assuredness as a town marshal or his awkwardness with the opposite sex. Mature may seem at times a little overwrought as Doc Holliday, but his performance is also memorable nonetheless. Darnell also scores as the saloon girl who is Holliday's woman. Downs actually plays the titles role as Holliday's long last love from out East who has come to town to win him back. Brennan makes for an effective villain as the head of the Clanton clan Technical attributes are top-notch too. MacDonald's high contrast black-and-white photography captures the mood perfectly – notably in the night-time scenes and during the stormy opening. Ford is at the top of his game directing his cast and crew to deliver a wonderful Western that certainly bears repeat viewings.
      Notes: Songs include: "Ten Thousand Cattle," traditional, arranged by Fred K. Huffer; "Oh, My Darling Clementine," music and lyrics by Percy Montrose; and "The First Kiss Is Always the Best, from Under a Broad Sombrero," composers undetermined. An alternate preview version of this film exists. It was about 8m longer with minor variations throughout and a slightly different ending. Both this archival 103m version and the 97m release version are included on the Fox DVD.