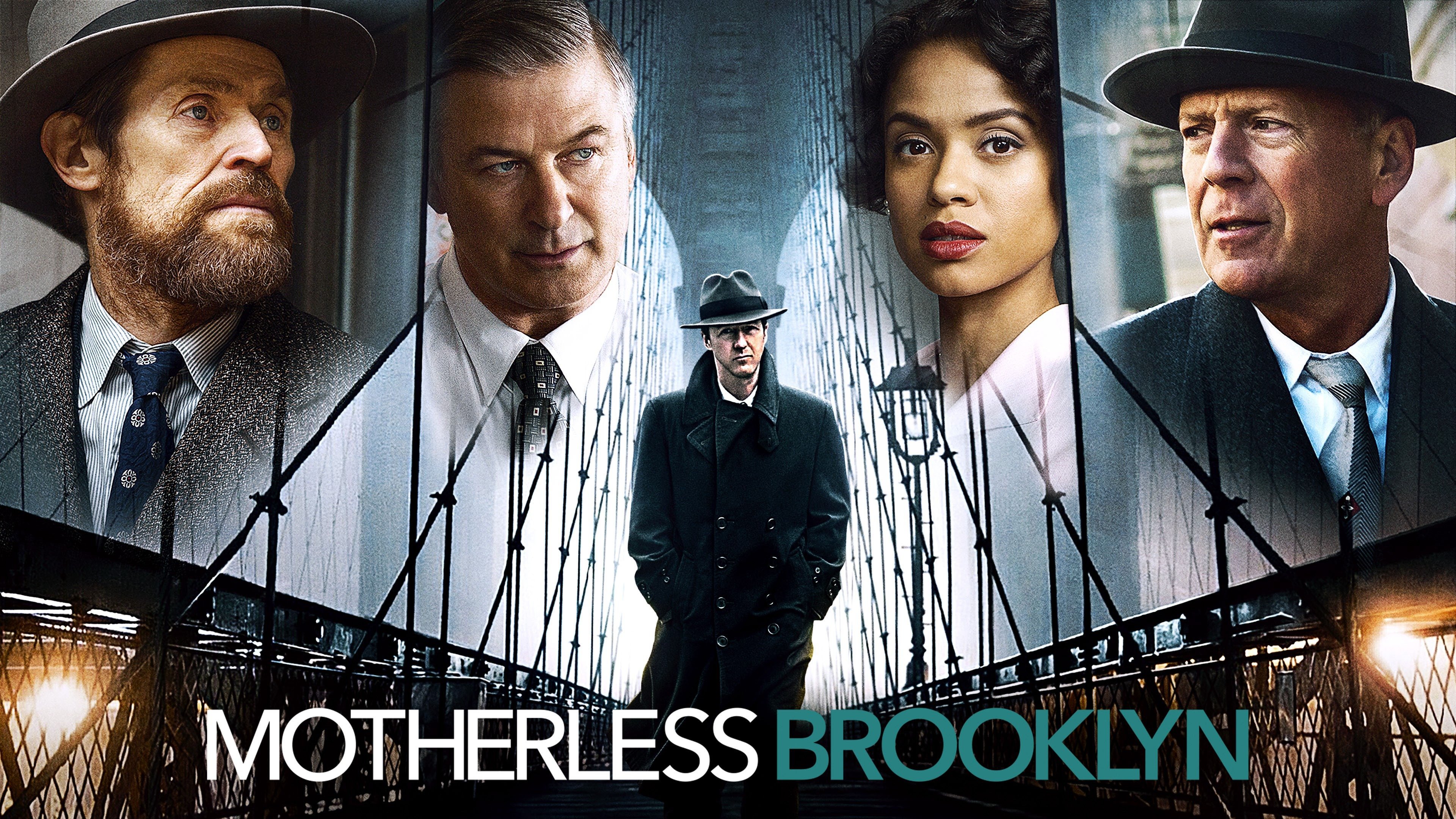 MOTHERLESS BROOKLYN (2019, USA) ****
Mystery, Drama, Crime
dist. Warner Bros.; pr co. Class 5 Films / MWM Studios / Warner Bros. Pictures; d. Edward Norton; w. Edward Norton (based on the novel by Jonathan Lethem); exec pr. Adrian Alperovich, Sue Kroll, Daniel Nadler, Brian Niranjan Sheth, Robert F. Smith; pr. Michael Bederman, Bill Migliore, Daniel Nadler, Edward Norton, Gigi Pritzker, Rachel Shane, Robert F. Smith; ass pr. Silvana Tropea; ph. Dick Pope (Colour. D-Cinema. ARRIRAW (3.4K) (source format), Digital Intermediate (2K) (master format). 1.85:1); m. Daniel Pemberton; m sup. Linda Cohen; ed. Joe Klotz; pd. Beth Mickle; ad. Michael Ahern; set d. Kara Zeigon; cos. Amy Roth; m/up. Louise McCarthy, Joanna McCarthy, Kerrie Smith, John Quaglia, Sincere Gilles; sd. Paul Hsu (Dolby Digital); sfx. Jimmy Hays; vfx. Matthew Fernandez, Steven Weigle, Rebecca Dunn, Artur Elson, Vance Miller, Mark Russell, Eran Dinur, David Lebensfeld, Grant Miller, Osvaldo Andreaus, John Bair, Stevie Ramone, Luke DiTommaso; st. Stephen A. Pope; rel. 30 August 2019 (USA), 6 December 2019 (UK); cert: 15; r/t. 144m.
cast: Edward Norton (Lionel Essrog), Gugu Mbatha-Raw (Laura Rose), Alec Baldwin (Moses Randolph), Willem Dafoe (Paul Randolph), Bruce Willis (Frank Minna), Ethan Suplee (Gilbert Coney), Cherry Jones (Gabby Horowitz), Bobby Cannavale (Tony Vermonte), Dallas Roberts (Danny Fantl), Josh Pais (William Lieberman), Radu Spinghel (Giant Man), Fisher Stevens (Lou), Peter Gray Lewis (Mayor), Robert Wisdom (Billy Rose), Michael Kenneth Williams (Trumpet Man), Isaiah J. Thompson (King Rooster Piano Player), Russell Hall (King Rooster Bassist), Joe Farnsworth (King Rooster Drummer), Jerry Weldon (King Rooster Saxophonist), Eric Berryman (King Rooster Bartender).
Set against the backdrop of 1950s New York, the story follows Lionel Essrog (Norton), a lonely private detective afflicted with Tourette's Syndrome, as he ventures to solve the murder of his mentor and only friend, Frank Minna (Willis). Armed only with a few clues and the powerful engine of his obsessive mind, Lionel unravels closely-guarded secrets that hold the fate of the whole city in the balance. In a mystery that carries him from gin-soaked jazz clubs in Harlem to the hard-edged slums of Brooklyn and, finally, into the gilded halls of New York's power brokers, Lionel contends with thugs, corruption and the most dangerous man in the city to honour his friend and save the woman who might be his own salvation. Norton has delivered a movie from a bygone era with this noir-ish tale of murder and corruption. Norton himself is excellent as the afflicted detective, whilst a strong support cast includes Baldwin as the corrupt planning official and Dafoe as his embittered and estranged brother. The plot unfolds in traditional fashion and is laced with a wry sense of humour. Good creation of period setting is achieved through visual digital effects work, costume design, a brooding score and set dressing. It is a delight to see a film of this type that doesn't feel the need to add Hollywood-style embellishments. It's great entertainment, if a trifle overlong.