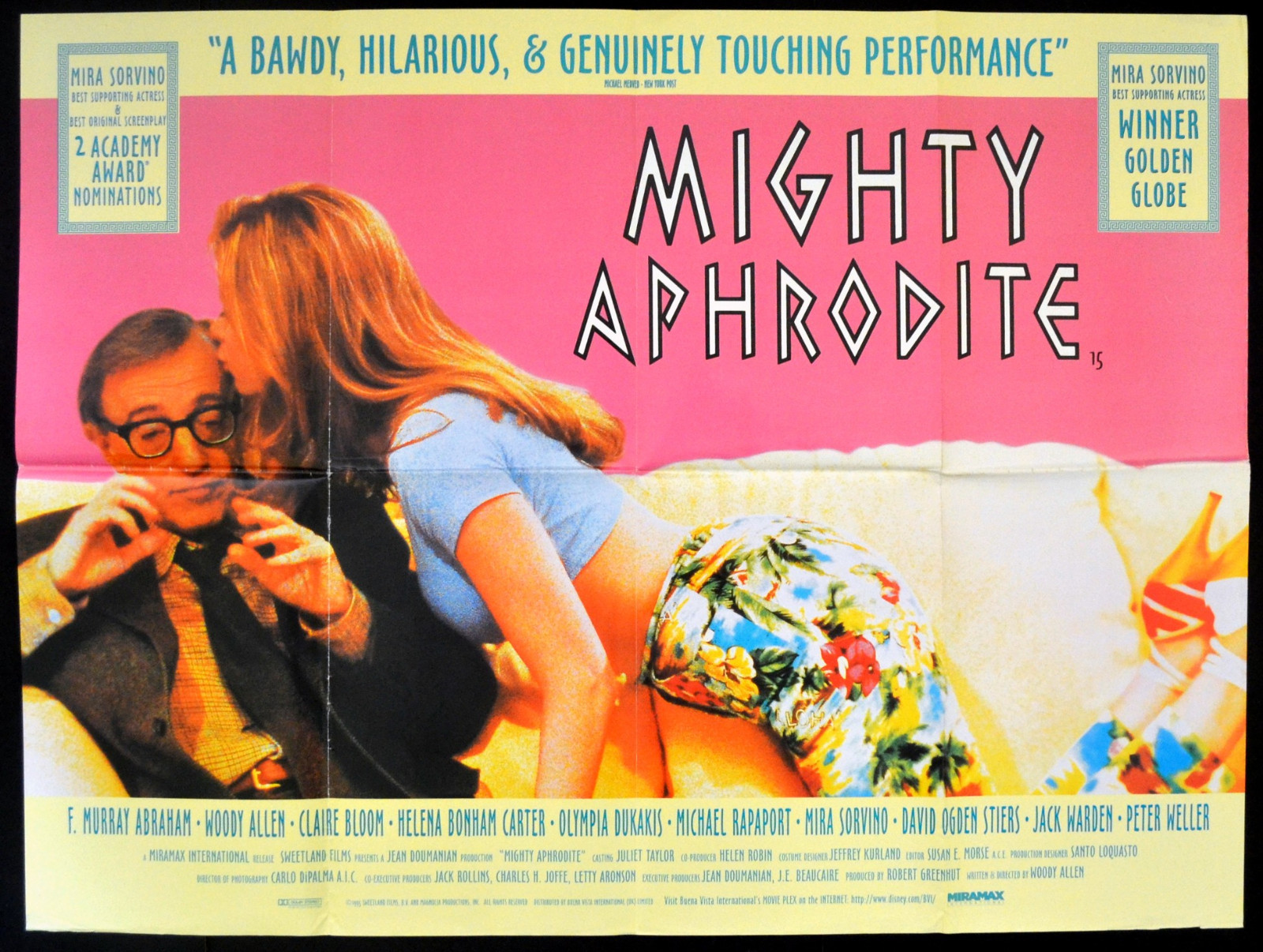 MIGHTY APHRODITE (USA, 1995) ***½
      Distributor: Miramax; Production Company: Sweetland Films / Magnolia Pictures; Release Date: 1 September 1995 (Italy), 27 October 1995 (USA), 12 April 1996 (UK); Filming Dates: 3 October 1994 – 16 December 1994; Running Time: 95m; Colour: Technicolor; Sound Mix: Dolby SR (Mono); Film Format: 35mm; Film Process: Spherical; Aspect Ratio: 1.85:1; BBFC Cert: 15.
      Director: Woody Allen; Writer: Woody Allen; Executive Producer: J.E. Beaucaire, Jean Doumanian; Producer: Robert Greenhut; Associate Producer: Thomas A. Reilly; Director of Photography: Carlo Di Palma; Music Supervisor: Dick Hyman; Film Editor: Susan E. Morse; Casting Director: Juliet Taylor; Production Designer: Santo Loquasto; Art Director: Tom Warren; Set Decorator: Susan Bode; Costumes: Jeffrey Kurland; Make-up: Fern Buchner, Romaine Greene; Sound: Robert Hein.
      Cast: Woody Allen (Lenny), Mira Sorvino (Linda Ash), Helena Bonham Carter (Amanda), Michael Rapaport (Kevin), F. Murray Abraham (Leader), Olympia Dukakis (Jocasta), David Ogden Stiers (Laius), Jack Warden (Tiresias), Peter Weller (Jerry Bender), Danielle Ferland (Cassandra), Claire Bloom (Amanda's Mother), Donald Symington (Amanda's Father), Steven Randazzo (Bud), J. Smith-Cameron (Bud's Wife), Jeffrey Kurland (Oedipus), Jimmy McQuaid (Max), Paul Giamatti (Extras Guild Researcher), Yvette Hawkins (School Principal), Jennifer Greenhut (Lenny's Secretary), Kenneth Edelson (Ken).
      Synopsis: When he discovers his adopted son is a genius, a New York sportswriter seeks out the boy's birth mother: a prostitute.
      Comment: Allen is a sportswriter married to Bonham Carter, an art curator. When they decide to adopt a baby boy who grows up to be a highly intelligent boy, Allen resolves to track down the boy's mother. When he discovers Sorvino is a porn star, Allen resolves to put her back on the right path, but meanwhile, his own marriage is in trouble as Bonham Carter is wooed by Weller. In one of his most adult comedies, many of Allen's typical tropes are evident – fragile relationships, personal insecurities, the need to educate and mentor – but there is a freshness in the way they are presented that makes the film a pleasure to watch. A witty narration is provided by a Greek chorus and the story whistles along to its ironic finale. Sorvino is wonderful as the porn star totally lacking in self-awareness and whose naivety charms Allen. The actor-director delivers many funny one-liners as he takes it upon himself to mentor her. The supporting cast is strong with Abraham the leader of the Greek chorus and Rapaport as a dim-witted boxer suckered by Allen into a blind date with Sorvino. Yes, the ending feels a little overly-contrived, but the piece is styled as a parable and largely works in this format. Look out for the many trinkets in Sorvino's apartment. Dick Hyman acts as music coordinator and arranger presenting a number of standards on the soundtrack. Sorvino was awarded an Oscar as Best Supporting Actress with Allen's screenplay also nominated.