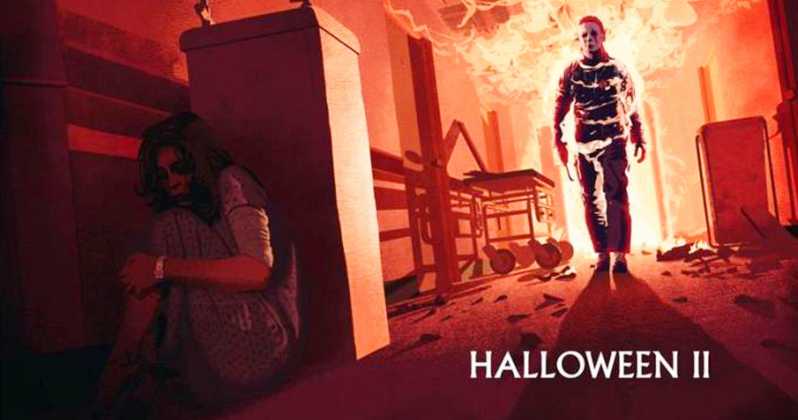 HALLOWEEN II (1981, USA) ***
Horror, Thriller
dist. Universal Pictures (USA), Columbia-EMI-Warner (UK); pr co. De Laurentiis / Universal Pictures; d. Rick Rosenthal; w. John Carpenter, Debra Hill; exec pr. Joseph Wolf, Irwin Yablans, Moustapha Akkad (uncredited), Dino De Laurentiis (uncredited); pr. John Carpenter, Debra Hill; ass pr. Barry Bernardi; ph. Dean Cundey (Metrocolor. 35mm. Panavision (anamorphic). 2.35:1); m. John Carpenter, Alan Howarth; ed. Mark Goldblatt, Skip Schoolnik; pd. J. Michael Riva; set d. Peg Cummings; cos. Jane Ruhm; m/up. John Chambers, Michael Germain, Frankie Bergman; sd. David Lewis Yewdall (Dolby Stereo); sfx. Lawrence J. Cavanaugh; vfx. Sam Nicholson (uncredited); st. Dick Warlock; rel. 30 October 1981 (USA), 25 February 1982 (UK); cert: 18; r/t. 92m.
cast: Jamie Lee Curtis (Laurie Strode), Donald Pleasence (Sam Loomis), Charles Cyphers (Leigh Brackett), Jeffrey Kramer (Graham), Lance Guest (Jimmy), Pamela Susan Shoop (Karen), Hunter von Leer (Gary Hunt), Dick Warlock (The Shape / Patrolman #3), Leo Rossi (Budd), Gloria Gifford (Mrs. Alves), Tawny Moyer (Jill), Ana Alicia (Janet), Ford Rainey (Dr. Mixter), Cliff Emmich (Mr. Garrett), Nancy Stephens (Marion), John Zenda (Marshall), Catherine Bergstrom (Producer), Alan Haufrect (Announcer), Lucille Benson (Mrs. Elrod), Howard Culver (Man in Pajamas).
After Doctor Samuel Loomis (Pleasence) shoots Michael Myers six Times and falls off a balcony. Michael escapes and continues his massacre in Haddonfield, Laurie (Curtis) is also sent to the Hospital and Dr Loomis gathers a group of police officers to hunt down Michael and put an end to his murderous rampage. This sequel is a more formulaic and bloody continuation but makes effective use of the almost empty hospital setting. Curtis gives a much more physical performance here, requiring little dialogue, whilst Pleasence manically tries to convince others that Myers lives on despite the number of bullets he has put in him. The most effective moments are those that mirror set-pieces from the classy original, which emphasises the film's weakness in that it has nothing new to offer and merely feels like an extension of the first movie. Followed by the unrelated HALLOWEEN III: SEASON OF THE WITCH (1982). The true sequels picked up with HALLOWEEN 4: THE RETURN OF MICHAEL MYERS (1988), HALLOWEEN 5: THE REVENGE OF MICHAEL MYERS (1989), HALLOWEEN: THE CURSE OF MICHAEL MYERS (1995), HALLOWEEN H20: 20 YEARS LATER (1998), HALLOWEEN: RESURRECTION (2002), HALLOWEEN (2018) and HALLOWEEN KILLS (2021). The film was also remade by Rob Zombie in 2009.