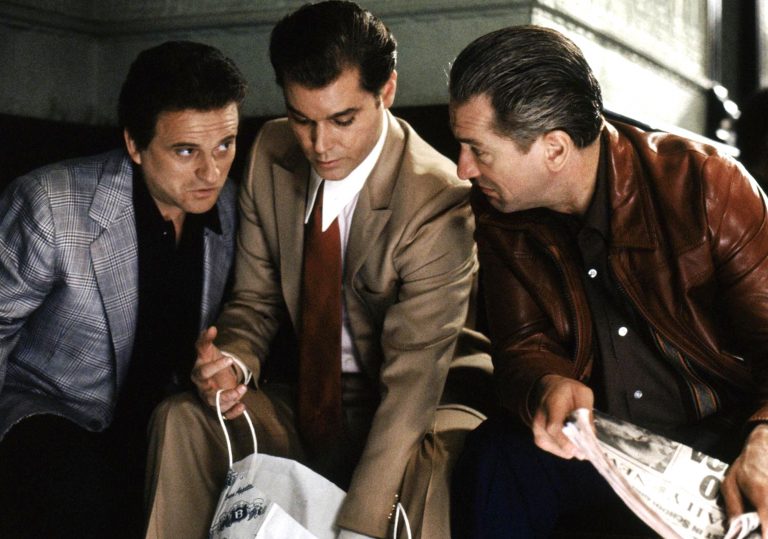 GOODFELLAS (USA, 1990) ****½
      Distributor: Warner Bros.; Production Company: Warner Bros; Release Date: 17 September 1990 (USA), 26 October 1990 (UK); Filming Dates: 3 May 1989 – 9 August 1989; Running Time: 146m; Colour: Technicolor; Sound Mix: Dolby SR; Film Format: 35mm (Eastman 5384); Film Process: Spherical; Aspect Ratio: 1.85:1; BBFC Cert: 18.
      Director: Martin Scorsese; Writer: Nicholas Pileggi, Martin Scorsese (based on the book "Wiseguy" by Nicholas Pileggi); Executive Producer: Barbara De Fina; Producer: Irwin Winkler; Associate Producer: Bruce S. Pustin; Director of Photography: Michael Ballhaus; Music Editor: Christopher Brooks; Film Editor: James Y. Kwei, Thelma Schoonmaker; Casting Director: Ellen Lewis; Production Designer: Kristi Zea; Art Director: Maher Ahmad; Set Decorator: Leslie Bloom; Costumes: Richard Bruno; Make-up: Carl Fullerton, Ilona Herman, Allen Weisinger; Sound: Skip Lievsay; Special Effects: Connie Brink.
      Cast: Robert De Niro (James Conway), Ray Liotta (Henry Hill), Joe Pesci (Tommy DeVito), Lorraine Bracco (Karen Hill), Paul Sorvino (Paul Cicero), Frank Sivero (Frankie Carbone), Tony Darrow (Sonny Bunz), Mike Starr (Frenchy), Frank Vincent (Billy Batts), Chuck Low (Morris Kessler), Frank DiLeo (Tuddy Cicero), Henny Youngman (Henny Youngman), Gina Mastrogiacomo (Janice Rossi), Catherine Scorsese (Tommy's Mother), Charles Scorsese (Vinnie), Suzanne Shepherd (Karen's Mother), Debi Mazar (Sandy), Margo Winkler (Belle Kessler), Welker White (Lois Byrd), Jerry Vale (Jerry Vale), Julie Garfield (Mickey Conway), Christopher Serrone (Young Henry), Elaine Kagan (Henry's Mother), Beau Starr (Henry's Father), Kevin Corrigan (Michael Hill), Michael Imperioli (Spider), Robbie Vinton (Bobby Vinton), Johnny Williams (Johnny Roastbeef), Daniel P. Conte (Dr. Dan), Tony Conforti (Tony), Frank Pellegrino (Johnny Dio), Ronald Maccone (Ronnie), Tony Sirico (Tony Stacks), Joseph D'Onofrio (Young Tommy), Steve Forleo (City Detective #1), Richard Dioguardi (City Detective #2), Frank Adonis (Anthony Stabile), John Manca (Nickey Eyes), Joseph Bono (Mikey Franzese), Katherine Wallach (Diane), Mark Evan Jacobs (Bruce), Angela Pietropinto (Cicero's Wife), Marianne Leone (Tuddy's Wife), Marie Michaels (Mrs. Carbone), LoNardo (Frenchy's Wife), Melissa Prophet (Angie), Illeana Douglas (Rosie), Susan Varon (Susan), Elizabeth Whitcraft (Tommy's Girlfriend at Copa), Clem Caserta (Joe Buddha), Samuel L. Jackson (Stacks Edwards), Fran McGee (Johnny Roastbeef's Wife), Paul Herman (Dealer), Edward McDonald (Edward McDonald), Edward Hayes (Defense Attorney), Bo Dietl (Arresting Narc).
      Synopsis: Henry Hill and his friends work their way up through the mob hierarchy.
      Comment: Stylish adaptation of Pileggi's book about real-life gangster Henry Hill. Scorcese extracts dark humour from the violent drama and moves the story along in expert fashion assisted by editors Kwei and Schoonmaker. DeNiro, Liotta and Pesci each give exceptional performances as the Goodfellas of the title trying to find their own way in a world of organised crime. The inevitable descent into mistrust and retribution is brilliantly handled.
      Notes: Pesci won a Best Supporting Actor Oscar.