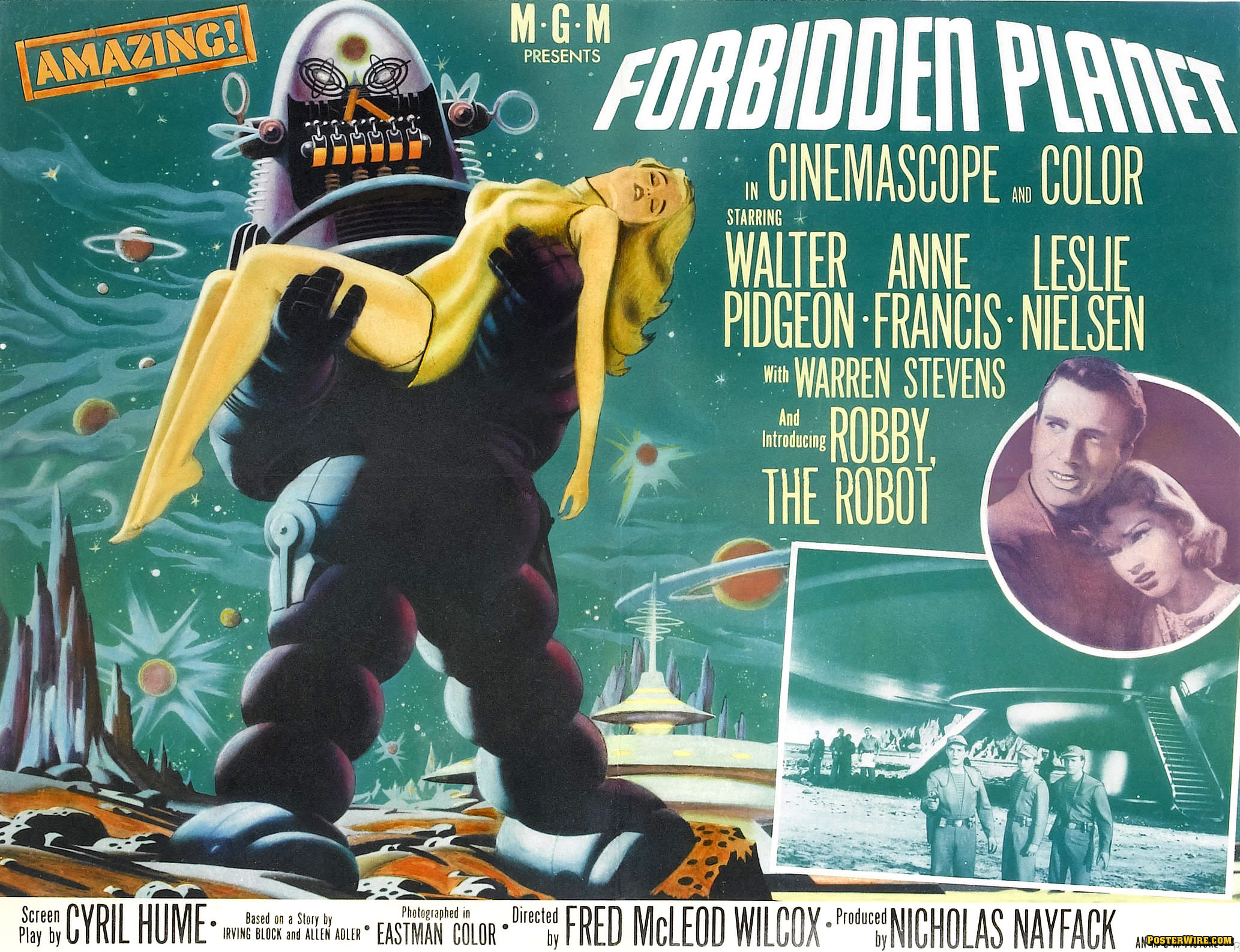 FORBIDDEN PLANET (1956, USA) ****½
Action, Adventure, Sci-Fi
dist. Metro-Goldwyn-Mayer (MGM); pr co. Metro-Goldwyn-Mayer (MGM) / Toho Company; d. Fred M. Wilcox; w. Cyril Hume (based on a story by Irving Block and Allen Adler); pr. Nicholas Nayfack; ph. George J. Folsey (Eastmancolor. 35mm. CinemaScope. 2.55:1); m. Bebe Barron, Louis Barron; ed. Ferris Webster; pd. Irving Block, Mentor Huebner (both uncredited); ad. Cedric Gibbons, Arthur Lonergan; set d. Hugh Hunt, Edwin B. Willis; cos. Walter Plunkett, Helen Rose; m/up. John Truwe, William Tuttle, Sydney Guilaroff; sd. Wesley C. Miller (Mono (Perspecta Sound encoding) (Western Electric Sound System) | 4-Track Stereo (4 channels)); sfx. A. Arnold Gillespie, Joshua Meador, Warren Newcombe, Irving G. Ries; vfx. Bob Abrams, Max Fabian, Joshua Meador; rel. 23 March 1956 (USA), 8 June 1956 (UK); cert: PG; r/t. 98m.
cast: Walter Pidgeon (Dr. Morbius), Anne Francis (Altaira Morbius), Leslie Nielsen (Commander Adams), Warren Stevens (Lt. 'Doc' Ostrow), Jack Kelly (Lt. Farman), Richard Anderson (Chief Quinn), Earl Holliman (Cook), George Wallace (Bosun), Robert Dix (Crewman Grey (as Bob Dix)), Jimmy Thompson (Crewman Youngerford), James Drury (Crewman Strong), Harry Harvey Jr. (Crewman Randall), Roger McGee (Crewman Lindstrom), Peter Miller (Crewman Moran), Morgan Jones (Crewman Nichols), Richard Grant (Crewman Silvers), Robby the Robot (Robby the Robot), James Best (Crewman (uncredited)), William Boyett (Crewman (uncredited)), Frankie Darro (Robby the Robot (uncredited)), Marvin Miller (Robby the Robot (uncredited) (voice)), Les Tremayne (Narrator (uncredited) (voice)).
When Captain J.J. Adams (Neilsen) and his crew are sent to investigate the silence from a planet inhabited by scientists, he finds all but two have died. Dr. Morbius (Pidgeon) and his daughter Altaira (Francis) have somehow survived a hideous monster which roams the planet. Unknown to Adams, Morbius has made a discovery, and has no intention of sharing it with anyone. This was a highly influential sci-fi adventure and significantly ahead of its time. Its reach can be seen most clearly in the TV series Star Trek that followed eight years later. The script is full of intelligent and challenging concepts and Pidgeon exudes both charm and menace as the stranded scientist whose obsessions turn in on themselves. Nielsen, making his film debut, plays the rescue ship captain who becomes involved with Pidgeon's daughter Francis leading to her loyalty and trust in her father slowly evaporating. Stunning visuals for the period, notably in the exploration of the Krell city. Robby the Robot is a great creation and would become a star in his own right. The only downsides are the sometimes creaky dialogue and the dated and condescending attitude of the crew to Francis, otherwise this is a classic of the genre. It was the first mainstream film to have the music performed entirely by electronic instruments. The eerie score contributes greatly to the otherworldly environment the production team created. Those thinking that story elements have some familiarity are not without justification, with the story loosely based on "The Tempest" by William Shakespeare.