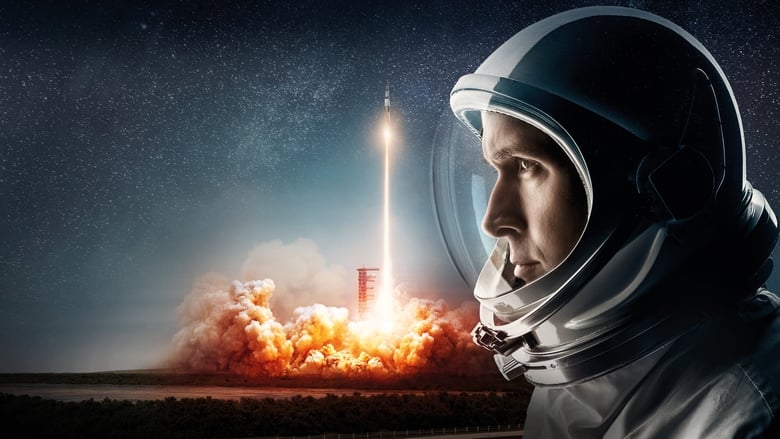 FIRST MAN (2018, USA) ****
Drama, Biography
dist. Universal Pictures (USA), Universal Pictures International (UPI) (UK); pr co. Universal Pictures / DreamWorks SKG / Temple Hill Entertainment / Perfect World Pictures; d. Damien Chazelle; w. Nicole Perlman, Josh Singer (based on the book by James R. Hansen); exec pr. Adam Merims, Josh Singer, Steven Spielberg; pr. Marty Bowen, Damien Chazelle, Wyck Godfrey, Isaac Klausner; ass pr. Kevin Elam; ph. Linus Sandgren (Colour. D-Cinema. Digital Intermediate (2K). 2.39:1); m. Justin Hurwitz; ed. Tom Cross; pd. Nathan Crowley; ad. Erik Osusky; set d. Kathy Lucas; cos. Mary Zophres; m/up. Katelyn Barton, Marie Larkin; sd. Mildred Iatrou, Lee Gilmore, Nia Hansen, Phil Barrie (Dolby Atmos | DTS (DTS: X) | Auro 11.1); sfx. J.D. Schwalm; vfx. Radley Teruel, Paul Lambert, Josh Dagg; st. Nick Brandon, James M. Churchman; rel. 29 August 2018 (Italy), 31 August 2018 (USA), 12 October 2018 (UK); cert: 12; r/t. 141m.
cast: Ryan Gosling (Neil Armstrong), Claire Foy (Janet Armstrong), Jason Clarke (Ed White), Kyle Chandler (Deke Slayton), Corey Stoll (Buzz Aldrin), Patrick Fugit (Elliot See), Christopher Abbott (Dave Scott), Ciarán Hinds (Bob Gilruth), Olivia Hamilton (Pat White), Pablo Schreiber (James Lovell), Shea Whigham (Gus Grissom), Lukas Haas (Mike Collins), Ethan Embry (Pete Conrad), Brian d'Arcy James (Joe Walker), Cory Michael Smith (Roger Chaffee), Kris Rey (Marilyn See (as Kris Swanberg)), Gavin Warren (Young Rick Armstrong), Luke Winters (Older Rick Armstrong), Connor Blodgett (Mark Armstrong), Lucy Stafford (Karen Armstrong (as Lucy Brooke Stafford)).
This account of Neil Armstrong's journey from personal tragedy, following the tragic death of his young daughter from a brain tumour in 1961, to becoming the first man to walk on the moon as the commander of Apollo 11 eight years later. The character portrait is one of an insular man who struggles to share his emotions or connect with his family. Gosling's passive acting style is perfect for the role. The best performance comes from Foy as his increasingly alienated wife and her struggle to reach into her husband's inner thoughts. The movie is shot in a documentary style with frequent use of hand-held camera giving a personal perspective and a high level of authenticity but creating a distanced perspective toward its characters along the way. The drama is often absorbing, despite the somewhat snapshot approach to the material. The production design is accurate, perfectly capturing the period as well as a real sense of the danger the brave astronauts put themselves in on achieving their country's goal. Ultimately, the film shows how flawed characters can become national heroes, whilst maintaining a sense of perspective between the human and technical dramas.
AA: Best Achievement in Visual Effects (Paul Lambert, Ian Hunter, Tristan Myles, J.D. Schwalm)
AAN: Best Achievement in Sound Editing (Ai-Ling Lee, Mildred Iatrou); Best Achievement in Production Design (Nathan Crowley, Kathy Lucas); Best Achievement in Sound Mixing (Jon Taylor, Frank A. Montaño, Ai-Ling Lee, Mary H. Ellis)