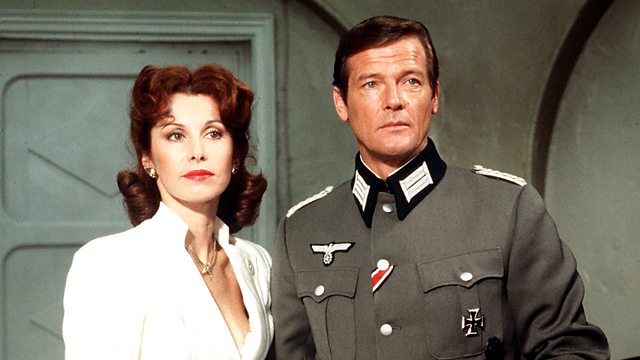 ESCAPE TO ATHENA (1979, UK) **½
Action, Adventure, Comedy, War
dist. ITC Film Distributors (UK), Associated Film Distribution (AFD) (USA); pr co. Incorporated Television Company (ITC); d. George P. Cosmatos; w. Edward Anhalt, Richard Lochte (based on a story by Richard Lochte and George P. Cosmatos); exec pr. Lew Grade (uncredited); pr. David Niven Jr., Jack Wiener, Erwin C. Dietrich (uncredited); assoc pr. Colin M. Brewer; ph. Gilbert Taylor (Eastmancolor. 35mm. Panavision (anamorphic). 2.39:1); m. Lalo Schifrin; ed. Ralph Kemplen; ad. Petros Kapouralis; set d. Peter James; cos. Yvonne Blake; m/up. Eric Allwright, Paul Engelen, Ramon Gow, Mike Jones, Jacques Moisant; sd. Nicholas Stevenson, Derek Ball, Bill Rowe (Mono); sfx. John Richardson; st. Vic Armstrong; rel. 9 March 1979 (UK), 6 June 1979 (USA); cert: PG; r/t. 125m.
cast: Roger Moore (Major Otto Hecht), Telly Savalas (Zeno), David Niven (Professor Blake), Stefanie Powers (Dottie Del Mar), Claudia Cardinale (Eleana), Richard Roundtree (Nat Judson), Sonny Bono (Bruno Rotelli), Elliott Gould (Charlie Dane), Anthony Valentine (SS Major Volkmann), Siegfried Rauch (Braun), Michael Sheard (Sergeant Mann), Richard Wren (Reistoffer), Philip Locke (Vogel), Steve Ubels (Lantz), Paul Picerni (Zeno's Man), Paul Stassino (Zeno's Man).
A bizarre mix of World War II adventure and comedy, involving a group of Allied P.O.W.s, Nazis, black market priceless art treasures, Greek resistance, a Greek monastery, and a secret German rocket base. The film was shot in Rhodes and feels like it was made on a holiday for its impressive roster of stars – most of whom sport anachronistic apparel and haircuts. There is a laziness to much of the direction and story-telling that is only marginally offset by some excellent stunt work and pyrotechnics. That said the action sequences are often poorly shot and fail to generate the level of excitement and suspense the budget spend deserves. As for the cast, Moore is badly miscast as the German Commandant, whilst Gould's wisecracking  troupe comedian character and performance feel like they belong in another movie. The pluses are Savalas' determined resistance leader and Cardinale's passionate brothel owner. Niven coasts on his natural charm as an art historian, whilst Powers delivers an energetic performance as a dancer pursued by Moore. Roundtree has little else to do than fire his gun, whilst Bono is another bizarre casting choice as an army chef. Even Lalo Schifrin's score lacks pizzazz. Ultimately, Cosmatos is not able to find the right tone and action fans will be disappointed in this sub-Alistair MacLean tale.  Watch for William Holden in a brief cameo as one of the prisoners. Edited US prints run to 101m.