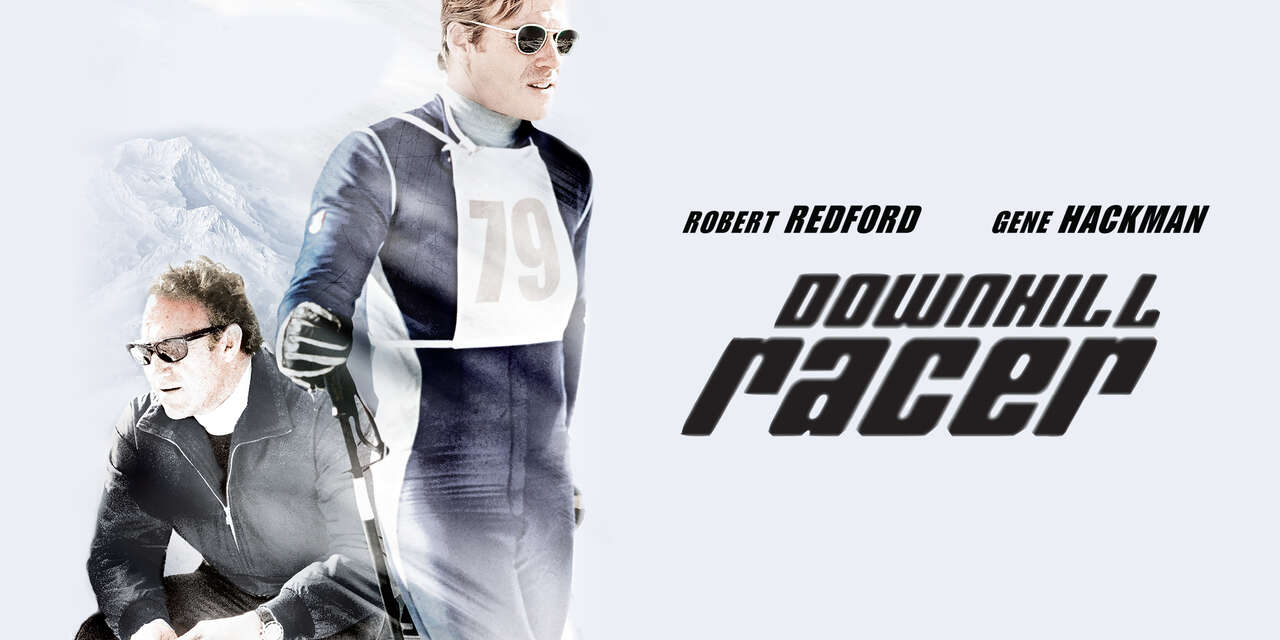 DOWNHILL RACER (1969, USA) ***
Drama, Sport
dist. Paramount Pictures; pr co. Wildwood Enterprises; d. Michael Ritchie; w. James Salter (based on the novel "The Downhill Racers" by Oakley Hall); pr. Richard Gregson; ph. Brian Probyn (Technicolor. 35mm. Spherical. 1.85:1); m. Kenyon Hopkins; ed. Richard A. Harris; ad. Ian Whittaker; cos. Cynthia May, Edith Head (uncredited); m/up. Bill Lodge; sd. Elden Ruberg, Kevin Sutton (Mono); sfx. Roy L. Downey (uncredited); st. Stefan Zürcher, Joe Jay Jalbert (both uncredited); rel. 28 October 1969 (USA), 19 March 1970 (UK); cert: PG; r/t. 101m.
cast: Robert Redford (Chappellet), Gene Hackman (Claire), Camilla Sparv (Carole), Karl Michael Vogler (Machet), Jim McMullan (Creech), Kathleen Crowley (Reporter), Dabney Coleman (Mayo), Kenneth Kirk (D.K.), Oren Stevens (Kipsmith), Jerry Dexter (Engel), Walter Stroud (Mr. Chappellet), Carole Carle (Lena), Rip McManus (Devore), Joe Jay Jalbert (Tommy Erb), Tom J. Kirk (Stiles), Robin Hutton-Potts (Gabriel), Heini Schuler (Meier), Peter Rohr (Boyriven), Arnold Alpiger (Hinsch), Eddie Waldburger (Haas).
Redford stars as a single-minded downhill ski racer who is called up to the US team following an injury to another team member. He is a loner and does not bond well with his teammates or his coach (Hackman). When he begins to place and then win races he is seen as a major challenger for the Olympic title. Along the way he hooks up with Sparv who works for a ski manufacturer looking for a contract with the US team. Redford gives an excellent understated performance and is well supported by Hackman as the coach attempting to make a team out of different individuals. Their clashes are the best part of this sports drama, which otherwise adopts a pseudo-documentary approach to its subject, thereby remaining at a distance from his motivations. As a result, there is little to endear us to Redford's character. Scenes with Stroud as his father, who shows little pride in his son's achievements, fall short in offering any observations as to character make-up. Even the sporting drama is somehow lost in Ritchie's clinical drive for authenticity. The film ends without offering any conclusions to the questions it raises and ultimately falls short leaving us just to admire the Alpine scenery, the excellent ski action and two very fine actors making the most of the material.