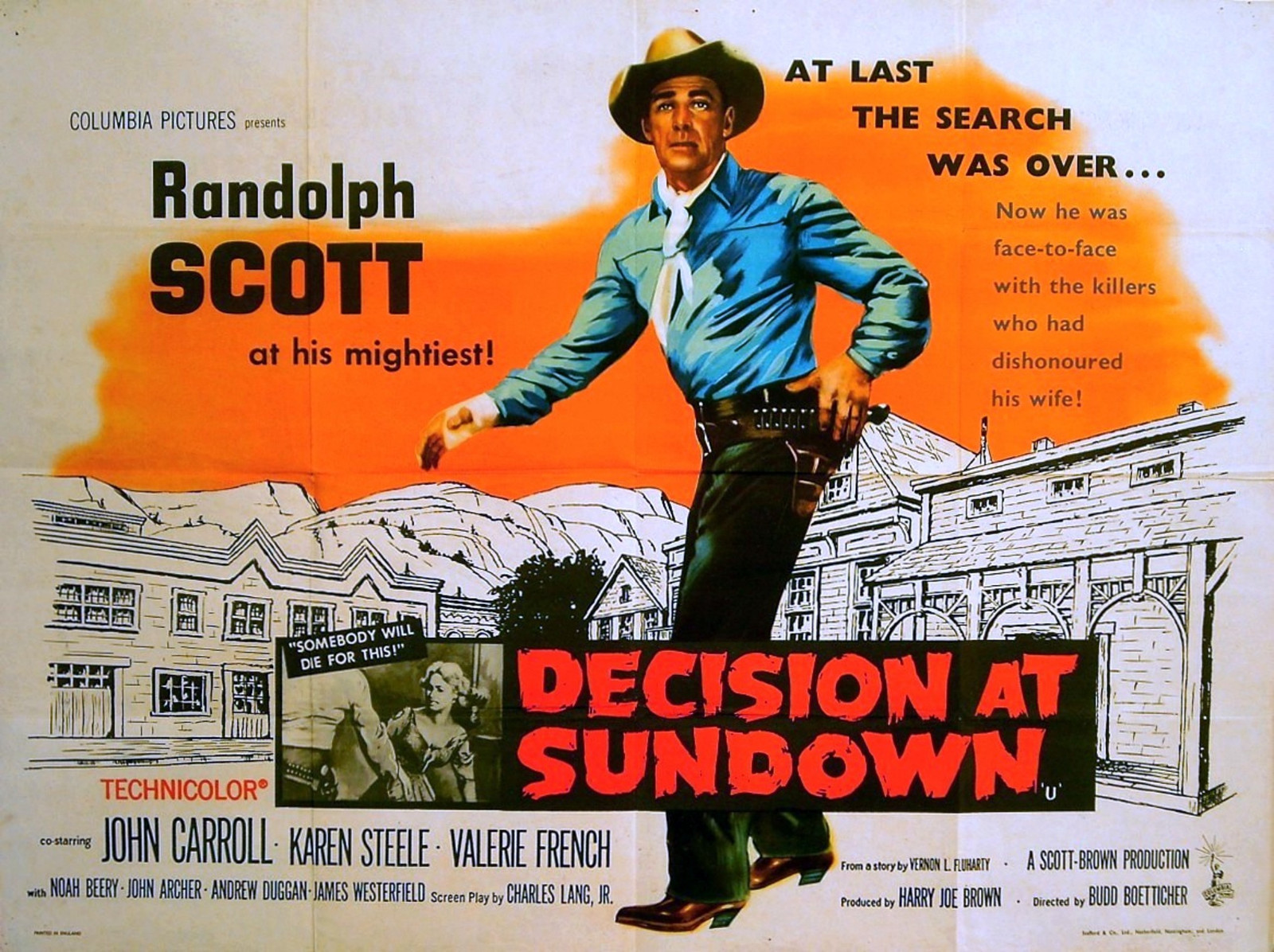 DECISION AT SUNDOWN (USA, 1957) ***½
      Distributor: Columbia Pictures; Production Company: Columbia Pictures Corporation / Scott-Brown Productions; Release Date: 10 November 1957 (USA), January 1958 (UK); Filming Dates: 1 April 1957–24 April 1957; Running Time: 77m; Colour: Technicolor; Sound Mix: Mono (Westrex Recording System); Film Format: 35mm; Film Process: Spherical; Aspect Ratio: 1.85:1; BBFC Cert: PG.
      Director: Budd Boetticher; Writer: Charles Lang (based on a story by Vernon L. Fluharty); Producer: Harry Joe Brown; Associate Producer: Randolph Scott; Director of Photography: Burnett Guffey; Music Composer: Heinz Roemheld; Film Editor: Al Clark; Art Director: Robert Peterson; Set Decorator: Frank Tuttle; Costumes: Harvey Gerhard, Iva Walters (both uncredited); Make-up: Lee Greenway, Bob Mieding (both uncredited); Sound: John P. Livadary, Jean G. Valentino.
      Cast: Randolph Scott (Bart Allison), John Carroll (Tate Kimbrough), Karen Steele (Lucy Summerton), Valerie French (Ruby James), Noah Beery Jr. (Sam (as Noah Beery)), John Archer (Dr. John Storrow), Andrew Duggan (Sheriff Swede Hansen), James Westerfield (Otis), John Litel (Charles Summerton), Ray Teal (Morley Chase), Vaughn Taylor (Mr. Baldwin), Richard Deacon (Reverend Zaron), H.M. Wynant (Spanish).
      Synopsis: Scott and his sidekick arrive in the town of Sundown on the wedding day of the town boss, whom the Scott blames for his wife's death years earlier.
      Comment: Well-made Western where all the characters are shades of grey. Scott delivers one of his best performances as an angst-ridden ex-civil war vet out for revenge on Carroll, who he believes drove his wife to suicide. Duggan is the town Sheriff, who is in Carroll's pocket and Steele is the girl Carroll is about to marry, much to the annoyance of mistress French. The story is initially conventional in its straight-forward revenge plot, but once the siege is underway, the plot navigates several unexpected twists and turns leading the characters to re-evaluate themselves. A bold and strong script, with occasional contrivances, challenges standard Western conventions. Third of seven superior Westerns Scott and Boetticher made together.