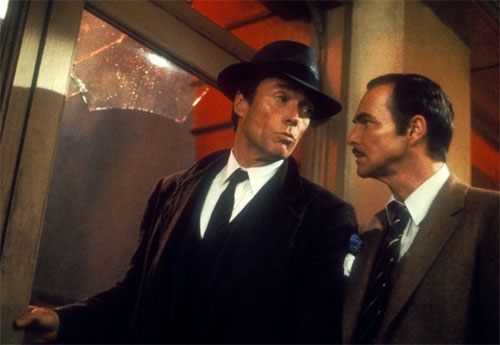 CITY HEAT (USA, 1984) ***
      Distributor: Warner Bros. Pictures; Production Company: The Malpaso Company / Deliverance Productions; Release Date: 5 December 1984 (USA), 1 March 1985 (UK); Filming Dates: began 9 April 1984; Running Time: 93m; Colour: Technicolor; Sound Mix: Dolby; Film Format: 35mm; Film Process: Spherical; Aspect Ratio: 1.85:1; BBFC Cert: 15.
      Director: Richard Benjamin; Writer: Blake Edwards (as Sam O. Brown), Joseph Stinson; Producer: Fritz Manes; Director of Photography: Nick McLean; Music Composer: Lennie Niehaus; Film Editor: Jacqueline Cambas; Casting Director: ; Production Designer: Edward C. Carfagno; Set Decorator: George Gaines; Costumes: Norman Salling; Make-up: Tom Ellingwood, Daniel C. Striepeke; Sound: C. Darin Knight; Special Effects: Joseph A. Unsinn.
      Cast: Clint Eastwood (Lieutenant Speer), Burt Reynolds (Mike Murphy), Jane Alexander (Addy), Madeline Kahn (Caroline Howley), Rip Torn (Primo Pitt), Irene Cara (Ginny Lee), Richard Roundtree (Dehl Swift), Tony Lo Bianco (Leon Coll), William Sanderson (Lonnie Ash), Nicholas Worth (Troy Roker), Robert Davi (Nino), Jude Farese (Dub Slack), John Hancock (Fat Freddy), Jack Thibeau (Garage Soldier), Gerald S. O'Loughlin (Counterman Louie), Bruce M. Fischer (Bruiser), Art LaFleur (Bruiser), Jack Nance (Aram Strossell, the Bookkeeper), Dallas Cole (Redhead Sherry), Lou Fillipo (Referee), Michael Maurer (Vint Diestock), Preston Sparks (Keith Stoddard), Ernie Sabella (Ballistics Expert), Christopher Michael Moore (Roxy Cop), Carey Loftin (Roxy Driver), Harry Caesar (Locker Room Attendant), Charles Parks (Dr. Breslin), Hamilton Camp (Garage Attendant), Tab Thacker (Tuck), Gene LeBell (Garage Soldier), Nick Dimitri (Garage Soldier), George Fisher (Garage Soldier), Bob Herron (Garage Soldier), Bill Hart (Garage Soldier), Arthur Malet (Doc Loomis), Fred Lerner (Pitt Roof Sniper), George Orrison (Pitt Doorway Thug), Beau Starr (Pitt Lookout), Anthony Charnota (Poker Player), Walter Robles (Poker Player), Richard Foronjy (Poker Player), Joan Shawlee (Peggy Barker), Minnie Summers Lindsey (Bordello Maid), Darwyn Swalve (Bordello Bouncer), Wiley Harker (Mr. Smith), Bob Maxwell (Mr. Smith), Tom Spratley (Chauffeur), Bob Terhune (Billiard Soldier), Holgie Forrester (Little Red), Harry Demopoulos (Roman Orgy Patron), James C. Lewis (Roxy Patron), Edwin Prevost (Butler), Alfie Wise (Short Guy), Hank Calia (Shorter Friend), Alex Plasschaert (Shortest Friend), Daphne Eckler (Agnes), Lonna Montrose (Didi).
      Synopsis: A slick private eye and tough police lieutenant–once partners, now bitter enemies–reluctantly team up to investigate a murder.
      Comment: Well-meaning period comedy teaming of Eastwood and Reynolds coasts on the charisma of, and the interplay between, its two stars. Both play on their standard movie personas to great effect. The plot is a simple one of the hunt, by an organised crime syndicate, for stolen ledgers that have come into the hands of Reynolds' partner, Roundtree. Where the film falls flat is in its mixing broad comedy with some extreme violence leading to an uneasy blend. It's a shame because there is much to recommend it – including a game cast, Carfagno's superb production design, Niehaus' jazzy score and the use of classic songs.
      Notes: Blake Edwards was the original writer and director on the project. He stepped aside as director after creative differences with star Eastwood.