UNDER THE LAKE / BEFORE THE FLOOD
2 episodes / 86m / 3 & 10 October 2015
Rating: ∗∗∗½
Writer: Toby Whithouse
Director: Daniel O'Hara
Cast: Peter Capaldi (The Doctor), Jenna Coleman (Clara), Colin McFarlane (Moran), Sophie Stone (Cass), Zaqi Ismail (Lunn), Morven Christie (O'Donnell), Arsher Ali (Bennett), Steven Robertson (Pritchard), Paul Kaye (Prentis), Peter Serafinowicz (Voice of Fisher King), Corey Taylor (Voice of Fisher King).
Plot: Under a lake, in the dripping gloom of an underwater base, stands a gleaming black space ship, recovered from the lake bed. Nothing is inside – but when the base crew start dying, they make a terrible discovery: ghosts are real! And their friends are refusing to stay dead! The Doctor and Clara arrive to find a base under siege from beyond the grave. But how can the dead be walking? What has brought them back? When the Doctor discovers the truth, it is more terrifying than any simple ghost story.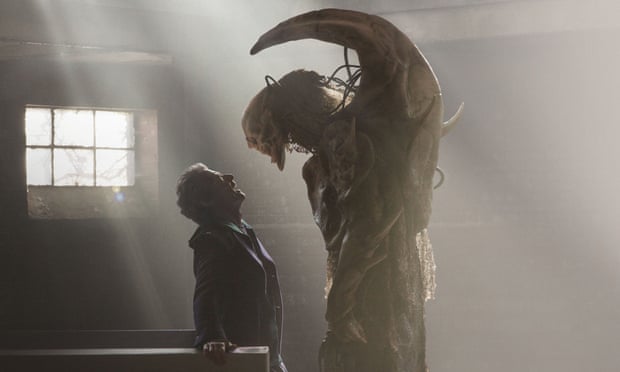 Comment: A traditional Who story in many ways as it features many elements that have worked well throughout the show's history – the isolated base under siege, the use of different time zones for the Doctor to influence events, etc. The first episode is set entirely in the underwater base and leaves the Doctor, Clara and the crew to untangle the mystery of the messages left in an abandoned spacecraft and the seeming ghosts that are beginning to kill them off one by one. The second episode sees the Doctor and two members of the crew travel back to 1980 and before the valley was flooded, where he ultimately finds the source of the message. The Fisher King is an imposing monster and the story neatly wraps up the mystery. Along the way there are some creepy and atmospheric scenes, even if there is a little bit too much chasing through corridors (another Who staple). Capaldi and Coleman are in top form, but the guest cast is a mixed bag with only Sophie Stone's deaf/mute Cass and Paul Kaye's alien undertaker standing out. The two-part format again works well allowing the plot room to develop and this is a good solid story – the type of which the series continues to do well. Not sure about the specs as a replacement for the sonic screwdriver though.