FATHER'S DAY
1 episode / 43m / 14 May 2005
Rating: ∗∗∗∗
Writer: Paul Cornell
Director: Joe Ahearne
Cast: Christopher Eccleston (The Doctor), Billie Piper (Rose Tyler), Camille Coduri (Jackie Tyler), Shaun Dingwall (Pete Tyler), Robert Barton (Registrar), Julia Joyce (Young Rose), Christopher Llewellyn (Stuart), Frank Rozelaar-Green (Sonny), Natalie Jones (Sarah), Eirlys Bellin (Bev), Rhian James (Suzie), Casey Dyer (Young Mickey).
Plot: Rose travels back to 1987, to witness the day her father died. But when she interferes in the course of events, the monstrous Reapers are unleashed upon the world, and a wedding day turns into a massacre. Even the Doctor is powerless, as the human race is devoured.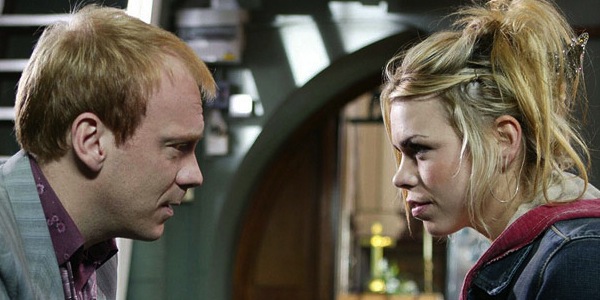 Comment: Powerful and emotive episode that tugs at the heartstrings like no other story in the series to date. Cornell's script may feel manipulative, but it plays nicely against the paradox of time travel. Ahearne also directs with energy and encourages exceptional performances from the main cast. By now Eccleston and Piper have established a strong enough rapport for the audience to believe Rose when she says the Doctor can never leave her. Dingwall is also excellent as Rose's father, who's bickering relationship with her mother bursts Rose's idealistic fantasy of an idyllic marriage. The denouement is sympathetically played and is guaranteed not to leave a dry eye in the house.