Doctor Who: The Return of Doctor Mysterio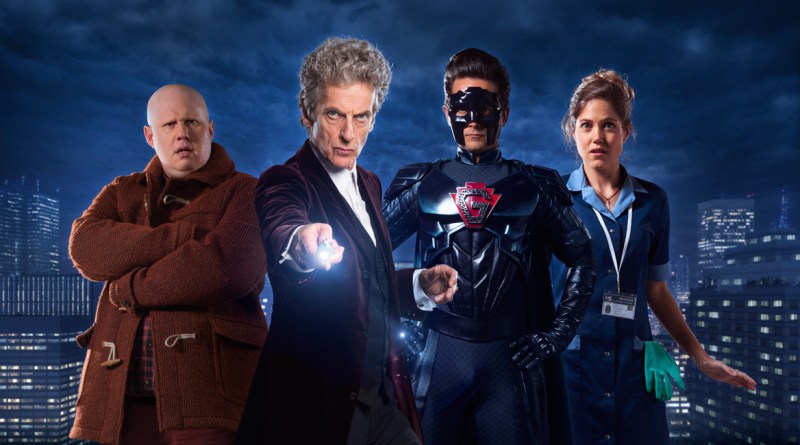 Season: X15 Story: 1 (107) | 1 x 60m | Production Code: 10.1
Broadcast: 25 December 2016
Rating: ∗∗∗
Writer: Steven Moffat
Director: Ed Bazalgette
Executive Producer: Steven Moffat, Brian Minchin
Producer: Peter Bennett
Script Editor: Nick Lambon; Director of Photography: Ashley Rowe; Music: Murray Gold; Production Designer: Michael Pickwoad; Editor: Adam Green; Costumes: Hayle Nebauer; Visual Effects: MILK; Special Effects: Real SFX; Prosthetics: Millennium FX
Cast: Peter Capaldi (The Doctor), Matt Lucas (Nardole), Justin Chatwin (Grant), Charity Wakefield (Lucy), Tomiwa Edun (Mr Brock), Aleksandar Jovanovic (Doctor Sim), Logan Huffman (Young Grant), Daniel Lorente (Teen Grant), Sandra Tees (Reporter), Tanroh Ishida (Operator), Vaughn Johseph (U.N.I.T. Soldier).
Synopsis: The Doctor spends Christmas in New York, but this time he is not the only hero in town. A deadly alien menace is poised to attack the city, and the Time Lord will need all the help he can get to stop it. Fortunately, Manhattan has its own protector in the form of a mysterious masked superhero.
Comment: Moffat riffs on the current saturation of comic book heroes in our multiplexes with middling results. The positives are Capaldi's increasing comfort in the title role – his charisma and energy light up the screen – and the surprisingly effective Lucas as his companion.  The alien invasion plot, however, is a little weak as is Chatwin as Grant/The Ghost. Some nice in-jokes for comic book fans help make this an entertaining, if slight episode.