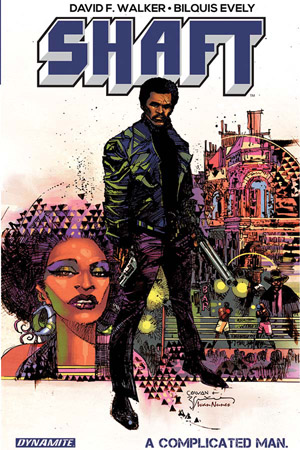 SHAFT: A COMPLICATED MAN (28 October 2015, Dynamite Entertainment, 176pp) ∗∗∗∗∗
Shaft Created by Ernest Tidyman
Written and Lettered by David F. Walker
Illustrated by Bilquis Evely
Coloured by Daniela Miwa
Cover by Denys Cowan and Bill Sienkiewicz
Collection Design by Geoff Harkins
Blurb: Who's the black private dick that's a sex machine with all the chicks? Shaft! (You're damn right!) Created by author Ernest Tidyman and made famous in a series of novels and films, iconic hero Shaft makes his graphic novel debut in an all-new adventure. He's gone toe-to-toe with organized crime bosses, stood up to the cops, squared off against kidnappers, and foiled assassination attempts. But who was John Shaft before he became the hardboiled investigator with a reputation as big as New York City itself? Recently arriving home from his tour of duty in Vietnam, his first case – tracking down a missing person for his girlfriend – quickly turns into a matter of life and death, making him a target of gangsters and the police!
This trade paperback release of David F. Walker's 6-part Shaft comic book is well presented. I have reviewed the comic book through each individual issue, so I will not repeat that here other than suffice to say this is a must for Shaft fans and comic book fans alike. Extras include Bilquis Evely's Shaft profile designs; alternative covers as well as a potential cover drawn by Walker; script page extracts and accompanying final panel versions; and cover variant artwork for each of the original issues.
A second series of comic books, Shaft: Imitation of Life, has already been commissioned and Walker has his novel, Shaft's Revenge, published in February next year.